The National Ready Mixed Concrete Association recognized 12 industry veterans at an awards luncheon during its annual convention, staged in San Antonio last month concurrent with Portland Cement Association spring meeting activities. Those honored, by AWARD:
WILLIAM B. ALLEN
The Workforce Development Committee's Financial Performance Improvement Group announced a posthumous honor for Tom Baird IV, who passed away in October 2020. Group members cited his lifetime of advocacy for excellence in ready mixed concrete, most recently demonstrated as vice president of Sales & Marketing for Springfield, Mo.-based Conco Companies Inc. The award is named for longtime Memphis ready mixed producer and lead industry management consultant Bill Allen, founder of Allen-Villere Partners.
BRUNO BENNA ADVOCACY
The NRMCA Government Affairs Committee recognizes Alan Wessel, president of Atlanta-based Thomas Concrete Inc., for his grassroots work and related efforts to advance ready mixed concrete industry interests in the policy arena, especially at the federal government level. The award is named for the late Bruno Benna, a Nevada producer who participated in NRMCA activities for 50-plus years and was a staunch CONCRETEPAC supporter.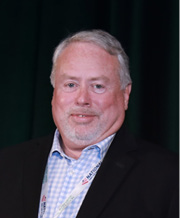 JOSEPH E. CARPENTER
The Safety, Environmental and Operations Committee honors Keith Cates, director of Fleet Maintenance for North Carolina's Concrete Supply Co., with its top annual award for individuals. Members underscore his longtime committee participation; integral role in the Fleet Manager Certification Course curriculum; plus, key role in the National Mixer Driver Championship launch and evolution of the event to one of NRMCA's top deliverables. 
The Carpenter Award is named for a veteran of (pre-Cemex USA) Rinker Materials who was instrumental in the creation of SEO predecessor, the Operations, Equipment and Safety Committee. Candidates hail from producer or associate member and NRMCA staff or ally ranks.
RICHARD D. GAYNOR
The Research, Engineering and Standards Committee names NRMCA Director of Research and Testing Karthik Obla as this year's recipient, citing his work on performance specifications, quality initiatives, technology transfer, and technical education programs. He represents the association on American Concrete Institute and ASTM International committees, especially those overseeing supplementary cementitious materials, concrete durability, strength testing and performance requirements.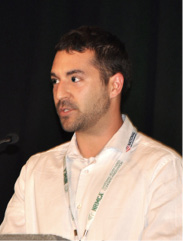 CONCRETE CARES
The NRMCA Manufacturers, Products and Services Division recognizes producer members' community support programs through the Concrete Cares awards, presenting checks of $1,000 to recipient-designated organizations. The Division names two producers this year, one reporting annual production up to 250,000 yd., the other above. In the former, it honors New York's Callanan Inc., whose "Callanan Cares" community program encompasses volunteerism, donation of goods or funds, sponsorships and education. Among themed efforts is an annual "Ride with Mike," a 70-mile motorcycle and collector-grade sports car procession whose most recent run grossed $12,000 for the New York Oncology Hematology Community Cancer Foundation. Accepting the award was Callanan Marketing & Communications Manager Lucas Sestito.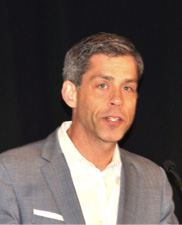 The second Concrete Cares award was presented to Ready Mix USA for the Knoxville, Tenn. operation's work with SEED (Socially Equal Energy Efficient Development) Knox. SEED Knox provides young adults pathways out of poverty and promotes positive community development through career readiness training, environmental education and citizen engagement. Leading Ready Mix USA's work with SEED Knox during the past year was delivery of concrete for the organization's first "Solar Home of the Future," built with insulating concrete form walls and a roof bearing energy-harnessing photovoltaic panels. Accepting the award for Ready Mix USA was Cemex USA Director of Government Affairs Jay Martin (left).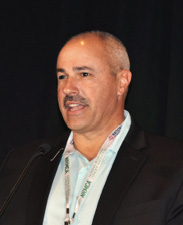 PROMOTER OF THE YEAR–BUILDINGS
The Promotion Committee honors Duane Coy of Oklahoma City-based Dolese Bros. Co. for work in the buildings market—on the heels of efforts that garnered him 2019 Promoter of the Year for Pavement recognition. In 2021, he helped bring more than a dozen commercial, school and multifamily projects to the Build With Strength Team for design assistance. He organized promotional presentations to specifiers, developers, prospective end users and concrete industry stakeholders, and oversaw insulated concrete form installer training to ramp up ICF practice in Oklahoma. Coy is presently vice chair of the Promotion Committee's Building Subcommittee.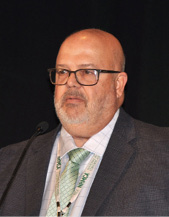 PROMOTER OF THE YEAR–PAVEMENT
The Promotion Committee honors Scott Olin, president of North Dakota's Dickinson Ready Mix & Concrete Products, for leveraging the RMC Research & Education Foundation's Guide to Concrete Trails to secure concrete specs for upwards of 30 miles of local pedestrian or golf cart pavement. Success on trail and path projects occurred after he tapped the NRMCA Pave Ahead Design Assistance Program to advance concrete specs for taxiway, runway and apron reconstruction or expansion at the Dickinson's Theodore Roosevelt Regional Airport. 
What started as a 25,000-yd. job at the facility has become a four-year undertaking requiring more than four times the initial ready mixed volume estimate.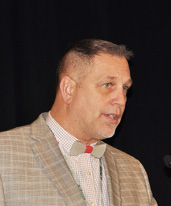 PROMOTER OF THE YEAR–STATE AFFILIATE
The NRMCA Promotion Committee credits Nebraska Concrete & Aggregates Association Executive Director Jeff Mulder for adopting a "creative and ambitious approach to the promotion of concrete and the benefits its provides to the state of Nebraska and beyond." On multiple projects converted to cast-in-place concrete from competing methods, he has maintained close owner or decision maker contact with an eye to future projects. Follow through and staying connected on potential jobs are the best tools for a successful specification conversion, he affirms. Among projects where he has enlisted the Build With Strength Team and Design Assistance Protocol are the Columbus Public Schools' Kramer Building and Urban Waters' insulating concrete form-laden Prairie Queen planned community. 
"Jeff recognizes the importance of spreading the message around the benefits of concrete, work being done to minimize carbon footprint, and improving the image of the ready mixed concrete industry," Promotion Committee members observe.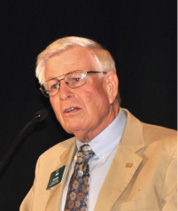 JOHN ROBERTS
Promotion Committee members honor William Childs, a 28-year veteran of Maryland's Chaney Enterprises, with the John Roberts Lifetime Achievement Award for Promotion. They credit his efforts in advancing insulated concrete form methods; shaping the Build With Strength program, informed by the market share challenges he observed first hand in low- to mid-rise buildings; and, prioritizing promotion as 2013 NRMCA Chairman and in other leadership roles. Childs earned the NRMCA Promoter of the Year and Robert A. Garbini Chairman's Awards in 2017. John Roberts (1919-2016) served as NRMCA Chairman in 1957, 10 years after founding Solite predecessor, Southern Lightweight Aggregate Corp.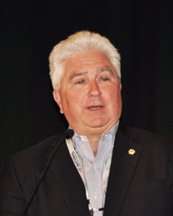 SHYDLOWSKI – TURNER MATERIALS LEADERSHIP
The NRMCA Materials Division honors two longtime members with an award named for retired Masters Builders CEO Mike Shydlowski and longtime (pre-GCP) Grace Construction Products executive Bob Turner, who passed away in 2020. Matt McGlone capped a nearly 30-year career with Master Builders Solutions in 2021; from a Philadelphia base, he served in capacities ranging from division manager of Strategic Accounts and regional business segment manager to Business & Sales Excellence manager and Special Project manager. His former Master Builders Solutions boss and award namesake calls McGlone the "epitome of what a Sales Executive and Leader should be. He is an excellent leader of people and represented Master Builders with pride."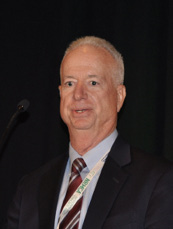 Fellow 2021 Shydlowski – Turner Award recipient Mike Ragan joined W.R. Grace in 1982. Over the next two decades, he climbed the ranks to Grace Construction Products vice president and proceeded to the post of global commercial vice president. Two years into retirement from the W.R. Grace organization, he returned to the spun off business, GCP Applied Technologies, to a leadership position reporting directly to the chief executive officer.
Rick Leeper, former CEO of Kentucky-based Federated Materials, credits Ragan for embracing the challenge of succeeding Bob Turner at Grace Construction Products: "Mike not only accepted it, but while attempting to fill [Bob Turner's] shoes, took it to the next level. His continued support of this Association and the RMC Research Education Foundation is well documented and evidenced by his [lending] personal time and talent to the many facets NRMCA supplies to its members."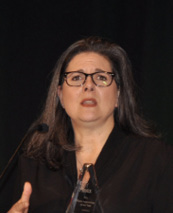 STATE ASSOCIATION OF THE YEAR
The award recognizes Virginia Ready Mixed Concrete Association efforts in a joint, three-year promotion and market development plan with NRMCA, aimed at increasing concrete buildings' share in the Commonwealth and educating the community about ready mixed concrete and cast-in-place methods. The NRMCA Promotion Committee also cites VRMCA's tactical and methodical social media program expansion, spurring audience growth across three platforms. The award likewise honors outreach against the backdrop of restrictions tied to Covid-19 cautions, as VRMCA held nearly 150 meetings, presentations or training programs; scheduled 26 site visits and tours; and, facilitated 11 Design Assistance submissions for building and pavement projects. Accepting the award was VRMCA Marketing Director Jennifer Greenwood.