Producers must decide between sticking with batching systems that do a good enough job and upgrading to one that runs masterfully with improved accuracies and uptime.
Many of us grew up with the idioms "use it up, wear it out" and "if it ain't broke, don't fix it." These words of wisdom are essential for survival in a world of scarcity. They make us tough, durable and resilient—and in an industry like ready mixed concrete with razor-thin margins, that matters.
But what happens when there is a complete paradigm shift? What happens when Tesla hits the market? Even though we can keep it running, do we hang onto our favorite 2003 Ford truck? Or do we make the leap to a model with Bluetooth, adaptive cruise control, autopilot and more?
Welcome to the dilemma of concrete batching.
We use Industry 3.0 batch controllers. Prior to that, we had Industry 2.0 (electrification); batched concrete with levers, wheels and gauges. Industry 3.0's computerized control, like programmable logic controllers (PLCs), can send a request for "recipe and quantity" and out pops a really accurate load of concrete.
With Industry 4.0, we have access to the internet of things (IoT) with artificial intelligence (AI) and machine learning. Now, we have a real-time "pulse" of anything that can be measured. With the lightspeed improvements in sensor technology, that means just about everything. Industry 4.0 warehouses and factories operate with masterful, lights-out efficiency.
And then there is batching. Do we continue to be "keyhole" thinkers, constrained by our scarcity mentality? Or do we consider what is possible with modern technology? The current batching systems work, and we can keep them trundling along for the foreseeable future. Why change?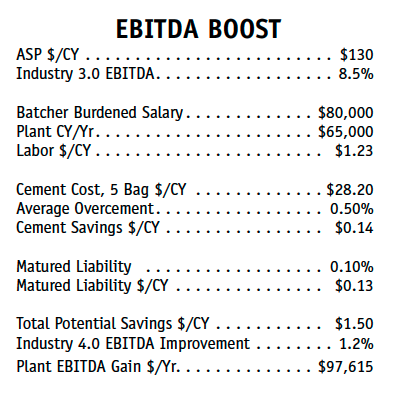 LIGHTS-OUT BATCHING
Marcotte Systems is currently running a pilot program with seven batch plants configured in what the company's Executive VP Alex Leblond terms "Industry 3.5." The plants are unattended, other than a rotating maintenance crew and one person who centrally monitors all operations. He says the true economic benefits of this setup are clear.
While the details of Marcotte's IoT and machine-learning pilot remain confidential, let's do some simple math and consider the economic impact of labor, batch accuracy and its associated liability:
A fair estimate of tangible cost reduction shows around a 1 percent increase in EBITDA. Even though that's a big number, the cost of transition will probably eat it up in the short term.
Let's say it would take about $30,000 to replace the more than 20-year-old batch system with a modern version supported by service-orientated architecture (SOA). Now double that number, because the electrician is bound to find all sorts of things on the plant that will need to be replaced or added.
The financial cost is why Leblond emphasizes Industry 3.5, and not Industry 4.0. He contends that the industry needs to ease toward the "lights out" model and automate the less difficult, higher-value parts first. Even so, the absolute foundational requirement is a modern, SOA-compliant batcher.
We all love manual panels with push-buttons; they put us in control. However, the reality is humans pushing buttons present the single biggest impact on poor quality and excessive cement cost. While we need the option to override when it really matters, AI is much better suited for in-spec adjustments on a routine basis.
If you are worried about smart machines taking over the world à la "Terminator 3: Rise of the Machines," you should be. Unfettered AI is not good. But better sensors, modern SOA, IoT and AI carefully combined with human oversight will produce significant improvements. Fortune does favor the bold, but if you are not yet comfortable with upgrading that favorite old Ford truck to a new one, then it's absolutely time to watch closely as others take the leap.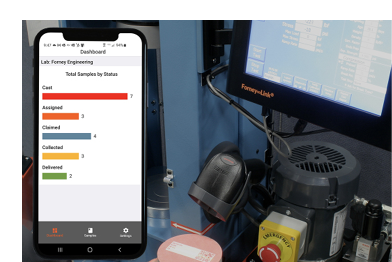 MOBILE APP STREAMLINES COMPLEX CONCRETE TESTING WORKFLOWS
Ready mixed quality control (QC) has and remains technologically underserved. Scott Grumski and Joel Simpson are on a mission to change that. They are both principal forces at Forney LP, a material testing equipment innovator and maker of the ForneyVault integrated construction materials testing platform. 
Forney's focus is on material testing equipment for cementitious materials like cement, mortar, grout and concrete. Grumski and Simpson recently asked their customers what was needed most, and they received a surprising answer: Tell us where our test specimens are in the field.
Wow! There are so many high-tech things that can be done in the lab, yet their customers—QC experts—were still struggling to locate and track specimens.
FORNEYFIELD TO THE RESCUE
The ForneyVault platform recently launched ForneyField, a mobile app allowing concrete field technicians to capture site and sample data from the field to the lab and beyond, offering an end-to-end solution for the construction materials testing (CMT) workflow.
While basic mapping was not in the original scope, Grumski and Simpson are built to discover and focus on customer needs. Their app now allows field technicians to enter all relevant data as well as track specimens. The software developers also are pushing forward to add even more functionality to figure out where technicians will be going the next day.
Amazing. The app's most important feature has nothing to do with the lab, but instead solves a key problem with people and how they do their work.
HOW IT WORKS
The sequential nature of the app mirrors the reality of the workflow for field technicians and allows them to quickly capture and claim sample data, then track the specimens cast from that sample and relay the information back to the lab. They can create new samples and record sample data when a new batch of concrete arrives onsite. When synced with an internet connection, the data is automatically stored in a database to inform next steps, thus streamlining complex CMT workflows.
The app prompts a chain of custody for each sample: Cast, Assigned, Claimed, Collected and Delivered. This allows technicians to claim a sample that has not been received at the lab or managers to assign someone else to pick it up. When a technician claims or is assigned to collect a sample, the app will display a map with pins that show exactly where it is, eliminating the need to search a large jobsite for the small area where the specimens are located.
With the app, there are fewer delays caused by unclaimed or missing specimens and more time saved in CMT workflows, as teams can easily validate lab testing against field work and avoid miscommunication and discrepancies. It also helps firms avoid penalties for improper curing or late or missing tests.
While ForneyField does all sorts of fancy stuff not mentioned here, the takeaway is this: Grumski and Simpson work for a capable company. They listen, and they deliver modern tools for ready mixed quality control. To learn more about the ForneyField app, visit https://forneyvault.com/forneyfield.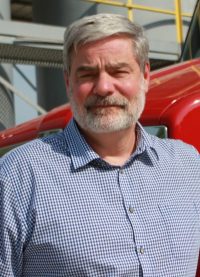 Craig Yeack has held leadership positions with both construction materials producers and software providers. He is co-founder of BCMI Corp. (the Bulk Construction Materials Initiative), which is dedicated to reinventing the construction materials business with modern mobile and cloud-based tools. His Tech Talk column—named best column by the Construction Media Alliance in 2018—focuses on concise, actionable ideas to improve financial performance for ready-mix producers. He can be reached at [email protected].