The Interlocking Concrete Pavement Institute has announced new show management for Hardscape North America 2022. Yoffe Exposition Services will work with the ICPI team to produce the annual tradeshow, which is set for October 19-21 at the Kentucky Exposition Center in Louisville, and co-located with GIE+EXPO.
According to ICPI Executive Director Charles McGrath, Yoffe Expo is a natural fit for HNA, as the company partnered with the New England Concrete Manufacturers Association in 2016 to create the Northeast Hardscape Expo. After selling out the exhibit floor and hosting thousands of attendees the first year, the show has continued to be a success.
"We're looking forward to working with Yoffe Exposition Services to build on the growth we've experienced the past several years," McGrath affirms. "Bob Yoffe brings extensive event management background. Combine that with his strong relationships in the hardscape industry, and we're confident HNA will continue to thrive."
With 35-plus years' experience as a manager or director of trade and consumer expositions, Yoffe's career began at the Reed Exhibition Companies in 1985. He launched his own business to assist trade associations by professionally managing their shows while leaving ultimate event control to members and staff. His client roster includes the Washington Auto Show and the Rhode Island Home, Garden & Flower Show. Both are the top public expositions in their respective markets.
The Portland Cement Association has presented 2021 Energy and Environment Awards to six producer members, each recognized for outstanding environmental management and community relations deliverables. Recipients by category are: Energy Efficiency, CalPortland Co., Mojave, Calif.; Environmental Performance, Roanoke Cement/Titan America, Troutville, Va.; Land Stewardship, Argos USA, Calera, Ala.; Outreach, Cemex USA, Victorville, Calif.; and, Overall Environmental Excellence, Titan America, Medley, Fla.
"America's cement manufacturers continue to focus on researching and developing new and innovative ways to reduce environmental footprint," says PCA CEO Michael Ireland. "These accomplishments and industry commitment to carbon neutrality across the entire value chain demonstrate PCA members' dedication to energy efficiency and a more sustainable future."
Separately, PCA has announced 2021 Safety Innovation Award recipients by category:
Covid-19 Management, Cemex USA, Miami; Pyroprocessing, GCC of America, Tijeras, New Mexico; General Facility (tie), Mitsubishi Cement Corp., Lucerne Valley, Calif. and Salt River Materials Group, Clarkdale, Ariz.; and, Distribution, Buzzi Unicem USA, Oklahoma City, Okla. level safely.
"Our industry prioritizes the safety of its employees above all else," affirms Ireland. "We are proud of members' continuous efforts to pursue excellence in safety innovation for their companies and colleagues."
John Melander has received the Slag Cement Association Distinguished Service Award, recognizing his work in developing and disseminating technology on the use of slag cement and blended cements in concrete—first as SCA executive director, 2013-2017, followed by his continuing efforts as technical consultant. Prior to leading SCA, he was Portland Cement Association director of Product Standards and Technology.
Melander has more than 30 years of experience in the areas of cement, concrete, and masonry, and is a member of American Concrete Institute Committee 233, Ground Slag in Concrete; an ASTM International Fellow; honorary ASTM Committee C01 on Cement member; and, member of ASTM Committee C09 on Concrete and Concrete Aggregates plus Subcommittee C09.27, Slag Cement. Melander has received numerous recognitions for contributions to cement, concrete, and masonry standards development, including the C01 Bryant Mather Award and ASTM C12 J. Ivan Davison Award.
Associated Builders and Contractors directors have elected Stephanie Schmidt, president of Poole Anderson Construction, State College, Pa., as 2022 national chair—the fourth woman to hold the title. "I am honored to lead ABC to deliver value to our members, prioritize safety and open competition, and invest in and develop our most valuable asset—our people," she affirms. "ABC's team mentality is a distinguishing aspect: We can be the fiercest of competitors in the field, but unite as one for ABC, the merit shop and betterment of our entire industry and the 7.4 million individuals it employs."
"The leadership and institutional knowledge that the ABC Executive Committee brings to our 21,000 member companies will further advance an industry that builds the places where we work, play, worship, learn and heal," adds ABC President Michael Bellaman."It is an honor to work alongside Stephanie and our 2022 elected leaders to continue to strengthen fair and open competition, ensure contractors win work based on merit, and create the conditions for all workers in the construction industry to thrive."
The American Concrete Pumping Association has named Leighton Landreth, Dominick Willman and Shelby Willy as co-recipients of the first annual Bob Weatherton Scholarship. Landreth attends Vernon College in Texas, studying business administration; Willman is a senior at Ironwood Ridge High School in Oro Valley, Ariz.; and, Willy is pursuing an Architectural Engineering degree at the University of Oklahoma. The scholarship is named in honor of the late "Big Bob" Weatherton of The Concrete Pump Store in California. He served on the ACPA Board of Directors for more than 40 years and is remembered as one of the industry's most avid champions.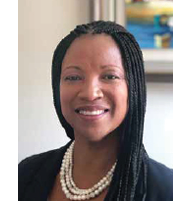 The American Institute of Architects, Washington, D.C. has named Lakisha Woods successor to Chief Executive Officer Robert Ivy, a transition set for the end of this month. "Her breadth of experience in the building industry, combined with leadership in making the built environment more sustainable, equitable, and safer for Americans, makes her a natural fit for advancing our strategic priorities," says AIA 2021 President Peter Exley, FAIA. "I look forward to seeing her further empower architects to improve society and transform the built environment as well as inspire the next generation."
Woods arrives from the National Institute of Building Sciences, where she has served as president and chief executive officer. During her tenure at NIBS—a private, Washington D.C. organization convening industry, design and government officials—she has expanded programs and markets while also fostering relationships with members, clients, partners, and public agencies, including the U.S. Army Corps of Engineers and Department of Housing and Urban Development, plus the Federal Emergency Management Agency. Prior to NIBS, Woods served as National Association of Home Builders senior vice president and chief marketing officer. Woods also serves on the board of directors for several organizations, and is 2021-2022 vice chair of the U.S. Green Building Council.
"I look forward to working with the AIA team, volunteer leaders, and most of all, AIA's passionate and engaged members to take full advantage of this dynamic moment to secure a future for the association that is as diverse as our society, as inclusive as everyone deserves, and as sustainable as the next generation demands," affirms Woods, who will manage the Institute's national office, oversee a payroll hovering 200, and work with AIA directors and 200-plus North American and overseas chapters.
Following Woods' announcement of her transition to AIA, the National Institute of Building Sciences Board named Stephen Ayers, FAIA, LEED AP, to the position of interim chief executive officer. The appointment follows the recent conclusion of his 10-year term as Architect of the Capitol, an appointment President Obama made during his second year in the White House. Ayers is a past chairman of NIBS, the Construction Management Association of America and Construction Users Roundtable.
Charlotte, N.C.-based Concrete & Materials Placement, a pumping services provider throughout the Southeast, has named Scott Wilson as national accounts manager, tasked with targeting larger, anchor projects. 
Lithko Contracting LLC, a leading national concrete contractor, has acquired the assets of Frontline Concrete Inc., Salt Lake City. With a payroll of 200, Frontline serves commercial and residential markets throughout Utah, prioritizing safety, value and performance. Ohio-based Lithko is a market-leading, full-service commercial concrete contractor specializing in wall, tilt-up, structural frame, slab, super flat, site preparation and foundation work, plus pre-construction services. The firm has 4,000-plus coworkers serving over 550 clients across 20 geographic regions. Management stresses a local service model designed "to keep coworkers close to home and create exceptional customer service in each town."
"We are excited to expand our offerings in the Wasatch Valley by partnering with Frontline," says Lithtko President Rob Strobel. "Collaborating with (owner) George Evans and his team will support Frontline's continued expansion, coworkers, and customers."