Holcim AG has closed on Utelite Corp., adding the Coalville, Utah expanded shale lightweight aggregate producer to Holcim (US) Mountain Region materials operations serving the Denver, Las Vegas and Phoenix markets. Utelite mills lightweight or structural concrete-grade expanded shale in coarse, medium and three fine classes. Its deposit east of Salt Lake City has 60-plus years of reserves.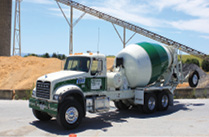 Rockingham Redi-Mix of Harrisonburg, Va. is one of two Granite model operators to make it into the 2022 Mack Trucks Calendar. Thousands of fans and followers voted online during a month-long period to select winners in seven categories of current and legacy models. In addition to Rockingham, West Oahu Aggregate of Honolulu placed in the Mack LR category. To be eligible for the calendar, each truck, including legacy models, must currently be in operation at a business or trucking company.
"It's an honor to celebrate our hardworking customers and the trucks they depend on," says Mack Trucks Vice President of Marketing John Walsh. "We had great participation throughout our social media channels, with Bulldog fans from around the globe casting votes for the dedicated customers they want to see in the upcoming calendar."
Lafarge Canada and cellular concrete producer Cematrix, both of Calgary, will continue their joint marketing and cement supply agreements for another five years. "We have worked together seamlessly throughout Canada," says Lafarge Vice President of Sales and Logistics, Western Canada Cory Cannon. "The extension of these agreements is a natural result of the joint successes experienced on numerous projects with the full expectation that this relationship will continue to grow into the future."
"[We] plan to expand on [previous] successes by committing sufficient resources to furthering cellular concrete markets and cement sales," adds Cematrix CEO Jeff Kendrick. "Both parties are also exploring the potential for joint research projects and the continued testing of alternative materials for the mutual benefit of our companies and the benefit of our environment. This is consistent with the commitment of both parties to be net zero in carbon dioxide emissions by 2030."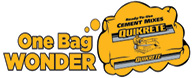 Quikrete Cos. will tally votes this month in its 2021 One Bag Wonder contest and award the three most creative, well-crafted and high-quality entries cash prizes and a trip to Atlanta for the 2022 Haven Conference, a venue for DIY bloggers.
"Each year the projects entered into the contest further illustrate the creativity and versatility that are possible with concrete. We look forward to more of the same this year," says Quikrete Chief Marketing Officer Frank Owens. "The vision people have for transforming a single bag of Quikrete into works of art or beautiful, unique pieces of furniture, decor and other one-of-a-kind projects is inspirational. To spread that inspiration, we're sharing the winning projects at the Haven Conference. The use of concrete for DIY projects continues to grow and the popularity of the One Bag Wonder contest is proof of this movement."
Photos or videos of DIY projects created with up to one bag of any Quikrete dry mix, plus 200-word description including the inspiration and step-by-step instructions, were submitted to [email protected] or posted on social media channels with the #QUIKRETE1BagWonder tag. Quikrete Cos. will be joined by the Home Projects Council, a think tank of home improvement experts, in judging the entries based on creativity, craftsmanship and quality. First, second and third place winners will be announced in late October, respectively receiving $2,500, $1,500 and $500 cash awards, plus airfare and hotel accommodations to attend the 2022 Haven Conference, where their works will be exhibited.