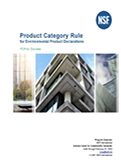 In collaboration with the Product Category Rule (PCR) Committee, Michigan auditor NSF International has revised the Concrete PCR to include new life cycle inventory data sources. The revisions inform individual plant or producer, or industry average, environmental product declarations (EPD) for ready mixed and manufactured concrete.
Portland Cement Association recently published new industry average EPDs for Portand Cement and Portland-Limestone Cement through ASTM International. Compared to earlier report data, each declaration demonstrated a significant reduction in carbon impact associated with producing cement. Each time its specific set of life cycle inventory data sources is revised, the Concrete PCR may warrant updating. New cement data has compelled the National Ready Mixed Concrete Association to revise the Concrete PCR 2.0, released in 2013 as a successor to a charter 2013 version. Additional information on the Concrete and Cement PCRs can be obtained from NRMCA Vice President, Sustainability Initiatives James Bogdan, 412/420-4138, [email protected].
CHRYSO BACKFILL GROUT: BENTONITE SUBSTITUTE
In a partnership with tunnel boring machine (TBM) lubricant specialist Condat SA of France, Paris-based Chryso Group has developed a backfill grout solution, TBM SGS (Smart Grout System), exhibiting the potential as a bentonite substitute. A clay that expands when hydrated, bentonite is commonly used in backfill mix designs but brings environmental impacts tied to transportation and site staging.
Chryso TMB SGS 150 retarder and TBM SGS 400 stabilizer ensure grout stability over several days. Material stability and low viscosity allow for pumping grout over long distance and reduce the need for pipe flushing during machine stoppages. "We are bringing a high-performing environmentally-friendly backfill grout for tunnels and underground cities projects," says Chryso Concrete Business Unit Deputy Director Marc Plançon. SGS performance attributes significantly reduce a tunneling construction site's environmental footprint, he adds: The 400 stabilizer's unique formulation allows complete substitution of bentonite, a nonrenewable raw material.
"Furthermore, we offer a sustainable supply with SGS 400, which is based on renewable raw materials and [performs with] alternate cementitious materials such as GGBS slag for a reduced carbon dioxide footprint," Plançon observes. "Our research plan is totally focused on providing sustainable solutions to our customers and lowering CO2 emissions."
"Combining support expertise and a worldwide network of laboratories and specialists of both Chryso and Condat ensures that our customers have access to a reinforced level of local service. This first collaboration on the Smart Grout System has given significant results and we are looking forward to further successful development of innovative solutions," affirms Condat Tunneling Division Sales Director Thierry Sanna.