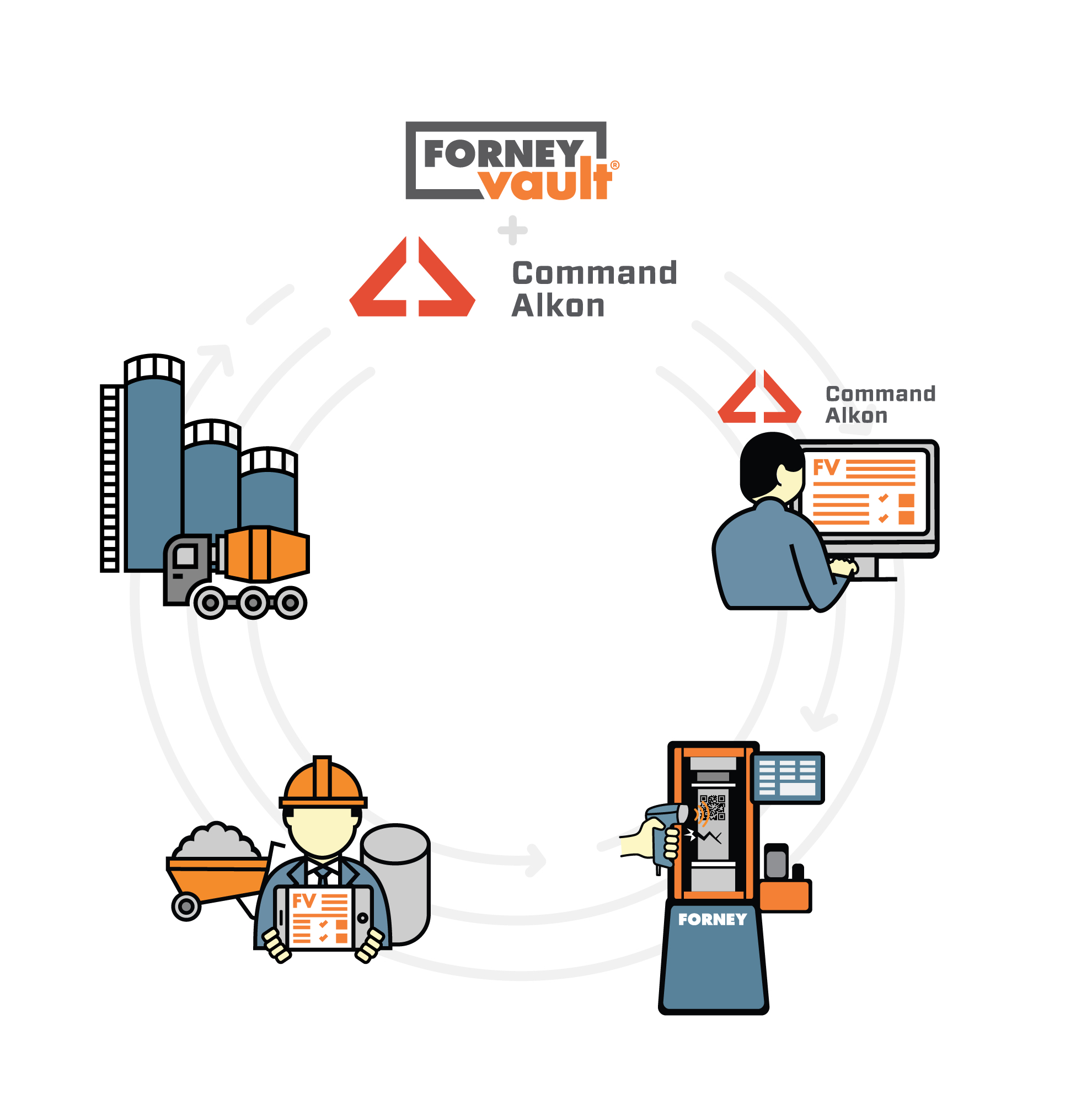 The ForneyVault integrated construction materials testing platform has recently added Command Alkon to an expanding list of software integration partners, enabling mutual customer Titan Virginia Ready-Mix LLC to link compressive strength testing machines directly to the quality control process.
The Norfolk-based producer uses Command Alkon COMMANDqc software to validate ready mixed concrete quality. COMMANDqc tools manage materials, mixes, tolerances, documentation, plus testing and analysis in one location. "As any ready-mix producer would agree, the industry is behind in technological implementation, for many reasons," says Titan America Quality Manager Brandon Horton. "The benefits of technology to improve efficiency and accuracy are critical now more than ever. ForneyVault is a great tool to accelerate these improvements—reducing admin work when capturing data and allowing personnel to focus on real-time issues. Importantly, the system also safeguards against reporting errors when entering information, which, if not corrected, can lead to more wasted time behind a computer."
"Forney's decision to place their data in the cloud makes it easy to interface with COMMANDqc," adds Command Alkon's James M. Shilstone Jr. "Sharing data between the two programs eliminates the need for double entry and makes the test results available to the QC manager more quickly."
"Integration with Command Alkon software allows Titan technicians to lose the clipboard and pencil," affirms Forney LP Vice President, Platform Development Scott Grumski. "The partnership reduces risk and advances compliance for Titan's quality assurance program."
ForneyVault integrates third-party software, concrete cylinder testing machines, and ancillary equipment via a private cloud database. Data flows seamlessly throughout the process, reducing the risk of errors and driving more positive quality assurance/quality control outcomes. Laboratories at more than 100 sites in five countries have logged one million-plus tests with ForneyVault. — Forney LP, Zelienople, Pa., www.forneyvault.co
ASTM C94 REVISION: ONE WATER THRESHOLD
The forthcoming ASTM C94/94M-21a, Standard Specification for Ready-Mixed Concrete, eases the prior version's requirement for water volume verification during the batching process. It calls for water to be batched to an accuracy of ±1.5 percent of the target versus two existing accuracy thresholds: batch water to ±1 percent of total mixing water, which in turn should be within ±3 percent of mixing water per the mix design. The ±1.5 percent threshold abides the National Ready Mixed Concrete Association Plant Certification checklist. The NRMCA Engineering team tracks C94/94M standard development on behalf of ready mixed producers, and is well represented in ASTM C09 Committee on Concrete and Concrete Aggregates activities.