Lehigh Hanson's Cadman ready mixed plants in Seattle and Bellevue, Wash., along with two sister Hanson Aggregates sites in Phoenix, Ariz., are the first North American operations to earn Concrete Sustainability Council (CSC) Silver level certification. CSC certifies concrete plants at Bronze, Silver, Gold and Platinum levels. They reflect weighted scoring—25 percent intervals up to 100 percent—on management and operations criteria, plus procurement from cement and aggregate sources exhibiting sustainable production practices.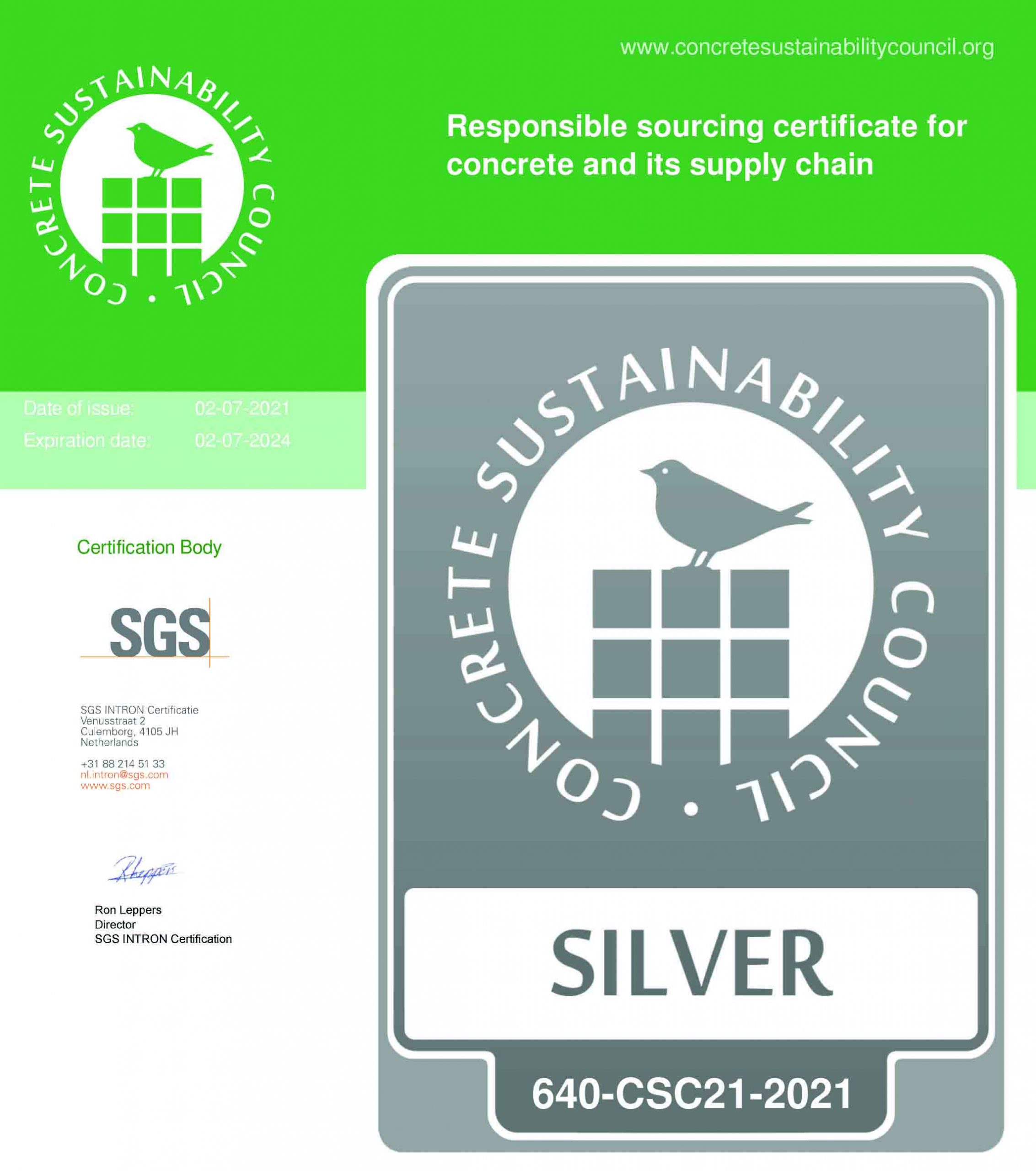 "With CSC certified concrete, we are enabling Green Building developers to score in the new LEED Pilot credit Social Equity within the Supply Chain, which is intended to create more equitable, healthier environments for those affected by and involved in the production of materials and products used in a construction project," says Lehigh Hanson Senior Director of Marketing Lori Tiefenthaler.
"We recently implemented several energy savings measures to further reduce our carbon dioxide emissions and have committed to transparently communicate our CO2 footprint via Environmental Product Declarations," adds Vice President Environment & Engineering Greg Ronczka. "These measures are important for CSC scoring, which serves to highlight our company's commitment to environmental sustainability."
Geneva-based CSC strives to generate a market pull for green concrete by promoting sustainable construction through certified production sites. In December 2020, the U.S. Green Building Council recognized CSC Certification for a LEED Social Equity within the Supply Chain Innovation Credit. Concrete from a CSC certified plant is viewed as more sustainable because it meets the standards set for the following categories: fair business practices and compliance; carbon dioxide emissions reduction; biodiversity promotion; excellence in occupational health & safety; movement toward circularity; using water in a responsible manner; and, enhanced responsibility in the supply chain.
CSC launched in 2016 as a certification system for globally responsible sourcing; co-chair Christian Artelt is the sustainable construction manager for Lehigh Hanson parent, HeidelbergCement AG of Germany.
---
MISSION POSSIBLE PARTNERSHIP ENVISIONS 'CONCRETE ACTION FOR CLIMATE'
The Global Cement and Concrete Association, London, and World Economic Forum, Geneva, have launched "Concrete Action for Climate" (CAC), a collaborative platform that will help drive the industry's journey to carbon neutral concrete by 2050 as part of the Mission Possible Partnership. The CAC initiative, which already represents 40 percent of worldwide stakeholders through the GCCA, will bring together expertise and influence from interests representing the wider built environment, business, civil society, governments, and investors. Participants will help stimulate demand for sustainable materials, and ensure appropriate financing and public policy enabling the sector to reduce its carbon footprint.
"Strong action to improve the sustainability of cement and concrete is already underway, but the industry needs to engage and collaborate with others to help drive collective action towards achieving carbon neutral concrete for the world," says CAC and Heidelberg Cement Chairman Dr. Dominik von Achten. "[The] launch of the 'Concrete Action for Climate' platform is a great example of such collective action. It's encouraging and exciting to see influential organizations from across the world come together to support the cement and concrete industry on its path to carbon neutrality."
The work of CAC forms part of the Mission Possible Partnership—a coalition energy producers, energy-intensive industries, equipment providers, finance players and environmental non-governmental organizations—and will follow a four-step approach, bringing together ambitious industry stakeholders to forge a shared vision for the future of concrete. Concurrently, GCCA members are working on a comprehensive roadmap outlining the pathway to net-zero with measurable milestones and a shared commitment to agreed actions.