Sitting down at the prodigious architectural cast-in-place concrete kitchen island of his newest feat, Christopher Parker, P.E. observes, "I build functional art. And this is my masterpiece." The principal of Parker Construction Group, Wilmington, N.C. enlightened local agent, Landmark Sotheby's International Realty, on the attention to detail, engineering and craftsmanship behind the 8,200-sq.-ft. home.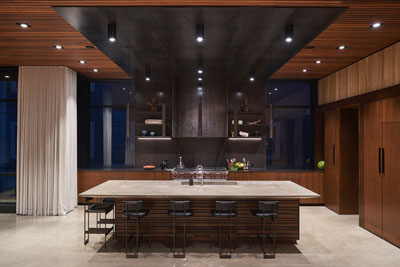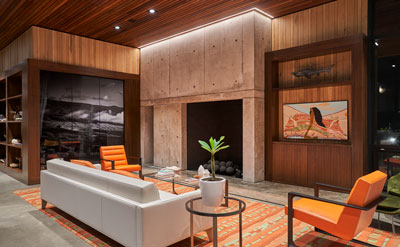 "To say it feels like a Four-Seasons luxury resort in Hawaii does not do it justice," the agency notes. "Every detail is spectacular, from the leather-wrapped stair treads to the Ipé board-formed reveals in the concrete chimney walls. It takes profound concentration to absorb all the construction nuances; from the obvious to the unseen, every part of the home has a specific reason for being."
Along with cast-in-place concrete elements articulated in Parker Construction-pioneered methods, the Wrightsville Beach, N.C. waterfront home has a structural steel moment frame; American walnut millwork with African Wenge inlays; architecturally sawn white oak walls; and, the town's largest private photovoltaic energy generating system.
When asked about the siting for such a venture, Chris Parker explains, "This is one of the coolest boutique beach towns anywhere in the States. It has an urban-beach vibe [and] active outdoor lifestyle. I knew this was the location for a truly remarkable project. It took nearly seven years from property acquisition, design, permitting and construction. The entire project including the marine construction was built with no budget constraints. It's art, but much more than that: It's engineering in the form of functional art."