The new AS900tele combines the compactness and mobility of company's AS Swing Loader Series with telescopic technology to extend material handling versatility. A 22.2 gpm auxiliary hydraulics package further increases flexibility, allowing use with a range of attachments. Functioning as a loader, telehandler or landscaping tool, the AS900tele reduces the need for additional equipment and optimizes jobsite logistics.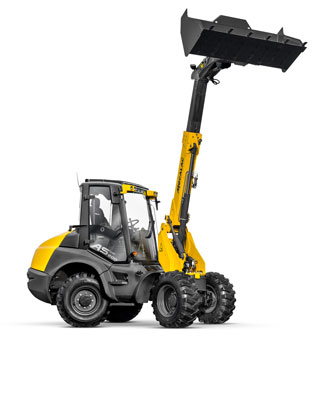 Like all AS Series units, the 8-ton AS900tele features company's swing design. Operators can swivel the fully loaded bucket 90 degrees on either side, transforming space management and allowing for a marked new approach to tasks. With the rotated bucket, filling trenches or carrying pipes requires minimum operating space. On a road project, for example, such rotation limits necessary space, requiring only a single lane closure rather than the two-lane closure attending traditional loaders. For a congested urban jobsite, the flexibility allows for optimal equipment positioning in confined spaces.
With a lifting height of 15.5 feet and outreach of 11.5 feet, the AS900tele allows operators to minimize repositioning while maximizing reach. The model has a carrying capacity of 5,000 lbs. at full extension, providing ample power for many applications. Paired with a range of attachments—pallet forks, buckets and brushes, among them—the telescoping allows the unit to replace traditional backhoe loaders, wheel loaders and telehandlers.
The AS900tele features a two- or four-wheel and crab steering option. Such flexibility allows operators to simultaneously drive, pivot and maneuver, regardless of ground conditions. Combined with the swivel arm, it results in a 20 percent smaller turning radius compared to traditional wheel loaders and increases productivity and safety for a range of common tasks like loading a trailer and material handling. — Mecalac North America, Norfolk, Mass., 508/921-3076; www.mecalac.com