Dave Semple has been named to the newly designated post of York Building Products president, overseeing the York, Pa. producer's 10 concrete masonry plants or yards and seven stone, sand & gravel sites, along with safety management and procurement functions. He assumes duties of a former vice president and is tasked with ensuring collaboration across all building products businesses.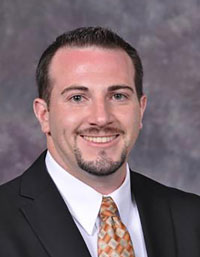 Semple arrives at York Building Products with nearly 20 years in finance and operations at dental equipment specialist Dentsply Sirona, most recently serving in the dual roles of senior vice president, Financial Planning & Analysis and business transformation officer. He has extensive experience in acquisitions plus strategic plan development and execution. He holds a bachelor's degree in Accounting from Shippensburg University in Pennsylvania and has completed leadership studies through the University of North Carolina Kennan Flagler School of Business.
---
A top five player in precast, prestressed production, Wells Concrete has unveiled an organizational structure around legacy operations, plus the assets of Wisconsin and Colorado peers, Spancrete and Rocky Mountain Prestress, acquired in January 2021 and February 2019, respectively. The producer's newly designated Great Lakes, Midwest and Mountain States regional divisions will be led by dedicated presidents, chief operating officers, and vice presidents of Sales, while finance, human resources, marketing, engineering design and information technology functions are brought under Corporate Services, based at Albany, Minn. headquarters.
"We have an incredible amount of talent spread throughout our organization and it's imperative we structure the company to capitalize on that talent—for our business and our customers," says Wells Concrete President and CEO Dan Juntunen. "By centralizing overarching functions we have a team dedicated to driving our business and strategically growing it, which will allow regional divisions to focus on the day-to-day business as called for by the uniqueness of each market and customer need. At the core of our strategy is a focus on identifying inefficiencies in the build process, designing solutions to improve upon these inefficiencies and delivering high quality, economically beneficial solutions to the marketplace."
Joining him at the officer level are:
Executive Vice President, Corporate Development Sam Nesius, who will continue to drive strategic initiatives such as acquisitions, divestitures and greenfield projects;
Senior Vice President, Human Resources Mark DelVecchio, overseeing safety programs, along with providing strategic staffing plans, including compensation, benefits, training and development;
Senior Vice President, Chief Financial Officer Ryan Stroschein, responsible for enterprise-wide finance and technology systems and processes;
Senior Vice President, Chief Strategy Officer Kimberly Wacker, transitioning from Spancrete leadership to head new product development, marketing, communications and Infinite Facades, a turnkey building envelope solution combining precast wall elements, glazing, and window or door opening frames and hardware; and,
Senior Vice President, Chief Engineer Ryan Garden, responsible for estimating and production teams, as well as engineering and field services—optimizing standardization and design methodologies companywide to deliver economical solutions to all members of the build community.
Overseeing Wells Concrete at the regional division levels are Great Lakes President and COO Scott Bertschinger, a 20-year Spancrete veteran transitioning from executive vice president and vice president of Human Resources & Risk Management, and Vice President of Sales Auggy Chung, who served as Spancrete Illinois regional sales manager for 10-plus years; Midwest President and COO Greg Roth, eight-year Wells Concrete veteran, most recently serving as vice president of Operations, Minnesota, and Vice President of Sales Spencer Kubat, 41-year Wells Concrete veteran; and, Mountain States President and COO Mike Hemberger, 30-plus year industry veteran who served as Rocky Mountain Prestress COO through Wells Concrete's arrival, and Vice President of Sales Dan Parker, a 30-plus year Rocky Mountain Prestress veteran with extensive field experience, primarily in preconstruction services and sales.
---
In a sign that Canadian contractors have made sustainability a priority, Lafarge Canada has marked its first delivery of low carbon ECOPact concrete mixes to Dueck Builders, a Winnipeg, Manitoba home builder adopting energy efficiency and building practices. From delivering the first privately-built LEED certified home in Manitoba, to meeting or exceeding passive house air permeance standards in new projects, building an environmentally conscious home is first and foremost in all of Dueck Builders' design practices.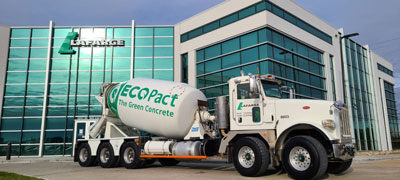 "We are a family owned and operated builder focused on truly custom home designs that create a healthier ecosystem for you and the world around you. This is why we were quite pleased when Lafarge called us to let us know about EcoPact concrete," says Dueck Builders Managing Partner Josh Friesen. "It's a chance for us to reduce the carbon footprint of our foundations by 30 percent. We are very excited to use EcoPact for all of our future concrete work."
"We know that our marketplace is evolving and communities are constantly seeking ways to improve," adds Lafarge Western Canada CEO Brad Kohl. "Partners like Dueck Builders give us a great showcase to highlight the benefits of ECOPact—the same performance and quality that Canadian builders need, but with reduced environmental impact."
"The performance doesn't change," observes Lafarge Canada Vice President, Manitoba and Saskatchewan Tina Larson. "By choosing ECOPact instead of conventional concrete, clients not only reduce carbon emissions, but build sustainability into their project right from the start. We know Dueck Builders are just the first of many who will want to go this route."
ECOPact is Canada's first "green" concrete, standing out from standard concrete thanks to blended cements and upcycled construction and demolition materials. The product is available across Canada and regional ready mix sales teams can provide further detail on carbon reduction options.
Separately, Mediacorp Canada Inc. has honored Lafarge Canada for a seventh consecutive year as one of country's Best Diversity Employers. The recognition validates efforts to promote diversity across the business and reinforces management's commitment to further create an inclusive workplace for all. Underlying the Mediacorp Canada determination are:
A 2030 action plan in which the producer, alongside a global LafargeHolcim Women's Task Force commitment, aim to have women representing 30 percent of management roles by the end of the decade.
Targeting a 50 percent female participation rate among leadership development program candidates; and,
Partnerships with a number of local employment and career organizations to help job-seekers of diverse backgrounds access meaningful employment, such as Champions Career Centre, First Nations Friendship Centre, Immigrant Services Calgary and Aboriginal Link.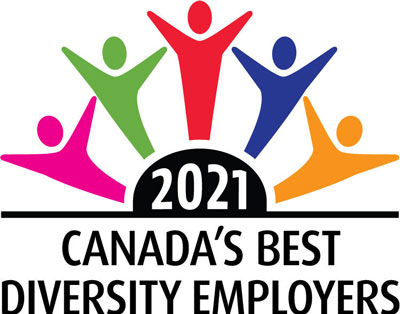 "Through our newly implemented Diversity Committees, we are committed to shifting the workplace to make it inclusive and equitable for all, because we firmly believe diversity is an important part of what makes our business successful," says Lafarge Canada, Eastern CEO David Redfern.