The American Concrete Institute has launched ACI 318 PLUS, an annual subscription providing digital interactive access to ACI CODE-318-19, Building Code Requirements for Structural Concrete and Commentary, along with in-document access to related resources, robust digital notetaking, and enhanced search. The service includes full digital interactive access to the ACI Detailing Manual and Reinforced Concrete Design Handbook, with functionality allowing subscribers to make digital notes alongside ACI CODE-318‐19 provisions and commentary, as well as the Detailing Manual and Design Handbook. Digital notetaking functionality allows subscribers to create up to 10 unique sets of notes for potential sharing with other ACI 318 PLUS users. Subscribers can also navigate content by section, chapter, and/or provision. The ACI 318 PLUS platform is continuously updated and features 3D graphics, many ACI CODE-318-19 related references, and FAQs.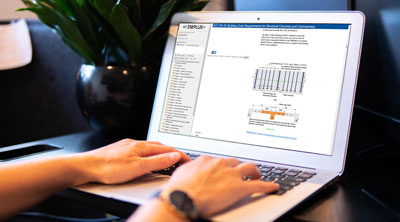 "ACI has produced tens of thousands of pages of information related to concrete in the form of codes, specifications, practices, symposium volumes, periodical issues, and education publications, and has delivered hundreds of webinars, on-demand courses, and convention session presentations," says ACI Executive Vice President Ronald Burg, P.E., FACI. "While that most certainly makes ACI one of the leading sources for concrete-related knowledge, it can make finding and accessing the right information challenging. ACI 318 PLUS changes that by allowing users to quickly and easily access various ACI content by making digital links between the Institute's content on structural concrete design and related topics."
ACI 318 PLUS is optimized for desktop and laptop computers and available in single- or five-user subscription packages, beginning at $149/year. A free one-year subscription is available to everyone who purchases or has already purchased ACI CODE-318-19 directly from ACI. — www.concrete.org/ACI318
---
Olathe, Kan.-based construction materials testing giant Terracon has acquired peer GET Solutions Inc., a full-service geotechnical, environmental, and materials testing firm serving public- and private-sector clients throughout the mid-Atlantic region. GET has locations in Virginia Beach (headquarters) and Williamsburg, Va., plus Elizabeth City and Jacksonville, N.C. Its services include concrete testing, soil analyses and in-house drilling capability. The business will operate locally as GET Solutions Inc., a Terracon Company, and the transition will be seamless for clients.
"GET has built a strong presence in Virginia and throughout the mid-Atlantic, based not only on technical expertise, but on a strong commitment to outstanding client service," says Terracon CEO Gayle Packer. "Adding GET increases our regional bench strength to continue providing nimble, responsive support for our clients' projects."
"GET Solutions has always been committed to providing the highest quality services to our clients and career growth for our employees," notes CEO Camille Kattan, P.E. "Joining with Terracon allows us to take these commitments to a new level, offering the same excellent service but with expanded access to Terracon's national resources and employee career opportunities."
The acquisition is supported by Terracon's existing offices in Virginia, North Carolina, and the Washington, D.C., metropolitan area. GET joins three other recent Terracon acquisitions in the mid-Atlantic: TAM Consultants Inc. of Williamsburg (2021); Skelly and Loy of Harrisburg, Pa. (2020); and, GeoConcepts of Ashburn, Va. (2017).
---
Dodge Data & Analytics, North America's leading provider of commercial construction project data, market forecasting and analytics services, and workflow integration solutions for the construction industry, has selected Reltio Enterprise 360 as a key component of its data platform, which drives a suite of research, planning and bidding solutions to fuel customer growth and success. Dodge will harness the scalability and flexibility of Reltio's multi-domain master data management software as a service platform to aggregate data from tens of thousands of public and private sources to create complete and accurate master records. Reltio Enterprise 360 will consolidate, reconcile, and serve as the single source of master data for Dodge's portfolio of information and analytics products and services for all commercial construction market participants, along with its sales and marketing programs. Reltio will also power new and enhanced solutions that provide expanded data elements, personalization, CRM integration, and in-app digital commerce.
"Building product manufacturers, architects, engineers, contractors, and service providers depend on Dodge Data & Analytics to provide construction industry data, relationships, and resources to identify opportunities and grow their revenue," says Chief Technology Officer Keith Davies. "By investing in best-in-class technology like Reltio's platform, we are able to further fuel customer growth and success. Reltio has consistently demonstrated the superiority of Enterprise 360 for multi-domain master data management in a stringent and competitive evaluation, and its Connected Data Platform excelled in tests of data volumes, velocity, and veracity. Ultimately, the Reltio team made it easy to do business with them and left us confident that they are committed to our success."
"Dodge Data & Analytics exemplifies the modern, data-driven enterprise which has fully-embraced cloud and big data architecture. Dodge is using Reltio Connected Data Platform—the only MDM SaaS platform with a long-term, proven track record of mastering and managing billions of profiles—to enhance existing services, launch new offerings, and optimize internal operations," adds Relito Founder Manish Sood.