After extensive field testing in on- and on/off-road conditions through Q3 2020, Western Star Truck Sales Inc. unveiled the 49X, an aluminum cab model with single channel frame rail, composite hood and other modifications affording a weight reduction of more than 350 pounds versus the 4900 truck, production of which continues.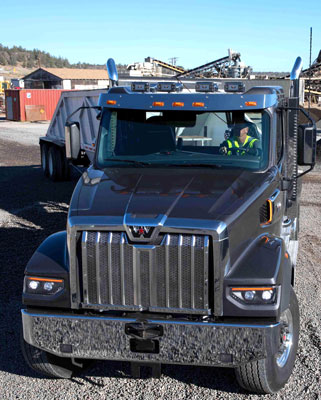 "Our dealers, truck equipment manufacturers and, most importantly, our customers, rely on the dependability and sheer toughness of Western Star trucks," says Daimler Trucks North America Senior Vice President, Vocational Segment David Carson. "With the 49X, Western Star delivers on our promise of tough, while introducing segment-first safety features, an operator-focused experience and easier upfit solution that will keep our customers' businesses running smoothly. A vocational truck is a tool for a job. We've completely rethought the foundation of the 49X to deliver greater durability, return greater payload and improve productivity at the job site."
The 49X is built from the ground up in set forward (SF) or set back (SB) axle configurations. Scheduled to enter full production by mid-2021, it will run the new Detroit DT 12 V series vocational automated manual transmission, and bring to mixer, dump and other on/off-road truck packages the fused radar and high-definition camera technology-enabled Detroit Assurance suite of automated safety features. The 49X demonstration fleet included SF and SB dump models; Western Star plans to extend upfitting early this year with two mixer body builders.
The 49X weight savings over the Western Star 4900 start with an all-new vocational frame. Single channel frame rail options for the former are available in a variety of thicknesses and feature best-in-class Resisting Bending Moment (RBM) strength rating for single channel of up to 3.7 million in.-lbs. For added strength, C-channel frame reinforcements are available that reach an RBM rating of 5.4 million in.-lbs.
Clear back-of-cab packaging allows for easier 49X upfitting with features that include standard in-cab battery box; multiple air tank mounting locations; air dryer mounted under hood (SB) or under cab (SF); optimized fuel tank sizes; forward mounted diesel exhaust fluid tanks; compact Detroit exhaust aftertreatment system; and, functional dual vertical exhaust stacks.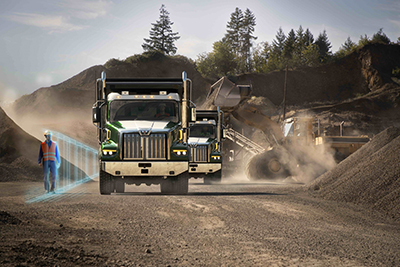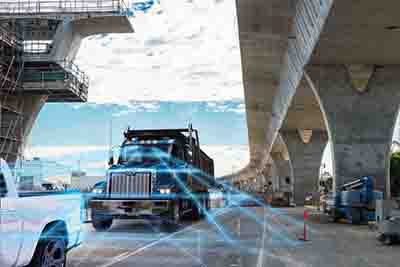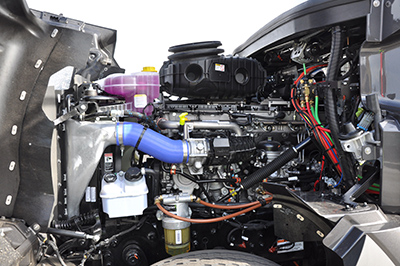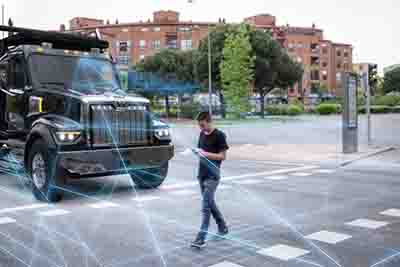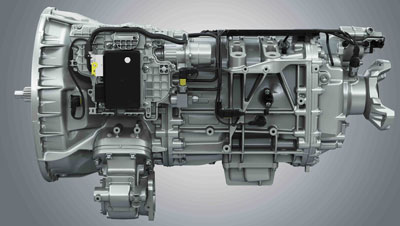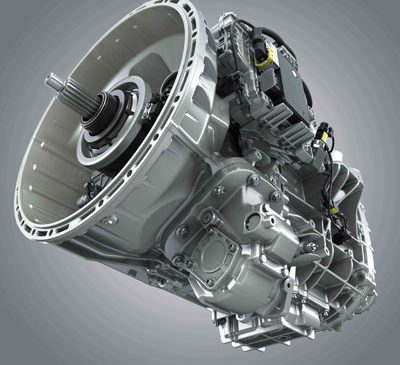 OPTIMIZED CAB
The all-new X-series cab is designed specifically for vocational applications and provides additional vehicle weight savings while delivering long-term durability, operator comfort, and 10-13 percent more space than competing models. Advanced topology optimization ensures rigidity and strength, and determines where additional material is needed in the steel-reinforced aluminum cab. Development work on the cab was the most extensive in Western Star history and included multiple crush tests to ensure structural integrity in case of a rollover. Full-vehicle shaker tests replicated 800,000 miles of duty to prove a mount system that uses vocational isolators outboard for optimal stability plus reduced operator and cab fatigue.
The 49X models bear all-metal exterior brightwork for a premium look and long-term durability, plus a standard interior featuring metal accents among upscale appointments. An optional premium trim package imparts richly crafted materials, including woodgrain and diamond-stitched seating. A wrap-around dash puts the driver command center and B-panel in easy line of sight of the operator. On the B-panel, a flex panel can be prepped for a tablet or configured for an additional 12 switches or 10 gauges. Along with a QuickFit Dash Access feature designed for seamless telematics or other device integration, equipment control access is placed within easy operator reach.
The 49X hood is constructed of high-strength, lightweight molded composite for impact resistance and durability. A patented ISO Tech Hood Suspension system behaves similarly to a typical coil-over shock suspension with spring and damper. It isolates, absorbs and dissipates chassis vibrations when driving over uneven terrain to protect the hood from damage and cracking.
DETROIT ADVANTAGE
Under the hood, the 49X debuts the all-new and work-ready Detroit DT12 Vocational series of automated manual transmissions, the product of a global, $100 million research & development undertaking. Available as either the DT12-V or the DT12-VX and rated up to a GCWR of 330,000 lbs., the DT12 Vocational series was validated in over 35 million miles of testing to deliver performance and durability.
Series offerings include side power takeoff capabilities that allow for added flexibility, and unique work application modes and shift map strategies for all types of terrain. A Rock-Free Mode allows the 49X to free itself from wheel stuck situations; an Off-Road Mode enables smooth driving on construction or quarry sites and other extreme terrain. Power Launch provides robust takeoffs while protecting the clutch and driveline; a Paver Mode allows the truck to shift from Neutral to Drive without depressing the brake pedal when pulling away.
The DT12 can be mated to the Detroit DD15 Gen 5 engine, or the workhorse DD 16 engine—the largest and most powerful diesel engine available in the North American heavy truck market. Both engines are equipped with Detroit Connect Virtual Technician remote diagnostic services to increase uptime and productivity.
"The DT12 and DD15 Gen 5 together offer exceptional power, durability and reliability," says Detroit Director of Component Sales Michael Striker. "The 49X requires the power and performance of Detroit engines." The DD15 Gen 5 offers up to 505 hp and up to 1,750 lb.-ft. of torque, he adds, and represents a 60-lb. powertrain weight reduction—part of an overall 49X strategy to enable greater payloads.
Compared to the prior generation, the upgraded engine exhibits improved fuel combustion plus an ATS design that achieves maximum power from every piston stroke, with the added benefits of using less fuel. A new aftertreatment system does more with less space and lengthens maintenance service intervals, while its single diesel particulate filter further reduces maintenance costs and forced regeneration frequencies. The DD15 Gen 5 also includes a new ThermoCoasting feature, which keeps the system at optimum temperature by preventing aftertreatment cooldown during a driving regen. ThermoCoasting engages engine brakes when necessary between 900 and 1,500 rpm while the engine mimics coasting by maintaining zero torque at the flywheel to balance power delivery.
The 49X launches with the big bore power packages; options will extend to the Detroit DD13, or Cummins X12 and X15 in the first half of 2021.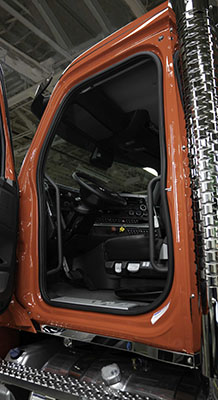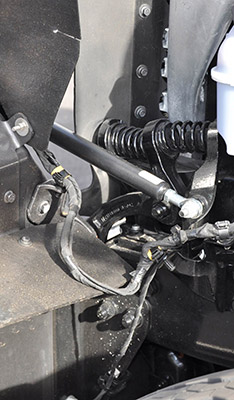 SAFETY: TOP OF RADAR
The Detroit Assurance suite of safety systems features the most advanced collision mitigation devices in the vocational market. It spans Side Guard Assist (SGA), Active Brake Assist (ABA5), Tailgate Warning, Adaptive Cruise Control (ACC) to 0 mph, Lane Departure Warning, Video Capture, Intelligent High-Beam, plus Automatic Wiper and Headlamp features.
The SGA radar technology detects moving objects and pedestrians on the passenger side of the 49X that may otherwise fall in the operator's blind spot and alerts them with both auditory and visual warnings—providing game-changing technology for safety on the jobsite or en route. ABA5 detects distance and speed to moving and stationary objects in the driving path of the 49X and determines if warning or automated braking is necessary. It also features full braking on stationary and moving objects: When the signal from the radar and camera system detects a moving pedestrian crossing the truck's path, an audible and visual warning occurs with simultaneous partial braking, followed by full braking if the driver does not react. ABA5 is the only system available that works at speeds down to 5 mph, which makes it ideal for job sites and urban areas.
ACC is only available with DT12-equipped 49X. It automatically adjusts the truck's cruising speed to maintain a safe following distance from other vehicles in its path, allowing it to remain in cruise control longer. If the vehicle in front stops, the 49X will also stop and hold indefinitely. If the vehicle in front moves, the 49X will automatically resume moving at a safe distance. Tailgate Warning activates independently of ABA5 and ACC to ease driving in stop-and-go traffic and mitigate front and rear-end collisions.
"Detroit's new integrated powertrain and technologies bring world-class power, unprecedented safety and connectivity innovations to the vocational market, resulting in maximum uptime and productivity on any job site," observes DTNA Vocational Segment Vice President of Market Development Samantha Parlier. "With Detroit Assurance, the 49X is equipped with the most cutting-edge safety innovations ever seen in the vocational market. Detroit Assurance can reduce the severity of collisions when they occur and contribute to safer job sites."
SAFE INGRESS, EGRESS
"The real stars of every job site are the men and women working at it, which is why the Western Star 49X was engineered to deliver best-in-class safety with Detroit, easier entry and exit to reduce workplace injury, and best-in-class visibility to benefit not only the operator, but the entire crew," notes DTNA's David Carson.
Western Star design-engineered ergonomic ingress and egress for the truck, he adds, bearing in mind a) the prevalence of slips, trips and falls near the top of the workplace injury index, and b) applications like a concrete mixer, where an operator might enter and exit the cab 50 times per shift. Door opening angles of 70 degrees, five hand holds, and step treads widened by half an inch and constructed as a staircase help facilitate safer 49X cab entry and exit. The steps start close to the ground and use a volcano tread for confident footholds with high traction, added toe clearance, plus mud, dirt and debris pass through.
The 49X's best-in-class visibility comes from a sloped hood enabled by splayed frame rails; lowered engine position and underhood air filtration; 28 percent larger single-piece roped-in windshield; and, an optional three-piece rear window that is 77 percent larger versus the Western Star 4900. Optional Borofloat glass in the front windshield and polycarbonate in the rear windows provide impact resistance from debris. A C-bar system features door-mounted mirrors that mitigate the effects of chassis and engine vibration to keep them stable and usable in off-road or paving applications where visibility by the operator to the crew at the back of the truck is critical.
The 49X also debuts a dual-stage LED headlight system featuring an internally printed heat grid and ambient air temperature sensor that can melt 3 millimeters of ice in less than 10 minutes at -40°, or to burn through condensation in warm, humid environments. Combined with a 45-degree light pattern, the 49X headlight system provides smooth, uniform illumination that shines long and wide to improve visibility and safety on the road or at the job site.
"Our bottom-line intent was to deliver a truck that benefits our customers' bottom lines," affirms Carson. "We know the conditions our customers are working in, we know the challenges of their operations, and we know that productivity at the site matters most. That's why the all-new 49X is purpose-built for durability, safety and maximum uptime." — Western Star Truck Sales, Daimler Trucks North America, Portland, Ore.; www.daimler-trucksnorthamerica.com/49x, www.DemandDetroit.com
---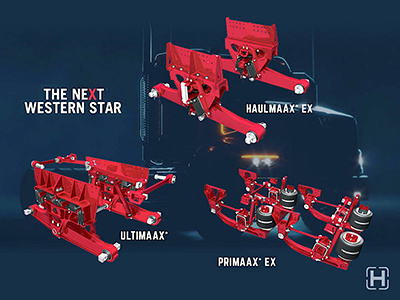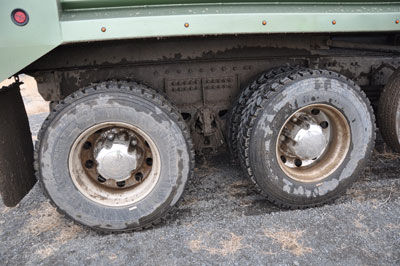 HENDRICKSON HAULMAAX EX DEBUT
A 49X SB bearing a 21-yd. Williamsen-Godwin 19-ft. dump body is proving performance of a Haulmaax EX rear suspension rated at 46,000 lbs. Hendrickson Truck Commercial Vehicle Systems is debuting the Haulmaxx EX concurrent with the Western Star workhorse. Western Star Truck Sales has partnered with Hendrickson Truck to tailor a premium rear suspension portfolio within 49X chassis specs. Offerings include the Ultimaax and Primaax EX, along with the Haulmaxx EX, a new heavy-duty rubber suspension optimized to provide increased site rating, expanded capacity ranges and improved durability.
"We apply our vocationally-focused engineering and manufacturing expertise together with equipment from leading suppliers to create solutions that deliver the durability and dependability to benefit our customers' operations," says Daimler Trucks North America Senior Vice President, Vocational Sales and Marketing David Carson.
"Customers today expect more out of their vocational suspensions and Haulmaax EX exceeds those expectations by expanding on the capabilities of the current design with up to a 70,000-pound site rating for the 46,000-pound capacity suspension," says Hendrickson Truck CVS Director of Engineering Ashley Dudding. "Haulmaax EX is extremely rugged, supporting the most demanding vocational applications and offering capacities of 40,000, 46,000 and now 52,000 pounds. [We] utilized our industry-leading analysis and validation techniques to ensure Haulmaax EX would meet these rigorous demands, minimize maintenance requirements and deliver the lightest weight vocational suspension on the market."
The Hendrickson Ultimaax severe-duty rubber suspension suits Western Star 49X trucks geared to more extreme applications. Ultimaax is available in capacities of 52,000, 60,000 and 70,000 pounds and delivers enhanced stability, handling, and ride quality even in the most severe-duty environments where vehicles encounter harsh and unexpected ground conditions. The integration of Hendrickson's proven walking (equalizing) beam technology, with its patented progressive rate spring, provides a balance of loaded stability and unloaded ride quality even in the most rugged environments.
The Primaax EX is designed for vocational, severe-service or heavy-haul applications requiring the softer ride of an air suspension. It features a robust structural design optimized for stability, handling and ride resulting in higher driver comfort and less premature wear on expensive truck and body equipment. The Western Star 49X will initially feature the Primaax EX in 46,000- and 52,000-lb. capacities. — Hendrickson Truck Commercial Vehicle Systems, 855/743-3733; www.hendrickson-intl.com