Volvo Trucks North America has scheduled an early-2021 production start for the regional delivery-geared VNR Electric. The zero tailpipe emission, battery-electric model for the U.S. and Canada joins the manifest at the New River Valley assembly plant in Dublin, Va.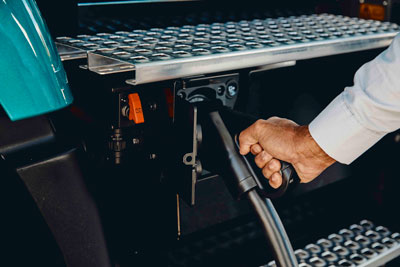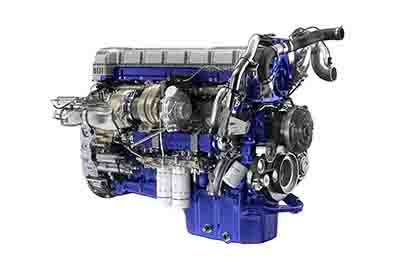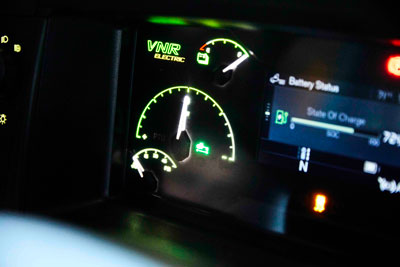 The Volvo VNR Electric suits applications and driving cycles with local and regional distribution ranges, including pick-up and delivery routes. Its twin 264-kWh lithium-ion batteries, which charge up to 80 percent within 70 minutes, have an operating range approaching 150 miles based on the truck's configuration. Advanced battery chemistries deliver increased power at reduced costs, while self-learning controls optimize energy usage. Regenerative braking can increase range by returning power up to 15 percent back into the battery, depending on the duty cycle.
"The Volvo VNR Electric marks a significant step forward for electromobility in an industry that we are committed to leading as it undergoes rapid, significant change," VTNA President Peter Voorhoeve said during the model's December 2020 reveal. "Volvo Trucks believes and invests in sustainable electromobility. Our deep understanding of the transportation ecosystem—the technology, infrastructure and applications in the trucking industry—has enabled us to deliver a solution that is both advanced yet easy to own and operate."
The Electric version offers agility and visibility on par with the charter, diesel-powered VNR regional-haul model, whereby drivers benefit from a fast learning curve, ease of operation and service, plus a seamless transition from miles per gallon to kilowatt hours per mile. VNR Electric drivers are provided with a familiar human-machine interface, operation and design; they also experience a significantly quieter ride and an improved working environment, reducing stress and increasing overall comfort.
Safety criteria and features found in the Volvo VNR are retained in the Electric model cab and chassis—and extended to the battery support assembly. Electric models are offered in three configurations: Single-axle straight truck with 33,200-lb. gross vehicle weight rating and 4×2 or 6×2 with 66,000-lb. and 82,000-lb. gross combination weight ratings.
The VNR Electric carries the manufacturer's full uptime promise, with onboard telematics including Remote Diagnostics and a new real-time battery monitoring service from the Volvo Trucks Uptime Center. A premier Volvo Gold Contract affords scheduled and preventative maintenance, towing and vehicle repair, the latter covering lithium-ion batteries and complete electromobility system. Volvo Financial Services provides flexible financing solutions specific to the VNR Electric and required charging infrastructure. It will also offer access to insurance solutions for the VNR Electric in select U.S. markets via third-party licensed agents. — Volvo Trucks North America, Greensboro, N.C., www.volvotrucks.us, www.volvotrucks.ca
---
A PARADE OF CLEAN POWERED TRUCKS INAUGURATES CABLE-STAYED CROSSING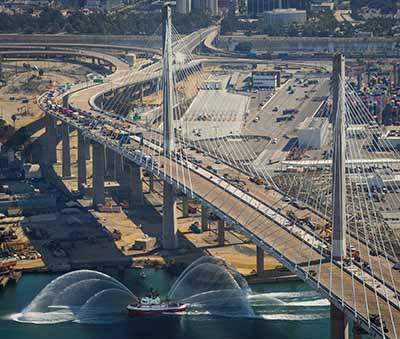 With other green vehicles in tow, a Volvo VNR Electric demonstration unit led an October 2020 crossing at the Port of Long Beach to officially open a replacement for the Gerald Desmond Bridge, the Golden State's first cable-stayed structure for vehicular traffic. An Environmental Protection Agency grant program will support 2021-2022 delivery of 70 VNR Electric models for carriers serving the port and other South Coast Air Quality Management District freight points. The six-lane, nearly 2-mile-long bridge and approaches handle trucks trafficking more than 15 percent of the nation's container cargo. The main and approach spans bear on twin, 505-ft. concrete piers and support a roadway deck and pedestrian path just over 200 feet above the Port of Long Beach Middle-Inner Harbor passage—the highest such features for a cable-stayed bridge in the United States. PHOTO: Port of Long Beach, California