We can see where drivers are and how they spend their time, but our ready-mix trucks can tell us so much more
By Victoria K. Sicaras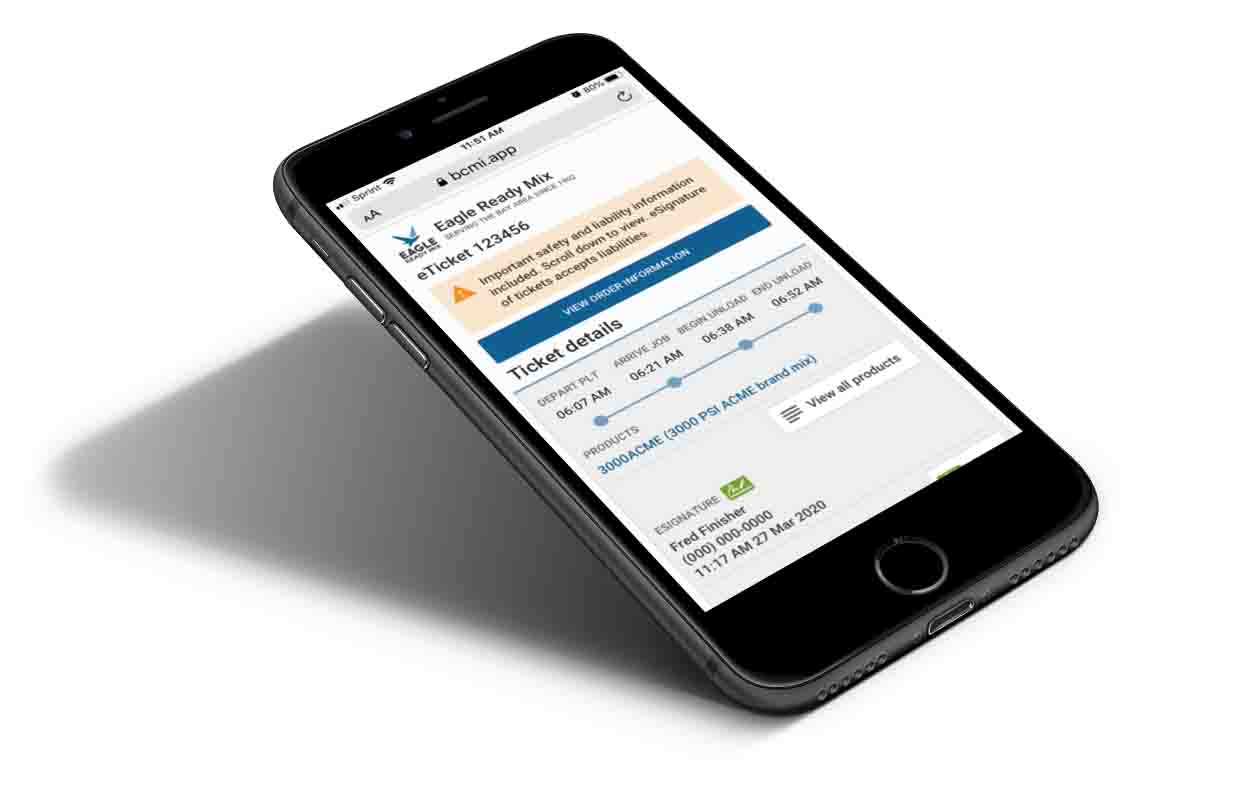 Concrete contractors can use the Material Now app to track the status of jobs—and now eTickets (see page 25)—with real-time data from Ozinga's dispatch and truck signaling systems. PHOTO: BCMI Corp.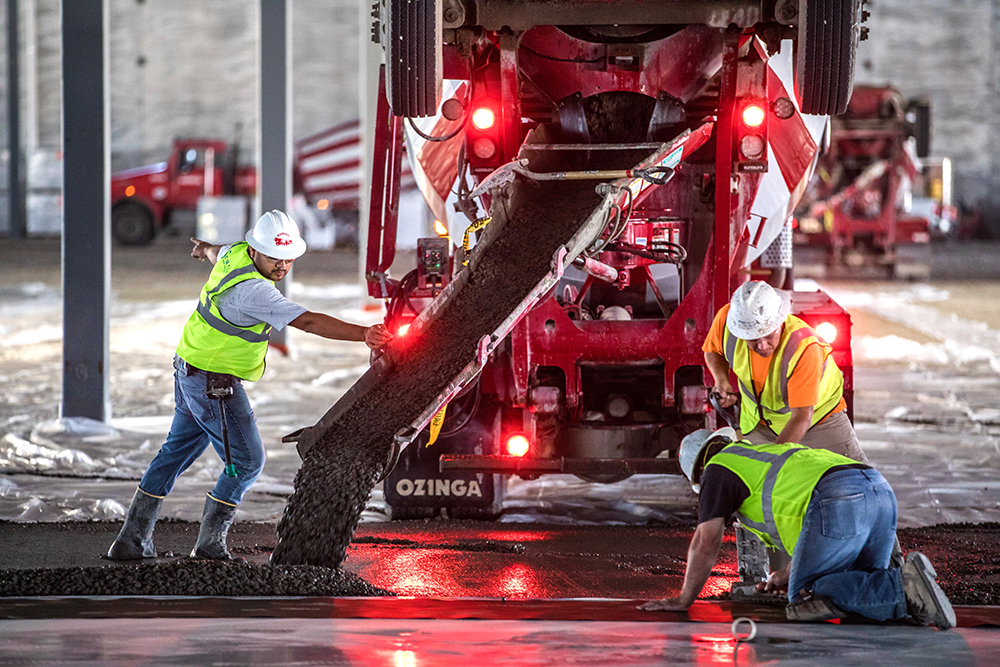 PHOTOS: Ozinga Bros. Inc.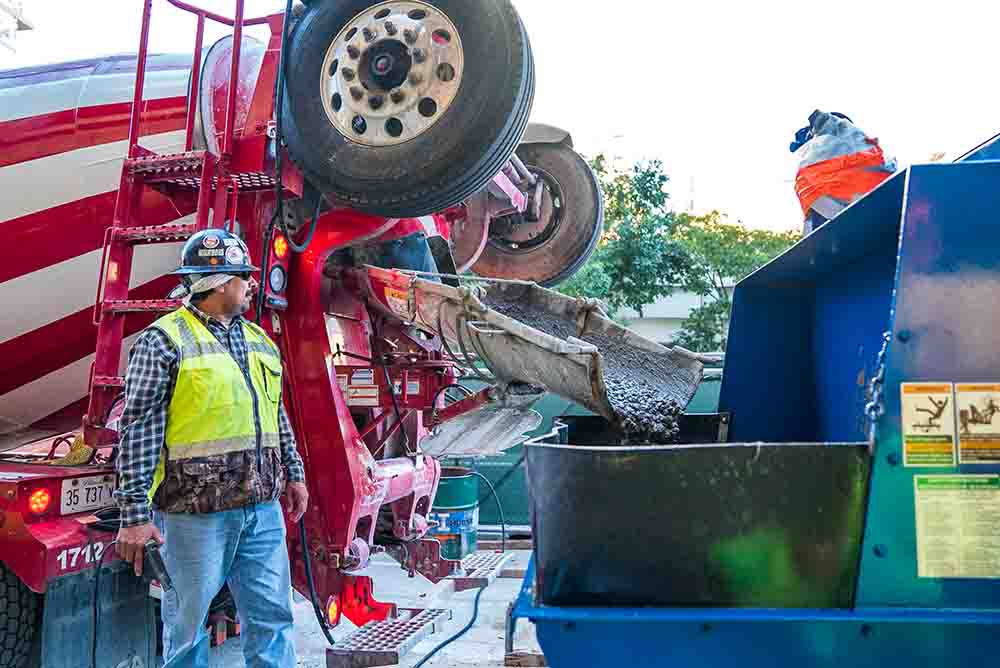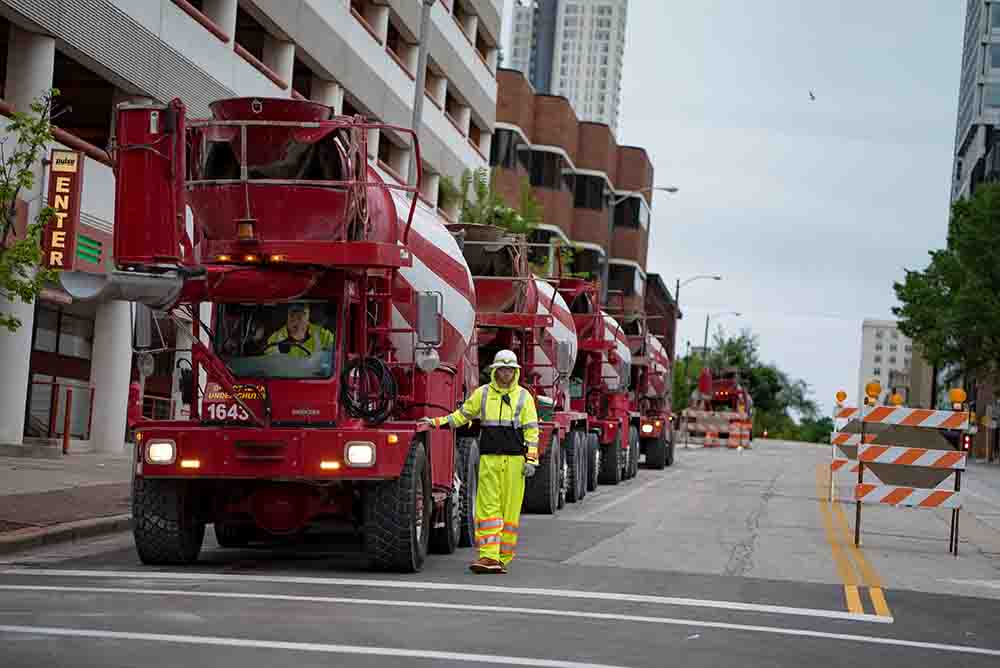 Ozinga Ready Mix Concrete is known for embracing innovations that improve service and safety. The producer has equipped its fleet of mixer trucks with the latest technologies to manage assets on the move—including the concrete being transported. The key to unlocking a ready-mix truck's potential as a just-in-time "mobile manufacturing plant" lies in the adoption of integrated technology tools as they become readily available.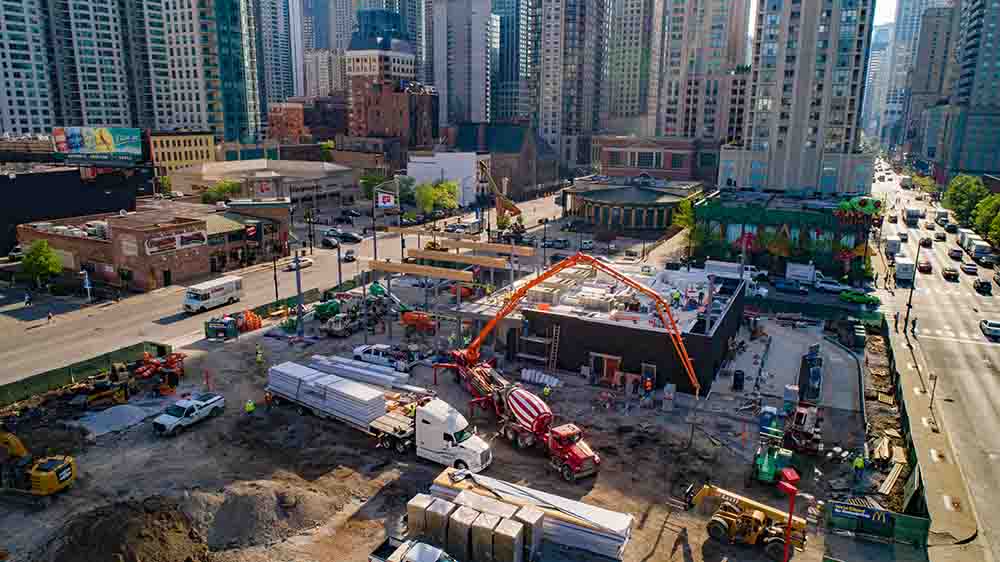 GPS truck tracking systems are well-established in the ready-mix industry as asset management and driver-performance tools. They can be incredibly important for ensuring perishable products, like concrete, arrive at the right place at just the right time. To that end, many concrete producers are effectively mining their truck tracking data to optimize load and delivery schedules and improve the performance of drivers—and even their customers.
However, there is still untapped potential in terms of information that could be made available from a ready-mix truck. When it comes to tracking and controlling the quality of concrete while it is in transit, the key to unlocking a truck's potential is the adoption of integrated technology tools as they become readily available.
WHAT WE HAVE NOW: REAL-WORLD EXAMPLE
To better understand what truck data currently can be harvested, it's worth taking a look at what's inside the Ozinga Ready Mix Concrete red-and-white striped mixers—and how those technologies work together to give the producer a more detailed picture.
Headquartered in Mokena, Ill., and operating in the Midwest and South Florida, Ozinga Bros. Inc. is known for embracing innovations that improve service and safety in the communities it serves. "Ozinga's purpose is to make a positive impact on individuals, their families and the community for generations. If the adoption of any innovation supports our purpose, it will be put on a fast track to research, test and deploy," says Chief Information Officer Keith Onchuck.
This dedication to innovation and community has led the producer to adding trucks powered by compressed natural gas (CNG) and introducing touchless ticketing during the COVID-19 pandemic (note sidebar, page 25). Ozinga RMC has also equipped its fleet with the latest technologies to manage assets on the move—including the concrete being transported.
Fleet management/truck statusing. All of the producer's mixer trucks are fitted with Digital Fleet truck tracking software to keep drivers and dispatchers constantly in the loop so they can address challenges as they happen. The technology is accessed through user-friendly in-vehicle tablets that, with the help of voice-to-text features, allow drivers to safely and easily communicate with dispatch, access real-time load ticket information and receive turn-by-turn directions.
Behind the scenes, Digital Fleet incorporates GPS, digital mapping tools like Google Maps, geofencing and sensors to show where trucks are and what they are doing from the moment they leave the yard. Dispatchers are always aware of a mixer's location and performance, and they can route trucks accordingly.
Digital Fleet recently released the Digital Fleet+ platform, which builds on traditional GPS functionality. The cloud-based platform serves as a conduit to the truck by relaying to users real-time truck status metrics, such as fuel levels, odometer readings, engine and idle times, drum speeds and direction, and connections to the diagnostic fault codes and other chassis data. The information is used to evaluate and optimize operational performance, define important points of interest and automatically trigger workflow statuses. All of this keeps production moving at a successful pace.
Concrete monitoring. One of the major benefits of the truck statusing platform is it provides real-time data regarding the quality of the concrete after the truck leaves the plant. Drivers and other Ozinga RMC team members can monitor drum rotations, concrete temperature, slump and water added. Any changes made to the load after it has left the plant are reported through real-time digital feedback. The data is stored for later viewing.
Because the platform presents a complete picture of what is happening inside the trucks, it helps the producer provide quicker turnaround times and higher-quality products to customers. It reduces the occurrence of rejected loads, increases jobsite efficiency and minimizes costly project delays. In addition, using the technology results in environmental benefits including increased fuel efficiency and the potential for less cement usage and waste reduction.
"We have visibility into the quality of the concrete until the time it is discharged from the truck," explains Onchuck. "Our business uses this data to monitor quality. Our customers rely on this data to provide transparency in the manufacturing process."
Mobile analytics. The data collected by Digital Fleet+ also feeds into Ozinga RMC's dispatch system to show real-time truck statuses in the context of a job. Users can "see" truck locations through truck icons on a map and view their statuses and the time spent on each activity, such as "To Job," "Waiting at Jobsite," "Pouring Time," and "Return to Plant."
Cloud-based dispatch technology developer BCMI Corp. provides Ozinga RMC team members with the Material Pro mobile app to access fleet statuses along with what is typically provided through the dispatch system (plant volumes, customer accounts, quotes, project history, etc.). The information can be retrieved from anywhere, at any time. Maintenance staff can pinpoint locations of trucks requiring service and repairs. Quality control staff can identify loads they need to test.
Ozinga RMC customers are also given an app, Material Now, to track their orders in real time. All the data available in the dispatch system is accessible to them through the mobile technology, Onchuck notes.
Because the above systems are cloud-based, data is stored in remote servers on the Internet, rather than on-premise servers or databases. This makes it easier to share information with remote users and across various technology tools, which is especially helpful when performing business analytics. Ozinga RMC uses Microsoft's Power BI software as a service, which connects to the data living in all systems to generate reports.
"We are reporting on key performance indicators [KPIs] like yards per hour, average times in a specific status, and beginning and end-of-day start-up/shutdown times," says Onchuck. "There are a multitude of statistics we can share with our customers based on their requests, so they can manage efficiency."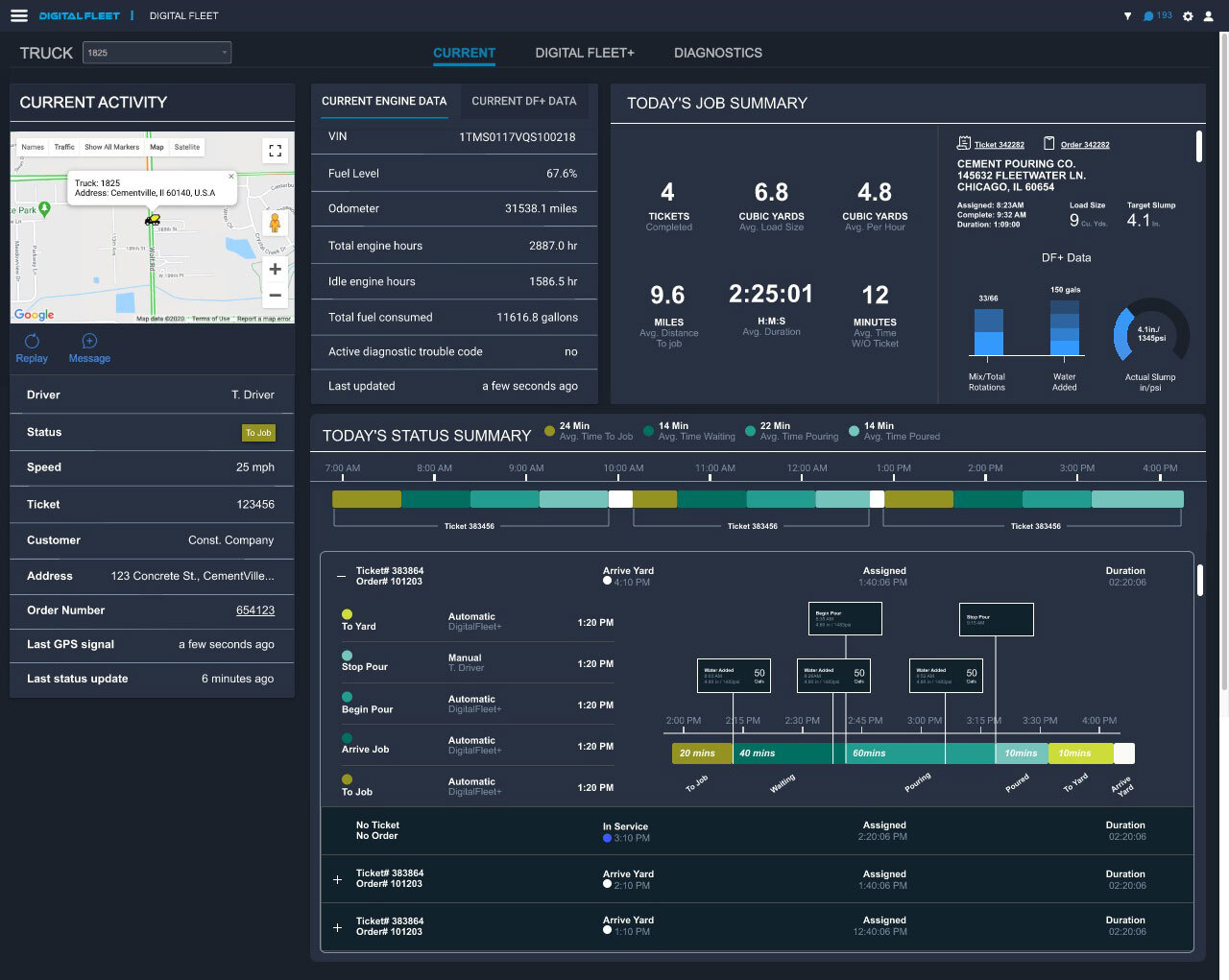 SCREEN CAPTURES: Digital Fleet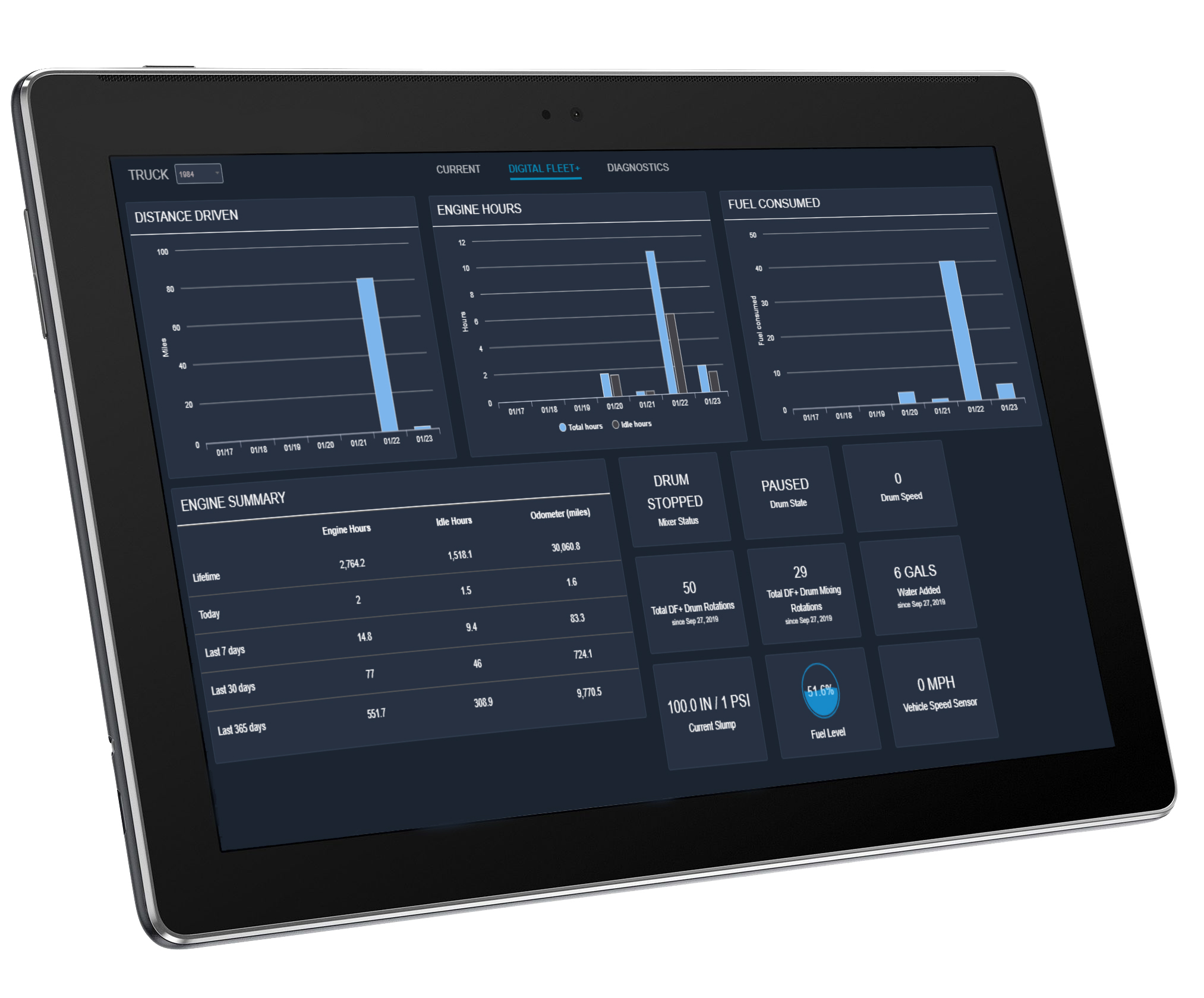 The Digital Fleet+ truck tracking solution (below, opposite page) integrates with existing hardware and software systems to collect and store all truck data on a cloud-based tracking platform. It connects drivers, dispatchers and trucks together on one platform.
WHAT'S NEXT: "MOBILE MANUFACTURING PLATFORMS"
Ready-mix concrete has a limited window of workability. It must be manufactured just in time, with all the supporting labor, inventory and facilities. With the right technologies in place to zero in on key information, mixer trucks can eventually become an extension of the concrete manufacturing process, says Craig Yeack, co-founder of BCMI.
"Producers do an amazing job with just-in-time manufacturing at the plant, but problems arise from over-the-road transportation, including traffic delays, mechanical failure and inspections," says Yeack. "We'd like to use the truck as a mobile manufacturing platform, to extend the reach of just-in-time manufacturing and mitigate the risks of transportation and site delays—to achieve optimum workability and structural integrity when the product flows down the chute." To unlock a truck's true potential as a mobile manufacturing platform, he adds, more in-transit concrete monitoring is needed.
According to Keith Onchuck, bringing technology into the truck to track concrete throughout the curing process will help provide data points that producers can use to monitor the load through the life cycle of manufacturing through placement. Key information can be captured, analytics can be run to uncover potential problems, and the findings can be sent to those responsible to resolve them. "We can turn a reactive response into a proactive response by using the data in this manner," he affirms.
HOW TO GET THERE: SENSORS AND INTEGRATION
When the telecommunications industry began upgrading to fourth-generation (4G) wireless connectivity in 2010, the high data speeds and bandwidth made it possible for fleet owners to remotely connect to their trucks on the road and access real-time data. Sensors and, arguably, open-architecture software systems were two other enabling technologies.
For the purposes of this article, open architecture means a software solution that can be shared with other manufacturers—is "open" to other manufacturers. For example, one reason why Ozinga RMC has seen success with Digital Fleet+ is the Chicago-based vendor can tap into sensors and systems already installed on the producer's trucks by other manufacturers or service providers.
"Our No. 1 goal is to automate the delivery of concrete. If we can integrate a third-party system to most efficiently accomplish that goal, we will absolutely do that," says Digital Fleet President Tim Oakes. "Why limit our customers' capabilities by not integrating?"
In fact, he adds, "We want to eventually go deeper in the truck, with more sensors, more integration with third parties, to make operations as efficient as possible."
"One of the biggest challenges we see is a lack of standards for open communication between systems," observes Ozinga's Onchuck. "There are multiple vendors providing solutions, but in most cases, they do not seamlessly integrate. It then falls to the producer to build the integrations. If there were more standards in place, a standard open protocol for data sharing, it would be much easier to deploy technologies—and we will be much closer to this type of truck."
Another issue to tackle is sensors. While producers employ numerous quality control checks, Onchuck says it is difficult to track the concrete all the way to placement and curing on every load.
"We fundamentally need better sensors for the mixer combined with much more detailed analytics of the mix," confirms BCMI's Yeack, citing hydration as an example: "Slump is the go-to measure of workability today mainly because it's what we can measure. We also can use chemical additives, admixtures, to slow down hydration (or even speed it up) to extend the plastic life of the mix and 'bend the curve' as needed for pouring. However, there are other potentially better methods, including conduction calorimetry [reference ASTM C1.26: Subcommittee on Heat of Hydration ]. At the very least, this would require better temperature sensing and tracking than we have now. It also requires benchmark calorimetry profiles by mix type, with mathematical adjustments for onboard admixture dosages."
The good news, he adds, "Our world is in a sensor revolution, specifically for on-road applications—look at the Tesla self-driving cars!"
Onchuck also reminds us that significant strides have already been made to extract useful data from mixer trucks: "With real-time tracking, we have automated metrics, analytics and a view of all our assets as they move. This allows us to schedule better and track and control challenges as they happen. We are able to provide a more consistent product arriving onsite, which ultimately produces more consistent strengths."
As for the ready-mix truck as a mobile manufacturing plant, says Onchuck, "In all honesty, I feel we will always be chasing this type of truck. I also see it as more of an evolution. As new technology helps us with our purpose, it will be given priority to research and deploy. And as fast as we obtain data, we will find more data elements we want!"
Victoria K. Sicaras is a freelance writer based in Countryside, Ill. She has 15 years of experience working as a writer and editor serving the construction industry.
---
TOUCHLESS TICKETING INTRODUCED DURING COVID-19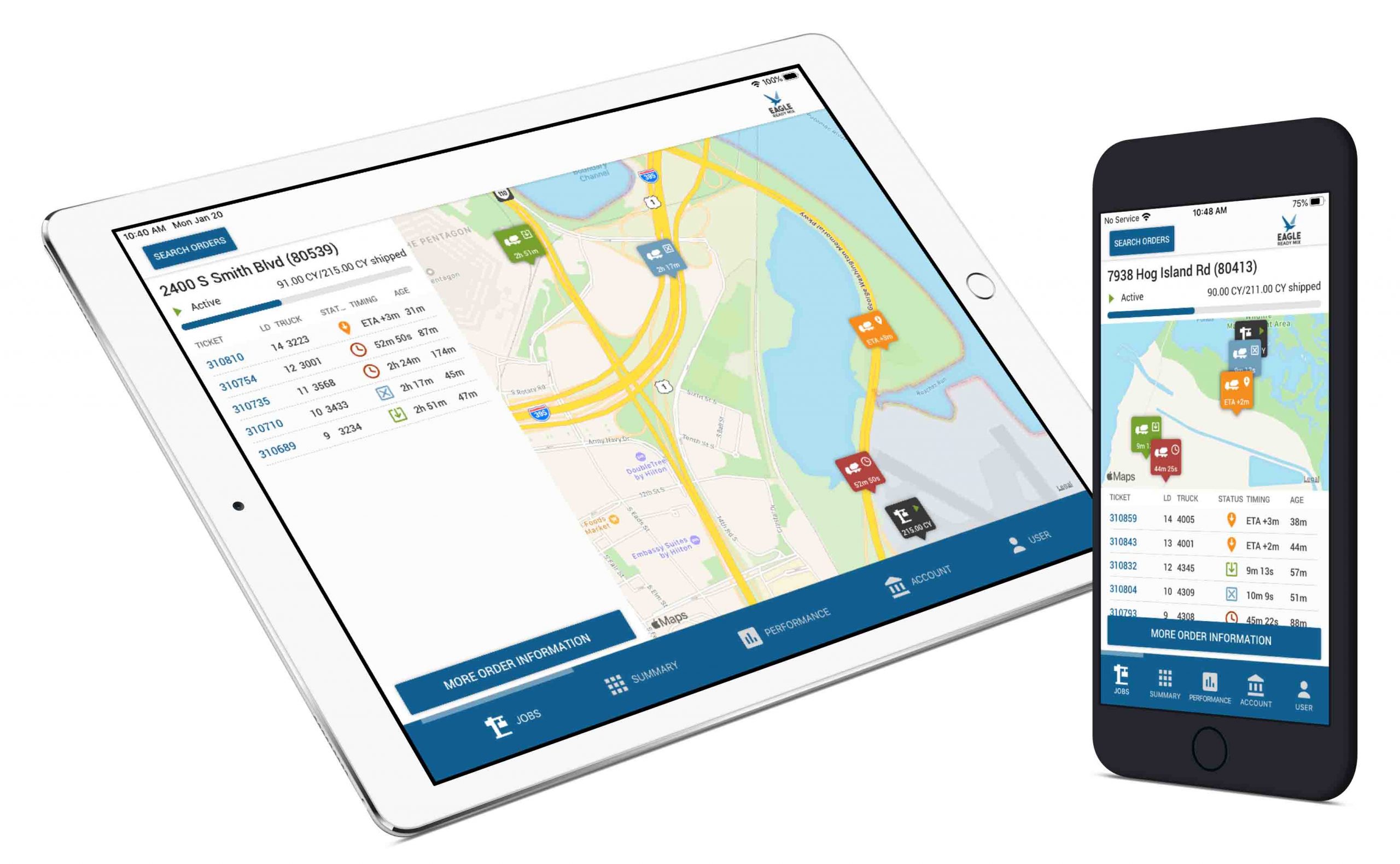 Images: BCMI
Ozinga Ready Mix Concrete uses eTicket + eSign from BCMI Corp. to send paperless tickets to customers and capture eSignatures by text, or with the Material Now app. Mixer drivers receive e-Ticket/e-Sign confirmation on their in-cab tablets.
In response to the coronavirus pandemic, Ozinga Bros. Inc. reacted quickly to adhere to new health and safety guidelines. The producer worked with cloud-based dispatch provider BCMI Corp. and several other concrete producers to develop and deploy a paperless ticketing solution within just a few weeks. "This will protect our employees and customers by enabling them to maintain acceptable distances at jobsites," says Ozinga Ready Mix Concrete CIO Keith Onchuck.
An electronic signature feature was added to the BCMI mobile platform, which also integrates with Ozinga RMC's truck tracking software, Digital Fleet+. When each load of concrete leaves the plant, an eTicket is sent to the customer by text or through their mobile app, Material Now. "The producers gave a clear directive: Contractors had to be able to receive and sign electronic tickets without having to install and learn an app," says BCMI's Craig Yeack.
Once the contractor has an eTicket, it can be shared with other stakeholders: inspectors, transportation departments and other contractors. It includes valuable data captured from the truck's sensors, such as water added after batch. During the job, anyone on the project team can track its progress load-by-load in real time. Each person can review, export and print tickets as needed.
When the customer signs on their own device, the driver is notified through the Digital Fleet+ in-cab tablet. Thus, the system closes the loop for drivers who are responsible for confirming "eSignatures" before leaving the jobsite—all without face-to-face contact.