Sources: Energy Vault Holdings Inc., Lugano, Switzerland; CP staff
Grid-scale solutions developer Energy Vault Holdings is nearing completion of an inordinate lattice- and cage-like structure destined to rank among top long duration energy storage systems deployed to date. Rising on a site adjacent to a wind farm in Rudong, China, the reinforced concrete behemoth bears the world's first EVx Gravity Energy Storage System. The structure bears hoisting devices that capture energy from renewable power sources, then feed electricity on demand to the national grid.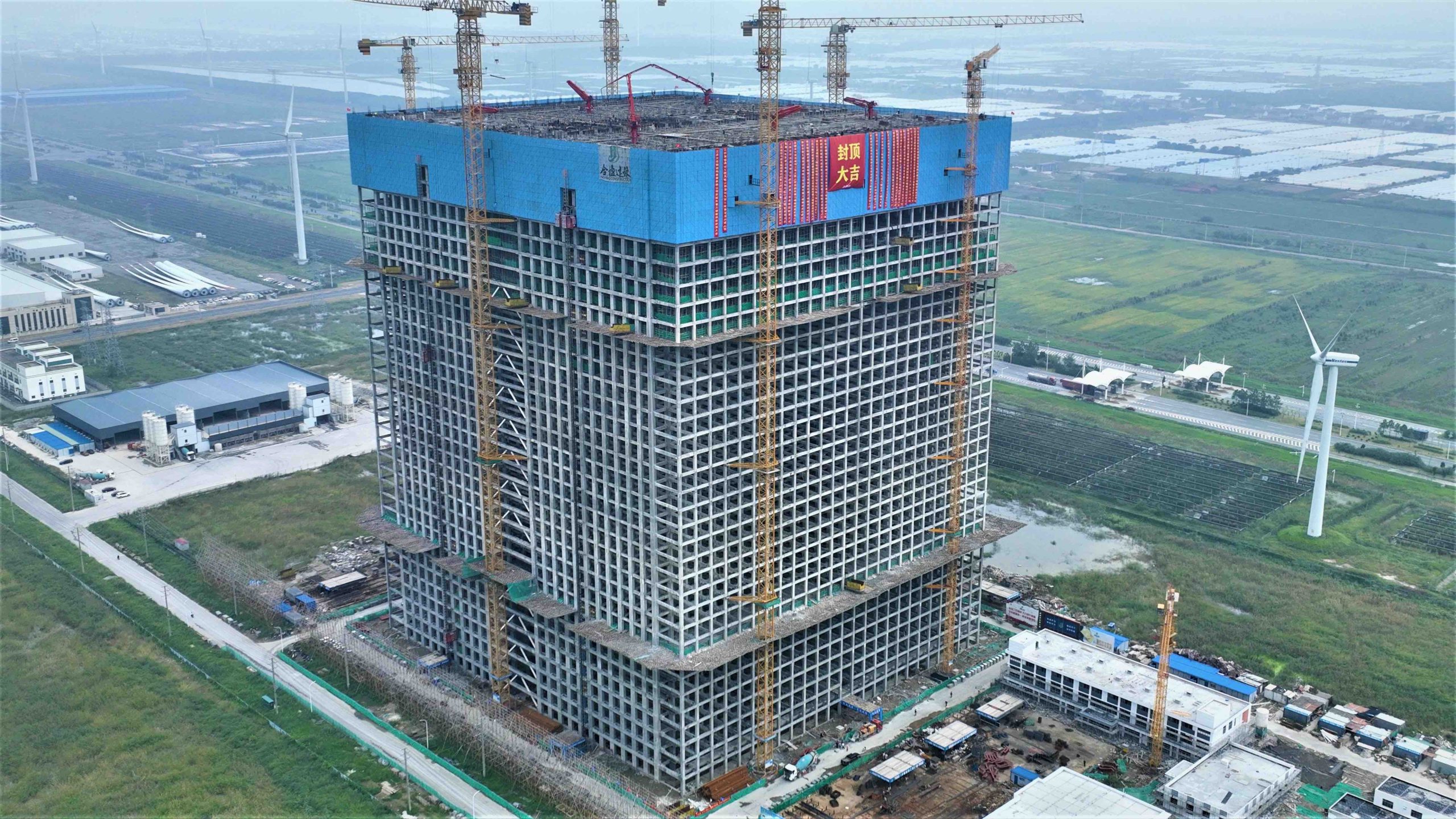 Energy Vault proved the EVx Gravity System's commercial potential in a 2020 pilot, generating electricity by lowering a weight from a tower crane-mounted pulley. The Rudong facility, built with partners Atlas Renewable and China Tianying, will support extensive rows of pulley-style ribbons lifting and lowering weights in open air shafts. Operators will source clean energy to power lifting sequences; upon signaling, the ribbons will lower the weights and convey electricity. Engineers project a round trip efficiency factor, or net electricity delivered, exceeding 80 percent.
"While this represents a significant milestone, our work in China is just beginning given recent local announcements of multi-gigawatt hours of gravity energy storage buildouts, including projects supporting China's 'Zero-carbon parks' initiative with our gravity energy storage technology," says Energy Vault Chairman Robert Piconi. "We look forward to sharing more on gravity technology deployments globally as we see increasing demand for longer duration energy storage."
"This milestone could not have been achieved without the unprecedented collaboration between collective teams in the U.S. and China, as the world's two largest economies have joined forces to meaningfully address climate change," adds Atlas Renewable CEO Eric Fang. "Energy Vault's breakthrough technology is on the cusp of playing a critical role in supporting China's clean energy transition and 30-60 decarbonization policy. We remain focused on an efficient system commissioning process in order to begin storing and dispatching renewable energy in full alignment with local and state grid authorities. This first deployment of Energy Vault's EVx technology will serve as a model for global decarbonization technology partnerships."
Related article
Cemex R&D subsidiary sees the ups and downs of energy storage