Must-see technology-related presentations at the National Ready Mixed Concrete Association's annual conference.
Citizens of the Industry, NRMCA's ConcreteWorks is here! This is clearly the singular most important industry meeting of the year, and it now benefits from being co-located with the fall committee meetings of the Portland Cement Association. From September 29 through October 3, your days will be filled with business meetings, social events, educational seminars, innovative products and keynote presentations. For excitement, you can watch the annual National Mixer Driver Championship. If that lineup is not enough cause to attend, then as a bonus, this year's location is Nashville, Tenn. From the Wildhorse Saloon to Tootsie's, the Honky Tonk Highway is calling!
As of press time, the agenda includes several must-see presentations regarding technology. Unfortunately, three are scheduled during the same time slot, so you'll have to choose wisely. Below are the session descriptions, along with my reasons to attend.
Leading Change Through Digital Transformation; October 1, 2 p.m.
Description: Learn to harness proven leadership techniques to spark tech-driven innovation, improve efficiency, boost margins and enhance customer satisfaction. Get equipped to confront and overcome resistance, enabling your industry to swiftly adapt and thrive in a rapidly evolving world.
Why attend? This is a critical topic as our industry faces the most significant technological migration since the original car-sized Alkon Automated Batcher began running an 80-column punch card per batch! The session is led by Alan White, senior director of information technology (IT) at Dolese Bros., and the best part will no doubt be audience participation and direct interactions between producers in attendance.
IT Security for Ready Mixed Concrete Industry; October 2, 2 p.m. 
Description: Boost your IT security knowledge at the session specifically designed for concrete companies. The session aims to transform end users into the first line of cyberdefense. Learn to identify and mitigate potential threats, enhancing your organization's resilience and safeguarding your valuable data assets.
Why attend? This presentation features three long-term technologists: Ozinga CIO Keith Onchuck, CalPortland CIO Luis Angulo and Alamo Concrete Products Executive VP Rich Szecsy. The obvious must be said that security is critical, yet many producers disregard even the basic safeguards. Breaches in security start with human vulnerability and span from stolen hardware and passwords all the way through the most sophisticated cybercrimes. Security is best built on a comprehensive approach—from the batch person on up to the chief information officer.
How to Recruit, Attract, and Retain Gen Z for your Workforce; October 2, 2 p.m.
Description: If you have an aging workforce and want to learn about all things "Next Gen," you won't want to miss this session. Attendees will be given practical ideas on what Zoomers look for when job searching, what kind of company they want to work for and how to retain them once hired. There will be a special focus on drivers—and help with developing a workforce strategy to attract the next generation of concrete delivery professionals.
Why attend? Gen Z is here! There are nearly 68 million of them in the U.S., born between 1997 and 2012 and currently between 9 and 24 years old. Instead of treating them like a hoard of invading locusts, we must embrace their new emphasis on technology and work-life balance.

Innovations Benefiting the Concrete Industry Topic 2: Quantifying and Optimizing Concrete Mixture Overdesign from Global Data; October 2, 2 p.m.
Description: Reducing overdesign of concrete mixtures is an important factor in reducing concrete's carbon footprint. This presentation will quantify overdesign based on data from 1,500 production plants in 20 geographies across four continents. The role of specifications in increasing overdesign will be discussed, as well as practical methods to minimize overdesign that consider various factors.
Why attend? This presentation features Andrew Fahim, manager of research and development at Giatec Scientific. Fahim is an accomplished AI thinker who is applying his knowledge about artificial intelligence and related skills to our industry.
Optimizing Concrete Mixtures—How Can Artificial Intelligence (AI) Help?; October 2, 3:30 p.m.
Description: Concrete performance and embodied carbon are impacted by many factors. Machine learning and AI present opportunities that can simplify some factors for concrete producers. This session will outline some of the challenges faced by producers. A panel will discuss potential opportunities and some success stories.
Why attend? The presenters are three highly experienced practitioners from companies that are striving to bring the benefits of AI to concrete mix optimization for both lower cost and carbon footprint. Sarah McGuire from Giatec, Ryan Henkensiefken from Concrete.ai and Michael Fletcher from AICrete will capture your attention for the future.
The most important thing you need to know about this year's ConcreteWorks is the high value of attending, thanks to all the superheroes at NRMCA. They work tirelessly to represent and advance our beloved industry. Be sure to give NRMCA COO Nicole Maher's team a big hug when you see them!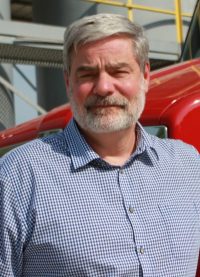 Craig Yeack has held leadership positions with both construction materials producers and software providers. He is co-founder of BCMI Corp. (the Bulk Construction Materials Initiative), which is dedicated to reinventing the construction materials business with modern mobile and cloud-based tools. His Tech Talk column—named best column by the Construction Media Alliance in 2018—focuses on concise, actionable ideas to improve financial performance for ready-mix producers. He can be reached at [email protected].