Founded in 1963 and now under a third generation of family ownership, Belgrade Steel Tank began business building bulk feed bins for farmers. Today, it is known across North America for producing top-quality portable and stationary silos for the concrete industry. The company offers cementitious material storage solutions for ready mixed, volumetric order, and precast producers out of its Belgrade, Minn., headquarters.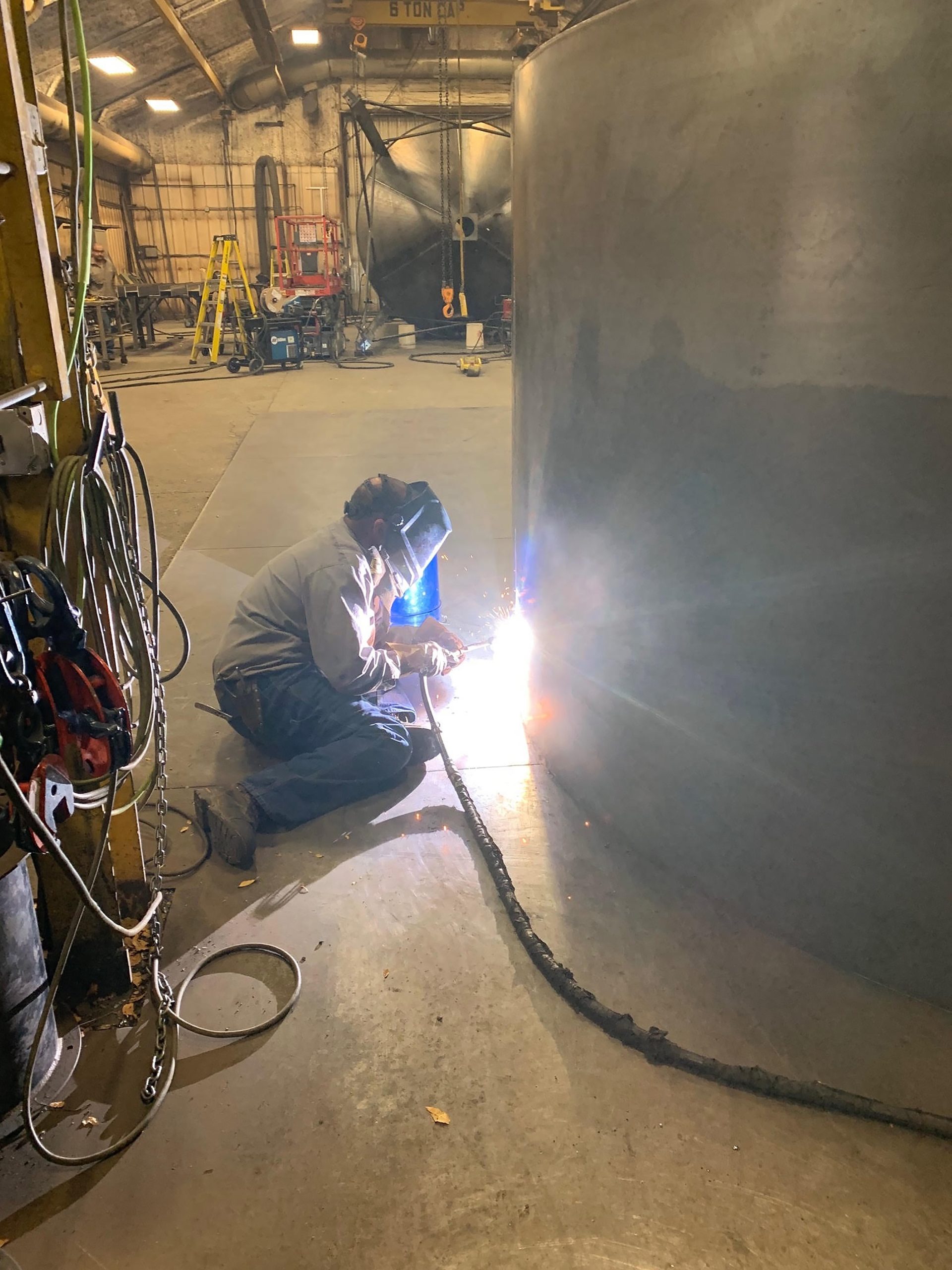 "We evolved to the bulk powder industry in the late '70s, early '80s. And primarily that's our focus these days," says General Manager Dan Kallevig. "We basically offer any component that you would use in a batch plant application. I believe that since the silos we manufacture are specialized for the industry, this has contributed to the longevity of the company." Product line and quality commitment, along with customer service, he adds, factor in Belgrade Steel Tank's continued success.
The company mainly manufactures silos using carbon steel material and saw an uptick in business during the Covid-19 pandemic. With more people staying home, there was an increase in swimming pool installations across the country. That led more specialty contractors to seek storage for powered cement used in the production of gunite (a mixture of cement, sand and water), widely used in pool design. Cement storage demand for mainline concrete producers has also kept the manufacturer busy year-round.
WELDING BEST RESULTS
Customer satisfaction is a high priority at Belgrade Steel Tank. That goal includes offering timely delivery—even while facing supply chain issues common in today's marketplace—and providing consistent quality. Depending on the size of the silo and scope of accessories, it can take anywhere from one to two days to fabricate a smaller model or two to three days to complete a larger one. That accounts for an average of three to six welders on an order.
"It's difficult to keep hard and fast deadlines due to the nature of incoming product and fluctuations," says Belgrade Steel Tank Co-Owner and Engineering Manager Nick Thompson. "But we maintain a solid schedule so we can give our customers an accurate idea of when they can anticipate delivery. Our aim is always to fit each customer's need and meet it efficiently."
The company has approximately 30 welding operators on staff, each trained from day one to meet stringent standards. It demands a high level of consistency among its welders, the appearance of their welds, and weld integrity. "When you have several people welding on a common vessel, you might expect to see different weld sizes or styles. But we expect all welds to be held within a certain tolerance—and they are," observes Kallevig. "Strength is certainly a consideration, but we want to make sure everybody's following a common set of guidelines so that our quality is consistent."
That is particularly impressive considering that the welding operators primarily work out of position, which is more difficult than flat and horizontal welding. "Very few of our welders weld the same thing over and over, and we don't do much bench welding," notes Thompson. "We're doing fillet and butt welds and welding in a variety of positions. We do ups, we're doing downs, we're doing double-sided welds and overhead. You name it."
With a steady stream of business, Belgrade Steel Tank must maintain a high level of productivity. That means having a reliable welding operation, including welding wire that performs well and provides the expected quality. The company finds these benefits with Hobart FabCO Triple 7 gas-shielded flux-cored wire. Because of its ability to weld in all positions, gas-shielded flux-cored wire has been its go-to grade. Gas-shielded flux-cored wire is also operator-friendly, especially for welders who arrive at Belgrade Steel Tank with limited experience.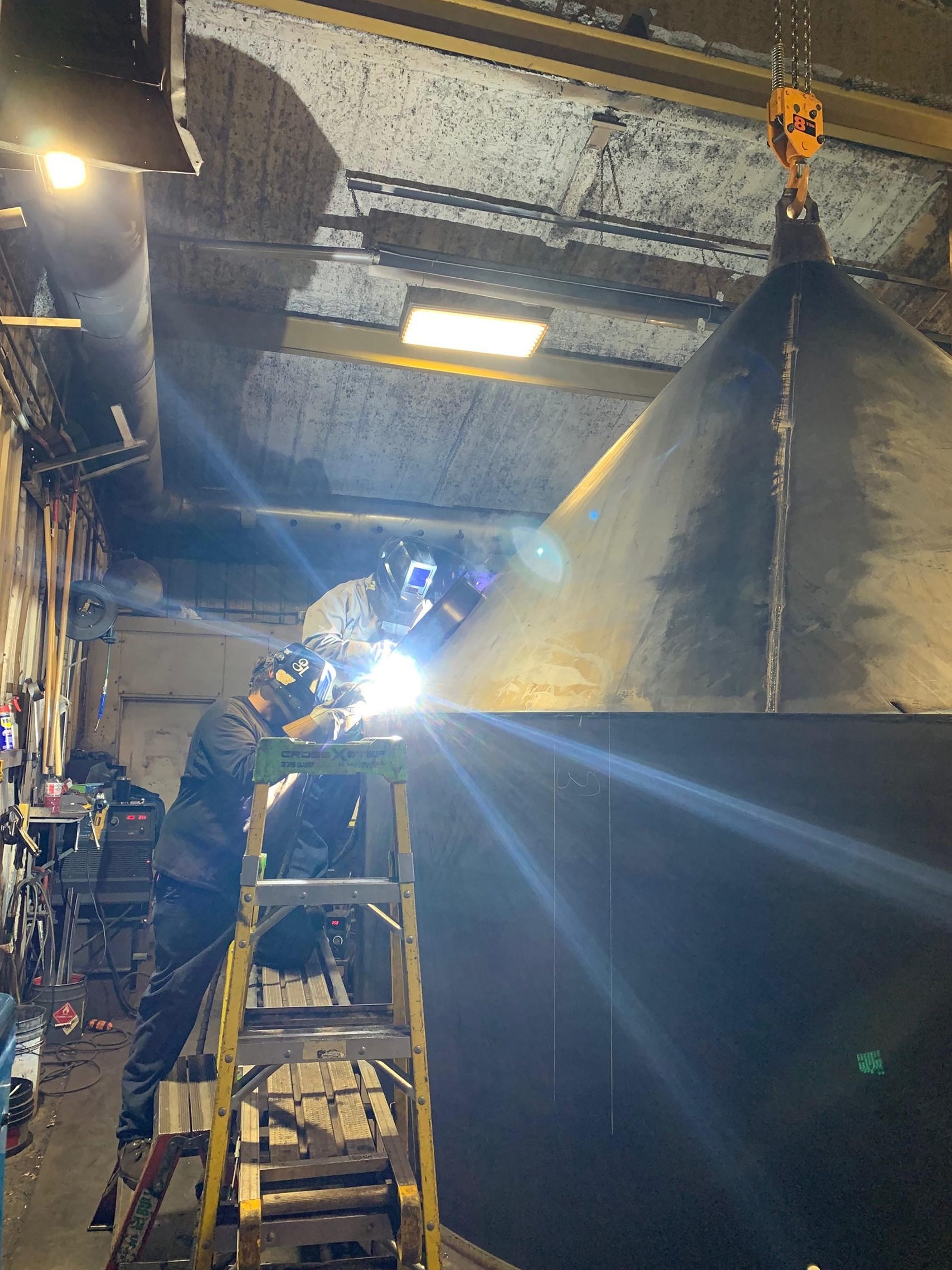 SHIELDING GAS SWITCH
While considering a new welding wire spec, Dan Kallevig and his colleagues noticed a tendency for porosity on the backside of double-sided welds when welding thinner material. Steve Schwartz of local welding distributor, Oxygen Service Co. in Sauk Rapids, Minn., recommended that Belgrade Steel Tank convert from 100 percent carbon dioxide to a mixture of 75 percent argon, 25 percent CO2. The blend is optimized for FabCO Triple 7 gas-shielded flux-cored wire, offers a stable arc, and yields visually appealing welds.
From there the conversion was simple, Schwartz recalls: "I brought in sample spools and we let the welding operators weld with the wire. Collectively, the feedback was positive. Everyone was on board and wanted to make the switch."
In addition to the welding operators appreciating how the Hobart Triple 7 wire ran, Belgrade Steel Tank discovered more benefits with continued use of the product. "I would say overall versatility of the wire is great. We've tried some other wires that don't run as well in the vertical up position or running a down pass," says Co-Owner and Production Manager Steve Mueller. "Being able to rely on the Triple 7 for that is among the main reasons we like it. The slag removal is also easy and there seems to be less spatter as well."
The company was also able to eliminate the porosity issues it experienced with its previous wire, as well as achieve more visually appealing welds. "We haven't had any issues with any worm tracks or porosity, anything like that. Everything seems to be going really well with it," Kallevig affirms. "It's easily been a 25 percent improvement in our quality," Thompson adds. "It's hard to put a dollar figure on cost savings for that, but I think when you stay busy and continue to have a very generous backlog, that tells you that the customers are liking what they see."
In addition to the improved quality, Mueller says rework to address the issues with porosity has disappeared, which adds to the cost savings the company has found with the Triple 7 flux-cored wire. Belgrade Steel Tank realizes additional savings in reduced contact tip consumption, which can be attributed to the change in shielding gas mixture. The argon-CO2 blend tends to be less harsh on consumables than straight CO2. All in all, the Triple 7 wire has benefited Belgrade Steel Tank's flux-cored welding operation, leaving both management and the welding operators satisfied with the results.
"In years prior, we dabbled with some other products, whether it was cheaper or a little more expensive—but we would always fall back to the Hobart wire," Mueller concludes. "This time, the Triple 7 wire has been a great, versatile option for us."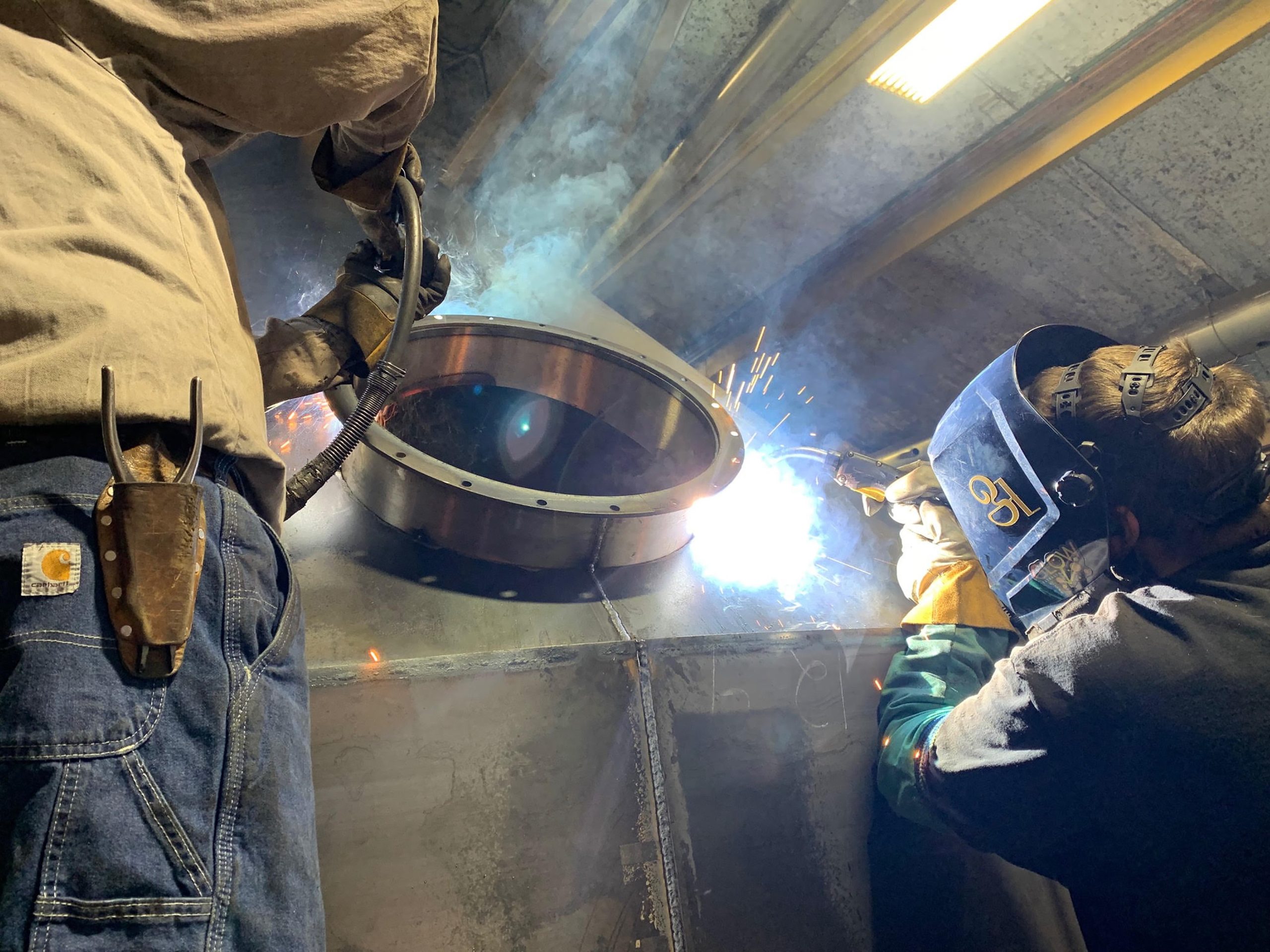 Joe Lambrecht is Product Specialist with Hobart Brothers LLC, a welding filler metal manufacturer based in Troy, Ohio; www.hobartbrothers.com