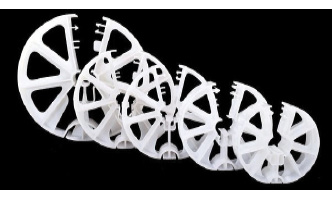 Pleasanton, Calif.-based concrete construction accessory manufacturer Simpson Strong-Tie has acquired certain assets of Pieresearch LLP, an Arlington, Texas specialist in plastic rebar reinforcing alignment and centralizer products for drilled shafts, soil nails and rebar-reinforced earth retention anchors.
"This acquisition enables us to expand our offering in the commercial market," says Simpson Strong-Tie Vice President of Strategic Market Development Ryan Kaelin. "By combining Pieresearch's quality products with the strength of our sales, field support and distribution network, we're creating even greater value for concrete construction professionals."
The Peterbilt Technician Institute recently recognized its 1,000th graduate during the graduation ceremony at its Lisle, Ill. campus: Jason Neumann, who arrived at PTI after completing the Universal Technical Institute diesel technician training program and a U.S. Army tour of duty. Green Bay, Wis. Peterbilt Motors dealer JX Enterprises was among the first employers to offer Neumann a shop position.
Since its creation in 2013, PTI has been a strategic initiative aimed at training highly qualified service technicians for assignment at any of the heavy-duty truck manufacturer's 400-plus locations. The PTI program runs for 12 weeks; students earn brand-specific certifications to maintain, diagnose and repair Peterbilt vehicles and Paccar powertrains. PTI's custom-designed curriculum and focus on developing work-ready skills have contributed to its rapid growth. PTI has campus locations in Lisle, along with Irving, Texas and Nashville, Tenn. Peterbilt is committed to doubling the number of technicians in its dealer network by the end of 2027.
"The PTI program continues to create successful career paths and facilitate employment for hundreds of students every year across our three locations," says Peterbilt Technician Program Manager Casey Spadafina. "Our dealerships are incredibly motivated to support the program to recruit high-quality technicians for their operations."
"We have had outstanding success with many recruits from the PTI program," adds JX Enterprises Director of Continuous Improvement Hannah Freeman. "Qualified techs directly contribute to our growth by delivering quality work that increases customer satisfaction. We plan to continue hiring PTI graduates for all our locations."