Sources: Oldcastle Infrastructure, Atlanta; CP staff
Oldcastle infrastructure has acquired Hydro International, a U.K. water processing, treatment and management specialist working directly with municipal, commercial and industrial customers. The transaction extends Oldcastle Infrastructure's pursuit of circular water economy solutions, concurrent with closely related trends: Increased regulation and government funding, plus greater recognition of aging supply and conveyance infrastructure.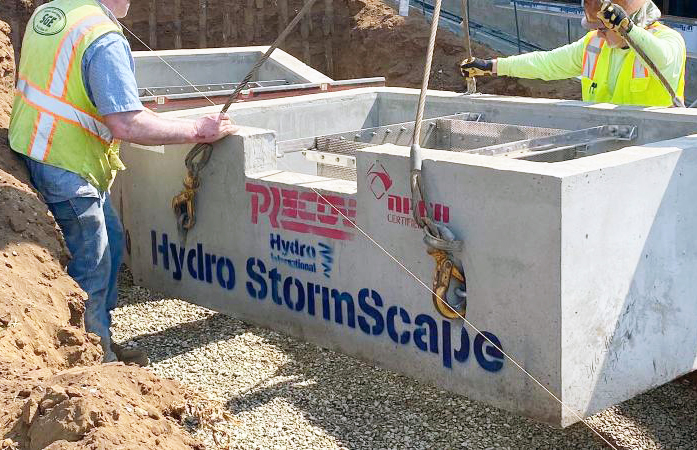 "As one of the most respected players in the North American and U.K. stormwater and wastewater markets, Hydro brings extensive market knowledge and strong specification positions that will drive growth for us both in Europe and North America," says CRH Infrastructure Products President Jason Jackson.
"The opportunities for synergy are tremendous," adds Hydro CEO Paul Cleaver. "Combining our product expertise with Oldcastle Infrastructure's commercial platform enables our teams to uniquely solve ever-expanding problems in the water market."
Oldcastle Infrastructure closed the deal with funds advised by Agilitas Private Equity LLP.
OLDCASTLE APG INTEGRATES CERTAINTEED OUTDOOR LIVING PRODUCT LINES
Oldcastle APG, Atlanta, has acquired the fencing, railing and decking assets of CertainTeed, including Buffalo, N.Y. and Orem, Utah production facilities and the upmarket vinyl or composite Bufftech (dealer) and SimTek (retailer) brands. Integration of the premier product lines, specialized manufacturing capabilities, and geographical positions will strengthen Oldcastle APG's proficiency in the attractive vinyl fencing category following the 2022 acquisition of Barrette Outdoor Living—a top provider of fencing, railing and decking in North America.
"CertainTeed's reputable brands and manufacturing assets will augment our Barrette Outdoor Living operations, reflecting our commitment to continually develop innovative and category-defining building products that connect our customers with the outdoors," says Oldcastle APG President Tim Ortman. The arrival of CertainTeed products, he adds, complements an extensive family of Oldcastle APR brands or offerings, among them Belgard concrete hardscapes, MoistureShield composite decking and Barrette Outdoor Living Active Yards.
Hydro International engineers treatment structures of concrete or other construction. Its StormScape solution combines pollutant removal and runoff reduction into one biofilter.