FMI Consulting forecasts continued growth of design-build project delivery over the next three years, despite recent industry challenges and market volatility. Researchers behind the FMI Design-Build Institute of America Mid-Cycle Update Report assess construction spending across four U.S. Census Bureau regions in respective building and nonbuilding segments: manufacturing, commercial, educational, office and health care; and, highway/street, transportation and water/wastewater. Among their findings:
Design-build is anticipated to represent up to 47 percent of construction spending in the noted segments and geographies in 2026.
Total growth in design-build construction spending is projected to pace 22.5 percent from 2022 to 2026. Design-build is anticipated to account for $1.9 trillion of construction spending in the assessed building and infrastructure segments over the 2022-2026 forecast period.
The majority of respondents to the FMI DBIA Mid-Cycle survey (83 percent) indicate design-build can help them with supply chain issues over other delivery methods.
Highway/street (18 percent), educational (13 percent) and manufacturing (14 percent) are anticipated to hold the greatest share of design-build spending through 2026. Together, the transportation and highway/street sectors are expected to represent 27 percent of design-build spending by 2026.
Water/wastewater is the smallest segment of spending but fastest growing.
Over three-quarters of survey respondents believe that design-build facilitates greater utilization of prefabrication on projects.
Competitive Best Value, Progressive Design-Build and Qualifications-Based Selection account for a majority of the procurement approaches among survey respondents, all three enabling project principals better cost uncertainty management that Low Bid in volatile market environment.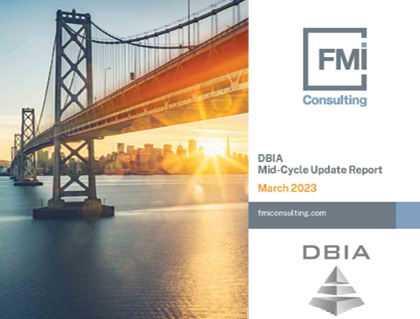 Building on a 2021 FMI design-build utilization study, the DBIA Mid-Cycle Update Report reexamines the industry following challenges of the past three years, including disruptions from the Covid-19 pandemic, labor shortages and supply chain issues. The flexibility and collaboration inherent in design-build uniquely position the project delivery method to resist stagnation. The projected decrease in the design-bid-build method alongside growth in the design-build alternative demonstrates the industry is moving toward collaboration as a norm and an expectation.
"With the positive projections in this update, design-build will be integral to keeping our nation's infrastructure projects moving forward," says DBIA Executive Director and CEO Lisa Washington, CAE. "Over the last three years, we've seen design-build withstand the uncertainty of a volatile market and continue to demonstrate optimal results."