Besser Co. and the ACPA Foundation named recipients of the 2023 Besser Pipe Scholarships ($2,500) during the American Concrete Pipe Association Pipe School earlier this year. The first recipient is Ava Wesner, a senior at Posen High School in Michigan, who will attend a Michigan college this fall to study environmental engineering. The second recipient is Michael McDole, a member of the CP&P Ashland, Va. production team. He is attending Brightpoint Community College and will be transferring to Old Dominion University to earn a degree in engineering.
Besser's commitment to education and training was instilled by founder, Jesse Besser. Throughout subsequent decades, it was embraced by company leaders including Jim Park, Kevin Curtis, Jon Dannenberg and Joe Pelchat. They and many colleagues recognized that a trained workforce is the key high-quality concrete product output. Through their foresight, ingenuity, dedication, and leadership, Besser has earned a reputation as the industry's leading provider of impactful training. Representative training is skillfully delivered during Pipe Schools held in Sioux City, Iowa; Blockmakers Workshop courses at the World Center for Concrete Technology, adjacent to Besser world headquarters in Alpena, Mich.; onsite courses in producers' facilities; and, as part of ACPA's annual Pipe School education. Applications for the 2024 Besser Pipe Scholarships will be available this summer at the ACPA site, www.concretepipe.org.
Iowa-based volumetric mixer specialist Cemen Tech has named Matt Bergman director of Customer Service and Wood Hancock director of Information Technology. Bergman is responsible for oversight of classroom and in-field training, technical support and a regional technical support manager team. Hancock is tasked with enterprise level IT infrastructure and guiding colleagues in the department's strategic objectives.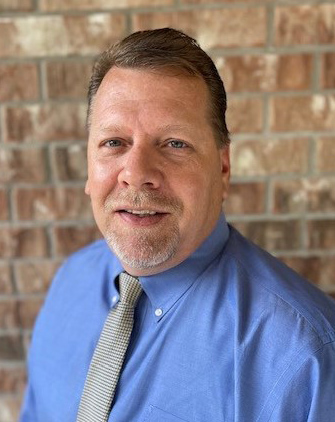 Florida-based Kemco Systems has appointed Mark Kayne as Concrete Market manager. He arrives with 35-plus years' experience in industrial equipment sales, and is responsible for further developing the Kemco account base and supporting customers' needs related to cold and hot weather concrete production. Additionally, he will visit customer sites to conduct equipment installation surveys and evaluations.
Kayne began his career working for a family-owned business that manufactured industrial hot and cold high pressure cleaning equipment and automated parts washing systems. Since then, he has been providing sales and service of industrial equipment used for water heating, high pressure cleaning, steam cleaning and generation, plus wastewater treatment in North American concrete, mining, oil or gas and manufacturing operations.
Teka North America Inc. is marking its 50th anniversary as a supplier of high-performance mixers and batch plants for the concrete products, glass and refractory industries. Established in Germany in 1961, Teka Maschinenbau GmbH's history on this side of the Atlantic dates to 1972, when founder Alfred Gartner and his brother-in-law Helmut Lorenz set up shop in Long Island, N.Y.
Teka North America grew steadily by providing mixers that feature durability, mixing performance, speed and serviceability. In addition, customer service has been a hallmark of Teka North America, according to General Manager Mike Mueller. The company's portfolio has grown to encompass high-performance TPZ Planetary Mixers, THZ Pan Mixers and THT Planetary Mixers with patented Mixing Turbine Technology. Output capacity ranges from one-quarter cubic yard for the THZ 250 up to 7.5 cubic yards for the THZ 7500. — Teka North America Inc., Chesapeake, Va., 757/558-8846; www.tekamixers.com
ASSOCIATED BUILDERS & CONTRACTORS TOP PERFORMERS
The Associated Builders and Contractors' fifth annual Top Performers publication lists contractor members that build the country's most enduring, innovative, high-quality construction projects, ranked by work hours. The No. 1 2023 ABC Top Performer by work hours is Turner Industries Group, Baton Rouge, La., followed by Brown & Root Industrial Services, also of Baton Rouge; TIC – The Industrial Company, Lone Tree, Colo.; M.C. Dean, Tysons Corner, Va; and, Performance Contractors, Baton Rouge.
The No. 1 and 2 2023 general contractors are Turner Industries Group and M.C. Dean, while the top specialty contractor is Lithko Contracting LLC, West Chester, Ohio. The No. 1 2023 ABC top performing contractors by market sector are: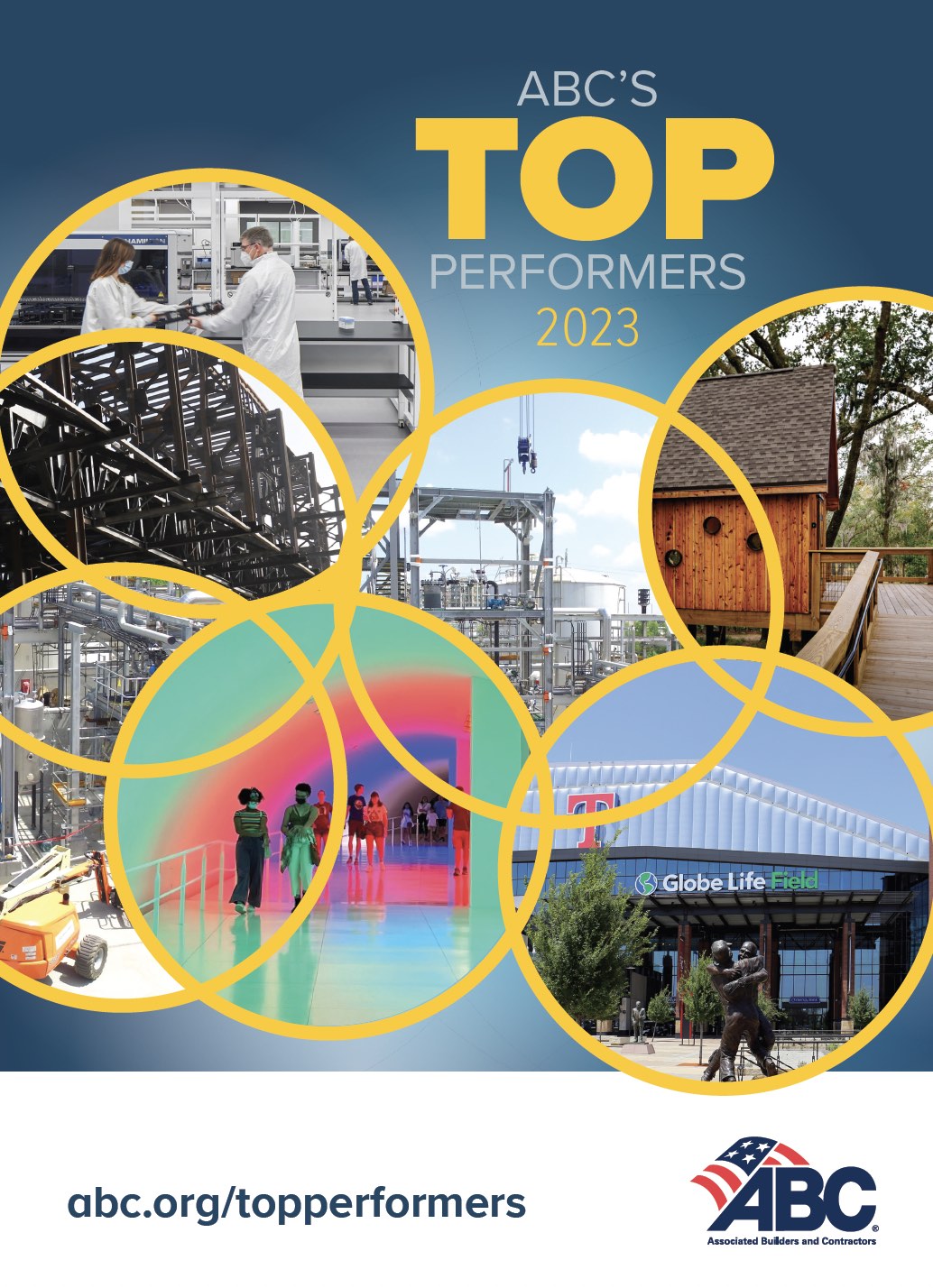 1. Airport: M.C. Dean
2. Education: Wharton-Smith Inc., Sanford, Fla.
3. Entertainment: W. G. Yates & Sons Construction Co., Philadelphia
4. Government: Hensel Phelps, Greeley, Colo.
5. Health Care: Brasfield & Gorrie LLC, Birmingham, Ala.
6. High Tech: M.C. Dean
7. Hospitality: TDIndustries Inc., Dallas
8. Industrial: Turner Industries Group
9. Infrastructure: Allan Myers, Worcester, Pa.
10. Military: M.C. Dean
11. Mixed Use: Lithko Contracting
12. Museums/Monuments/Parks: Marek, Houston
13. Office: Bergelectric Corp., Carlsbad, Calif.
14. Parking: Chamberlin Roofing & Waterproofing, Houston
15. Religious: FSG Electric/Facility Solutions Group Inc., Irvine, Calif.
16. Residential: Power Design Inc., St. Petersburg, Fla.
17. Retail: FSG Electric/Facility Solutions
18. Sports Complex: Brasfield & Gorrie
"This year's Top Performers agree that culture is key," says ABC President and CEO Michael Bellaman. "Not only is a strong corporate culture an essential component of a thriving and vibrant workplace, but it helps retain top talent, create safe and healthy jobsites and build better communities. We honor these top-performing contractors that are placing the highest importance on investing in their people, health and safety, and innovation."
Top Performers in 2023 include everything from women-owned to service-disabled or veteran-owned to minority-owned businesses large and small; general contractors; and, specialty trade contractors throughout the entire country. To be eligible, Top Performers must achieve Gold status or higher in ABC's STEP Safety Management System, which makes the top-performing contractors more than six times safer than the U.S. Bureau of Labor Statistics industry average, according to ABC's Safety Performance Report. The majority of the honorees also must earn ABC's Accredited Quality Contractor credential, which recognizes commitment to corporate responsibility in quality, safety, talent management, education and community relations.
Through programs and credentials like STEP, AQC and other robust programs, ABC Top Performers demonstrate they: sustain and grow their businesses, financially and economically; offer market-competitive compensation, benefit and retirement packages; commit to world-class safety, plus workforce development, education and creating career opportunities; develop opportunities for their employees to achieve their career dreams; and, cultivate committed leadership.
ROBOTICS ENGINEERS PIVOT FROM REBAR TYING TO HANDLING, PLACEMENT
Advanced Construction Robotics (ACR) arrived last month in Las Vegas for ConExpo-Con/Agg with its second tool for reinforced concrete construction: IronBOT, equipped to lift, carry and place up to 5,000-lb. bundles in transverse or longitudinal orientation and relieve crew members of routine heavy lifting. IronBOT joins TyBOT, the rebar-tying robot that put Pittsburgh-based ACR on the map and has garnered buy in from contractors, agencies and labor interests. When deployed in tandem, the robots can reportedly net a 50 percent time savings in rebar installation schedules.
"We are confident the combination of TyBOT and IronBOT generates a disruptive technology, meaning the time and cost savings are so significant on a job that it will disrupt the way our industry installs reinforcing steel," says ACR Founder and Executive Chairman Stephen Muck.
The first IronBOT completed an inaugural project in February on the Port St. Lucie West Boulevard Bridge in Florida, alongside Shelby Erectors Inc. crews. The originally estimated rebar installation window was 14 days. By augmenting Shelby's crew with the BOT Bundle, the same amount of work was completed in only seven days. During the pilot, IronBOT placed 147,032 lbs. of steel while a TyBOT companion completed 58,068 ties over 6.5 production shifts. As ACR Integration Partner, Shelby Erectors has been boosting crew productivity with TyBOT for over two years.
"We were excited to be able to have IronBOT and TyBOT work together alongside our crews on this project. We were impressed that we could slash our rebar installation schedule in half. We are actively looking for new projects to incorporate the BOT Bundle in our operations," affirms Shelby Erectors Chief Operating Officer Jack Nix.
"IronBOT's maiden voyage was a perfect example of how field teams, working alongside our technology, can form a 'modern crew' to unleash disruptive productivity levels," adds ACR CEO Danielle Proctor. "This robotic revolution provides innovative construction firms the ability to become game-changers by adopting and putting their 'modern crew' to work."