Sources: Associated Builders and Contractors, Washington, D.C.; CP staff
The Department of Labor's flawed method of calculating "prevailing wages" under the 91-year-old Davis-Bacon Act adds at least 7.2 percent to the cost of federal and federally assisted construction projects and inflates wages by 20.2 percent compared to local market averages, according to a new report from the Beacon Hill Institute, Medway, Mass.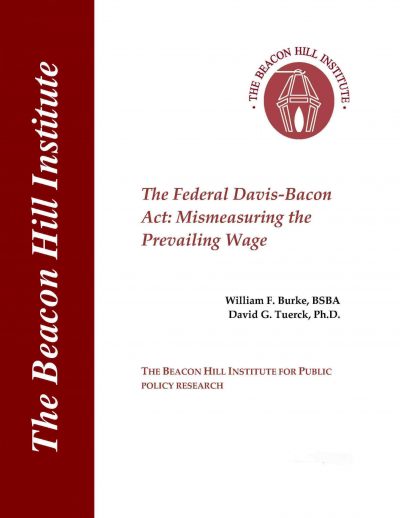 "The Federal Davis-Bacon Act: Mismeasuring the Prevailing Wage" examines DOL Wage and Hour Division methodology determining how much contractors are required to pay to construction workers on taxpayer-funded projects subject to Davis-Bacon Act provisions. Authors find that the methodology produces wage determinations that do not reflect local area standards and are not statistically accurate. Their findings are consistent with reports critical of prevailing wage schemes by the DOL Office of Inspector General, Government Accountability Office and think tanks published over the last 50 years.
"There is a general unawareness of the arcane statistical calculations undertaken by the Wage and Hour Division that inflate costs. Since the law is intended to reduce wage competition, the government authorities responsible for calculating the prevailing wage are under pressure to use archaic methods for calculating a wage that is biased toward requiring union-scale wages instead of an average or even true prevailing wage. In addition, the DOL occupational classifications and rate of pay are not based on qualifications, experience, safety record or skills but rely only on the type of work performed on a project," write Beacon Hill Institute President David Tuerck, Ph.D. and Director of Research William Burke. "The DBA turns federal construction spending into a costly welfare system for union workers in some markets. The DBA gets periodic attention from Congress and various critics as an archaic policy resulting in waste, favoritism and reduced competition for government contracts."
The Associated Builders and Contractors, whose criticism of DBA reflects members' merit shop philosophy, has called on the Labor Department to modernize its wage determination process for decades. The group contends that a DBA-revising rule the agency proposed in March stands to make the "archaic and unscientific process even more inaccurate, inflationary and biased."
"The [White House's] sweeping proposal makes 50 significant changes to Davis-Bacon Act
regulations, yet it does nothing to fix the systematic errors within the DOL's wage determination process," observes ABC Vice President of Regulatory, Labor and State Affairs Ben Brubeck. "Besides exacerbating well-documented flaws, the proposal expands DBA regulatory burdens and increased costs to more taxpayer-funded construction projects and industries including small businesses in the trucking, manufacturing and surveying industries—while failing to provide regulatory clarity to impacted contractors and stakeholders."
"This anti-competitive and costly proposal couldn't come at a worse time for taxpayers following the passage of the Infrastructure Investment and Jobs Act, which over the next 10 years invests $550 billion of new federal money into infrastructure above baseline spending," Brubeck continues. "The construction industry is facing unprecedented inflationary headwinds driven by supply chain disruptions, materials price escalation and a skilled labor shortage of nearly 650,000 in 2022. This rulemaking will result in more inflation and the construction of fewer roads, bridges, schools, transportation systems and utilities funded by taxpayers."
Related articles
Feds revisit Davis-Bacon prevailing wage math, calculation methods
Davis-Bacon support deepens along White House, Capitol Hill axis