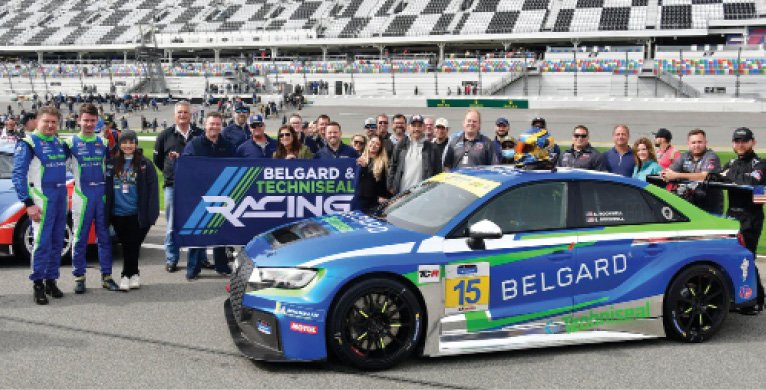 Oldcastle APG brands Belgard and Techniseal are lead sponsors of the Rockwell Autosport Development Audi RS3 LMS, campaigning in the IMSA Michelin Pilot Challenge season. Techniseal launched its Rockwell Autosport Development team sponsorship at the tail end of the 2021 season, dispatching the racecar to Louisville, Ky. as a Hardscape North America exhibit centerpiece. Belgard joined its sister brand for the 2022 Michelin Pilot Challenge series.
Hardscape contractors and dealers, along with APG employees and their families, can engage with the Rockwell Autosport team and Audi RS3 LMS as they tour eight different raceways across the country. The family friendly and accessible Michelin Pilot series enables a level of close engagement with the team and its car that is unseen across other North American racing series. Alex and Eric Rockwell, a father-son duo, run the team and race as competitors. Third Rockwell Autosport Development Driver Nelson Canache, two-time Rolex 24 Hours of Daytona champion, brings the team world-class racing experience.
IMSA is billed as the premier sports car racing series in North America. Each Michelin Pilot Challenge event will provide Belgard and Techniseal exposure to tens of thousands of established and potential new customers.