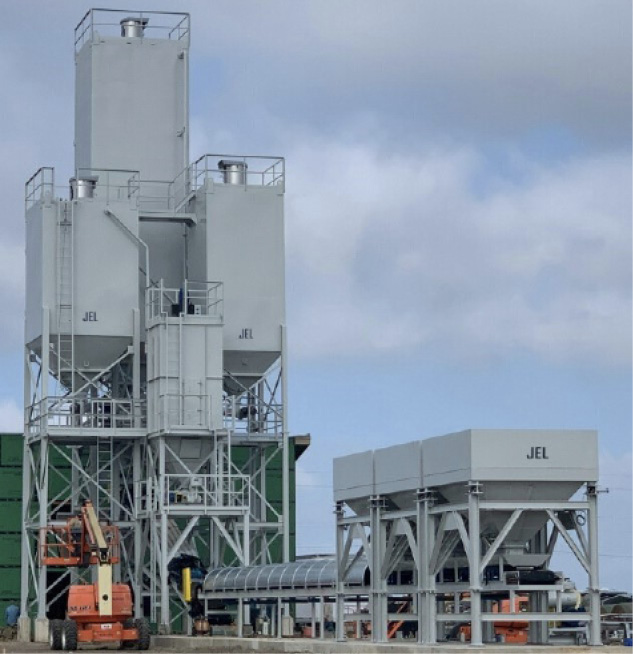 Batch plant dealer Fesco Direct coordinates with equipment manufacturers across the country to tailor fixed or portable packages for ready mixed or manufactured concrete producers and contractors. Representing Milwaukee neighbor, JEL Concrete Plants, Fesco Direct recognizes how each project requires custom systems to meet producer or contractor targets for concrete grade, flow characteristics and general properties.
The JEL engineer and vendor team delivers equipment or systems needed to unload, move, store, mix, load and handle the materials. Seasoned in transit or central mixed and precast concrete production environments, JEL founders structured their business in a way that streamlines the design, fabrication and assembly of traditional batch plants by applying lean manufacturing principles. A desire to maintain their core philosophy, while introducing process control advancements, led the manufacturer to partner with Automation Solutions LLC. The former realized the need for a specific control system; Automation Solutions' design provided the ability to offer a unique, cost-efficient package for concrete batching.
"Automation Solutions developed a custom, proprietary solution that met our needs. We had been working with an automation specialist who committed to developing a system but failed to deliver. [President] Steve Nordness and his team are true innovators who put the customer's needs first," says Fesco Direct Managing Partner Matthew Gladen.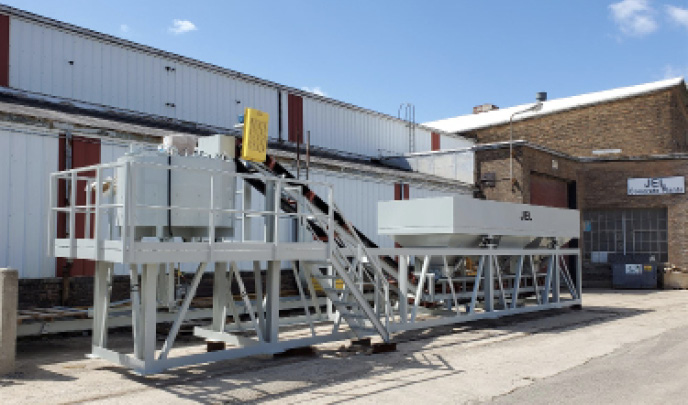 OPPORTUNITY
Entering the automated control system market for mid-tier and lower concrete batching took JEL down the initial path of investigating "off the shelf" packages. The manufacturer envisioned a system equal to consolidating and aggregating multiple processes, each highlighted by a separate manual electrical system. After shopping multiple vendors and investing in some preliminary test systems, JEL quickly found the results rigid and incapable of being properly and efficiently altered to provide the target solution. The high cost of retrofitting or enhancing existing systems was also in direct conflict with its core principle of offering customers quality solutions at affordable prices.
After meeting with JEL to understand and dissect engineers' specific requirements, Automation Solutions invested in an HMI mockup to demonstrate how a custom designed solution would suit the manufacturer's needs and present an affordable "off the shelf" alternative. Due to the nature of building from the ground up, as opposed to scaling back or needing to enhance specific aspects of the other suppliers' one-size-fits-all packages, Automation Solutions became JEL's partner of choice.
The batch plant manufacturer understands the advantage its new control system provides across a competitive concrete equipment landscape, Automation Solutions notes. Many producers have become trusted sources of ready mixed and manufactured concrete in highly populated geographies, but are often challenged when the need arises to deliver loads to more remote areas. Historically, it was cost prohibitive to set up an automated, high-quality, concrete production site in less densely populated areas. Automation Solutions' new control package for JEL addresses traditional quality concerns and enables the manufacturer to quote competitive, fully automated plants for rural or remote sites.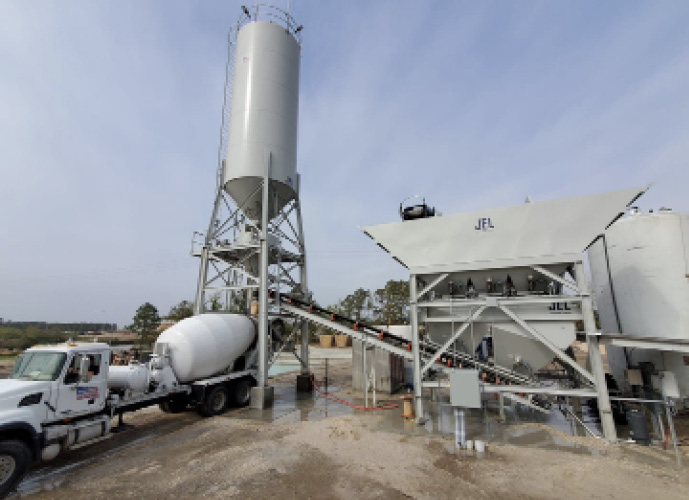 IMPLEMENTATION
Automation Solutions leveraged a combination of on-site and remote work throughout the Covid-19 pandemic—proving an essential business can meet customer needs even when challenged with adversity. The company's hyper-focused task force acted as an extension to the JEL team, sharing the same goals and desire to meet objectives on-time (< three weeks) and within budget.
Automation Solutions leveraged its process of providing JEL turn-key services beginning with pre-sales engineering through on-going support. JEL Business Development Manager Jason Jacobs tied the project's success to working "with experts who understand the entire process and can lead and execute it from under one roof. So much complexity is introduced when there's a need to manage multiple suppliers. In this case, Automation Solutions worked directly with our team as a true one-stop-shop."
The heart of the JEL solution features the design and engineering of an enclosure—highlighted by an HMI panel and PLC system utilized to control all aspects of the system. A recipe and humidity regulating system was developed to control the batching of concrete, ensuring setpoints are adjusted automatically to regulate the proper amount of water for each specific batch. The "auto mode" instructs the machine to cycle automatically. A simple start button sequentially dispenses the proper amounts of each ingredient and records the level dispensed. Alternatively, the machine can be switched to a "manual mode" allowing the operator to run specific processes independently from the HMI.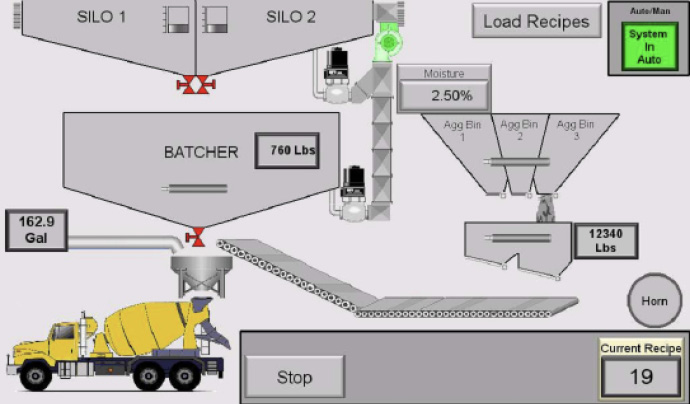 IMPACT
The project demonstrates how perception is not always reality, Automation Solutions reports. JEL originally thought a "canned" existing solution, with some alterations, would be sufficient to achieve its goals while also being less expensive than a custom package. Automation Solutions' team allowed for the design, build and installation of a concrete batching control system operating to intent, while at the same time efficiently hitting a desired price point. The fully integrated and automated system completes tasks to the exact specifications for which it was designed, and provides plant owners the ability to manually override the system.
The new solution helps reposition JEL as a more innovative provider in the field of concrete batch plants, the Automation Solutions aspect:
Optimizing and regulating product consistency;
Reducing the variability found in prior manual processes;
Eliminating areas of potential for human error;
Increasing productivity and safety measures;
Creating one cohesive process as opposed to multiple, independent tasks;
Transferring resources where needed and eliminating trade-offs;
Distributing manual labor evenly, allowing for social distancing;
Affording plant operators the capability of monitoring and executing both on-site and remotely; and,
Introducing new revenue sources thanks to the option of setting up remote production facilities capable of quality-concrete output. — Automation Solutions LLC, Germantown, Wis., 262/293-9134; www.automationsolutionsllc.com; Fesco Direct LLC, Milwaukee, 800/880-7350; www.fescodirect.com