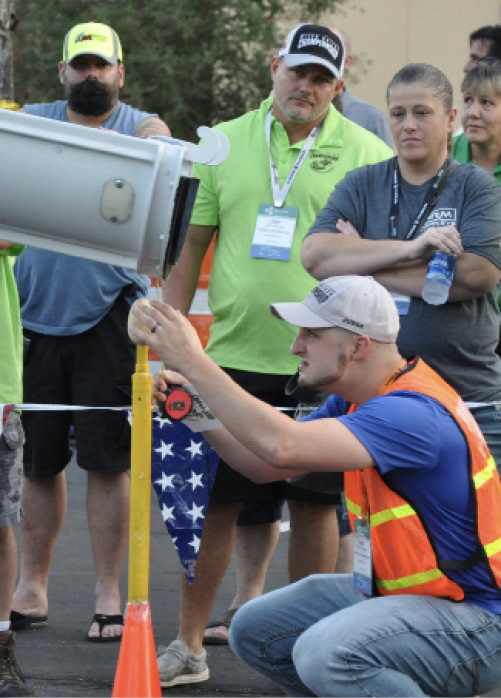 Michael Twehus of Cole County Industries Inc., Jefferson City, Mo. prevailed in the 2021 National Mixer Driver Championship, staged last month as part of the National Ready Mixed Concrete Association ConcreteWorks Conference in Kissimmee, Fla. Finishing first in a competition combining scores from truck driving challenge course, vehicle inspection test and written exam earned him a $5,000 cash prize from the NRMCA Truck Mixer Manufacturers Bureau, lead event sponsor.
Now in its 15th year, this year's national contest "continued to showcase the exceptional field of drivers in this industry," says NRMCA Executive Vice President of Operations and Compliance Gary Mullings. Sixty-six drivers, including state rodeo champions as well as NRMCA member company champions from around the nation competed to be crowned the "Best of the Best."
Second place and a check for $2,000 went to Joey Melton of Anderson, S.C. An 18-year veteran of ready mixed delivery, currently with Thomas Concrete, he is the 2019 Carolinas Ready Mixed Concrete Association South Carolina State champion. Third place and a check for $1,000 went to Maschmeyer Concrete's Damion Wynter of Apollo Beach, Fla. The fourth place finisher—and reigning Mixer Driver Champion from the 2019 staging—is Luis Martinez of Orlando, Fla., also of Maschmeyer Concrete and receiving a check for $600. The fifth place finisher, receiving a check for $400, is Steve Waclawski of Chaney Enterprises in Annapolis, Md.
STATION STARS
In addition to those finishing with the top five scores from the challenge course, vehicle inspection and written exam, the Safety, Environmental and Operations Committee honored drivers who distinguished themselves at various stages of the competition. Closest to the Egg station top scorers were Paul Erbe of Ernst Concrete, Kennesaw, Ga; Jason Klotz, also of Ernst Concrete, Bellbrook, Ohio; Jason Erickson of CPC Materials, Arlington, Wash.; and, Richie Bellino of Cemex, Brooksville, Fla.
The top scorers at the Delivery Ticket station were Dave Mangold of Cemex, Cocoa, Fla.; Les Brown of Ernst Concrete, Riverside, Ohio; Willy Caldwell of CalPortland Co., Snoqualmie, Wash.; and, Joe Ovel of Ernst Concrete, Fairborn, Ohio. Four drivers booked strikes at the bowling station: Damir Becirbogovic of CalPortland Co., Las Vegas; Dawn Podendorf of Burnco, Greeley, Colo.; Andrew Bennett of Springfield Ready Mix, Springfield, Mo.; and, Robert Molinar of CalPortland Co., Tucson, Ariz.
Drivers were also tested to determine who had the fastest reaction time through computerized testing. The top Fastest in the Nation performers were Brandon Newton of Tri City Concrete, Forest City, N.C.; Charles Ball of Carolina Ready Mix & Builders Supply, Marshall, N.C.; Verlin Wagler of Irving Materials, Washington, Ind.; Heath Burgos of Concrete Supply Co., Charlotte, N.C.; and, Maschmeyer Concrete's Luis Martinez.
Top Inspection station scorers were Dave Mangold of Cemex, Cocoa, Fla.; Irving Materials' Verlin Wagler; Concrete Supply's Heath Burgos; Maschmeyer Concrete's Luis Martinez, Damion Wynter and Cesar Moreno (Daytona, Fla.); and, Bobby Bates of Thomas Concrete, Cumming, Ga. The latter also scored highest on the written exam, earning Smartest Driver in the Room title.
The 2022 Championship will take place October 1-2 at the Gaylord Rockies Resort, two years after the Aurora, Colo. venue was set to host a pandemic-deferred, 2020 ConcreteWorks Conference and Mixer Driver Championship. With a relaxed business and education session schedule, the 2021 ConcreteWorks drew upward of 1,000, including participants from co-located Portland Cement Association Fall Board and Committee meetings.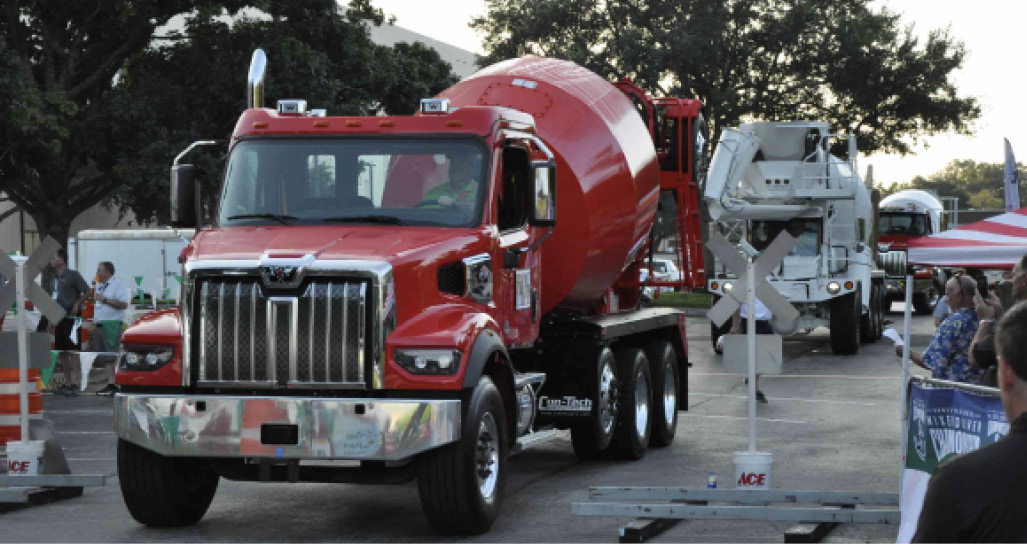 The National Mixer Driver Championship marked the second public showing of the Western Star 47X, revealed eight days prior.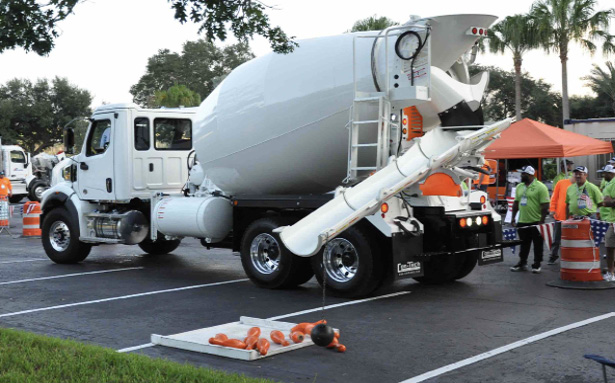 One of four strikes on the day.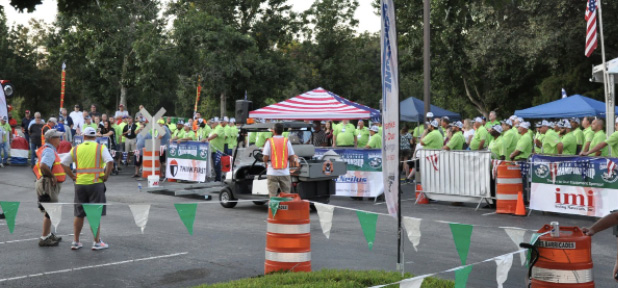 The 2021 National Mixer Driver Championship field saw 66 delivery professionals from 36 NRMCA producer plants across 26 states.