Lehigh Hanson Inc. is extending its recently launched, carbon-wise EcoCem portland-limestone cement series with EcoCem PLUS, milled at the Lehigh Cement Edmonton Plant and Terminal and debuting in Alberta, Saskatchewan and Manitoba. Finished by inter-grinding cement clinker, fly ash, limestone and gypsum, the material outperforms traditional CSA Group-grade (High Sulphate Limestone blend) HSLb-20F powder in resisting sulphate attack, common in the Prairie Provinces. Along with High Sulphate performance properties, it carries CSA 3001 designation as (General Use Limestone blend) GULb-20F and, per U.S. specs, exhibits performance equal to ASTM C595 Standard Specification for Blended Hydraulic Cements. EcoCem PLUS has also demonstrated capacity to curtail alkali silica reactivity, another durability condition associated with Prairie Provinces aggregates.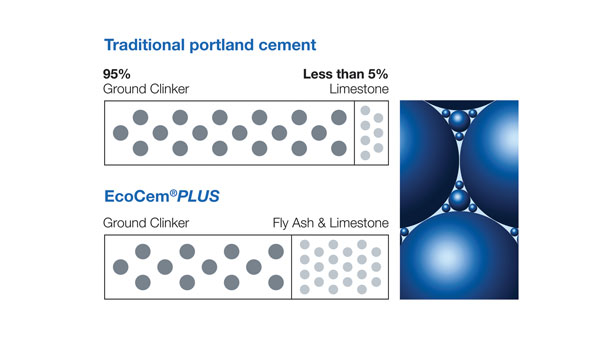 EcoCem PLUS is the first instance of Lehigh Hanson inter-grinding cement clinker and fly ash with limestone dosed in excess of 5 percent. Finishing the powder in Edmonton provides a high level of quality control; simplifies the supply chain; streamlines silo or storage requirements at fixed or portable concrete operations; and, assures customers, engineers and end-users consistent proportions of materials critical to concrete durability.
"The motivation behind the EcoCem brand is to reduce the embodied carbon of cement and concrete," says Lehigh Hanson Canada Region Vice President, Cement Shawn McMillan. "The introduction of EcoCem PLUS to the Prairie market builds on our commitment to providing environmentally responsible types of cement that deliver excellent performance while dramatically reducing carbon dioxide emissions."
EcoCem PLUS can lower the carbon footprint by a) more than 22 percent compared to Lehigh Cement's CSA GU, or General Use, powder; and, b) 32 percent compared to current industry average GU metrics indicated in an Environmental Product Declaration attending the EcoCem PLUS launch. The document was prepared with Climate Earth in Berkeley, Calif., and published by the National Ready Mixed Concrete Association, an EPD Program Operator whose library of Lehigh Cement and peer operator declarations is posted at www.nrmca.org/association-resources/sustainability/epd-program.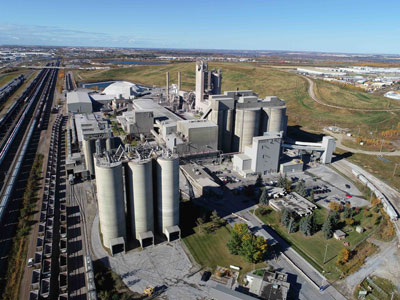 "Our plant- and product-specific EPDs communicate the environmental impact through Global Warming Potential for cement in a simple and easy-to-understand manner," notes Lehigh Hanson Canada Region President Joerg Nixdorf. "We were the first North American cement producer to create and publish a plant and product-specific EPD for our cement under the new and more stringent cement Product Category Rule. This work is providing concrete with the ability to reduce its embodied carbon in the built environment."