Keystone Retaining Wall Systems recently enhanced its stature as a structural retaining wall resource to architects, engineers, specifiers and installers with two updated construction manuals and a new Keystone Design Manual & KeyWall PRO Operating Guide.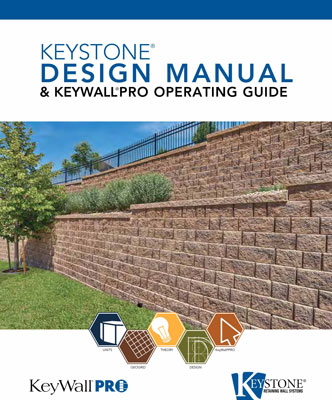 The first updated Keystone Construction Manual covers design, technical considerations, estimating and installation guidelines for gravity or reinforced segmental retaining walls using Keystone Standard and Keystone Compac units. The second document, now available in English and Spanish versions, provides similar installation support for gravity or reinforced SRW walls built with Keystone Regal Stone Pro, which has a proven rear-lip design that ensures proper setback alignment and ease of installation. Finally, the new Keystone Design Manual & KeyWallPRO Operating Guide methodically outlines design theory, process and construction of gravity or reinforced SRW using proprietary KeyWallPRO design software.
In addition to technical insights and step-by-step instructions, the professional Keystone tools use charts and diagrams that help determine design heights and geogrid reinforcement for everything from common wall construction to more complex projects featuring water applications, drainage, barriers and terraced walls.