Sources: Huntsman Corp., The Woodlands, Texas; CP staff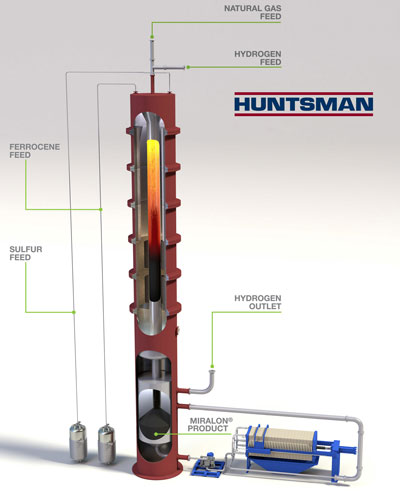 Huntsman Corp. has commenced work on a 30 ton per year Miralon carbon nanotube materials plant, output from which can be used for specialty concrete admixtures, high-performance composites, electric vehicle batteries and long-wear tires. Miralon structural carbon comprises nanotube-based materials produced as additives, dispersions, sheets or yarn. The materials are lightweight, thinner than a human hair, up to 25 times stronger than steel, and electrically or thermally conductive.
Set to be one of the largest of its kind in the Americas, the Miralon pilot plant will convert methane gas to carbon nanotubes and clean-burning hydrogen. Huntsman officials view it as a major step in carbon nanotube technology commercialization and the potential usher of an industrial-scale production facility.
"Our business prides itself on bringing advanced materials to market to help customers solve difficult engineering challenges through innovation," says Huntsman Advanced Materials President Scott Wright, calling the Miralon pilot a significant step in development of "a new class of valuable, sustainable material."
"One of the interesting aspects of this project is that there are actually two valuable products created through the technology," adds Vice President of Innovation and Strategic Marketing David Hatrick. "The first is the Miralon carbon nanotube materials, which have tremendous opportunity to create better products and new applications that don't even exist today. The second product resulting from the process is clean hydrogen—a fuel in high demand as society collectively seeks to lower carbon dioxide emissions and accelerate the energy transition."
"The carbon footprint related to our manufacturing process can be up to 95 percent less, when compared to the traditional process of steam methane reforming, avoiding the majority of CO2 emissions normally associated with hydrogen production," affirms Miralon Commercial Director John Fraser. "Co-locating a small manufacturing unit on site creates the opportunity to produce hydrogen right where our customers need it. This will allow companies to reduce their carbon footprint and benefit from the potential of carbon sequestration/capture credits."