Sources: CIM National Steering Committee; CP staff
The Concrete Industry Management National Steering Committee invites donations for its 2024 auction, staged January 24 at the Las Vegas Conventional Center against a World of Concrete backdrop. Candidate items include concrete construction, fleet and plant equipment or tools; cement, aggregate or admixture loads; information technology offerings; and, sporting or entertainment event or travel packages. The auction will open with silent bidding, 11 a.m. to 1 p.m., when live bidding kicks off. Proceeds will support CIM undergraduate degree programs at Middle Tennessee State University, New Jersey Institute of Technology, Texas State University, California State University, Chico, and South Dakota State University, along with the Executive MBA program and scholarships.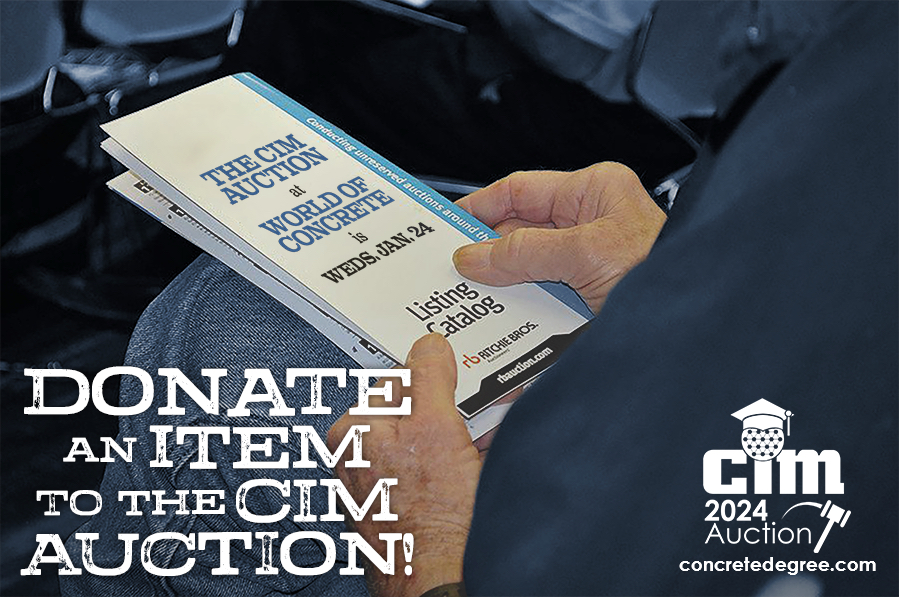 CIM Auction Committee Auction and National Steering Committee members aim for another record in 2024 by eclipsing the new watermark, $2.1 million in gross revenue, reached in January this year with the help of a pool topped by two mixer trucks, a truck-mounted concrete pump and laser screed. Companies, organizations or individuals interested in making donations can contact CIM Auction Committee Chairman Ben Robuck, [email protected] or 404/456-6867.