Sources: John Burns Research and Consulting, Irvine, Calif.; CP staff
An industry-first data offering from John Burns Research & Consulting and Home Innovation Research Labs tracks current and historical U.S. residential installed volumes (final demand) for concrete and 17 other material or product categories. The Building Products Demand Meter, profiled here, measures volumes and year-over-year growth rates in new building, repair and remodel segments back to 2000. Among inaugural Demand Meter takeaways:
• Building product volumes are showing mostly negative growth trends for 2023. Single-digit declines are expected for 17 of the 18 building product categories tracked in 2023.
• Weakness is particularly evident in the new construction segment, where installed volumes are anticipated to decline by double digits in 10 of the 18 categories.
• Installed volumes for repair and remodel show more resilience this year, with only eight out of the 18 categories declining in 2023.
BUILDING PRODUCTS DEMAND METER CATEGORIES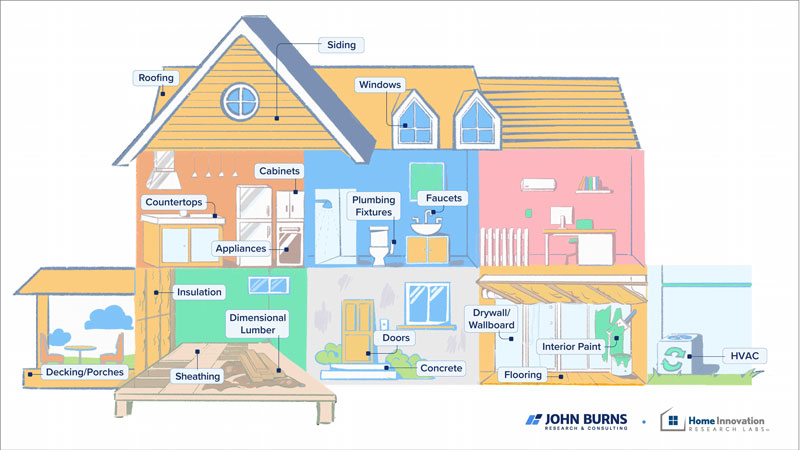 "The building products industry has been asking for better data to make more informed decisions," says John Burns Senior Vice President of Building Products Research Matt Saunders. "This groundbreaking new product addresses this need, combining our expertise in forecasting and analysis with Home Innovation's industry leading survey research. The Building Products Demand Meter provides market size and growth estimates at the category level for both new construction and repair and remodeling end markets."
Scheduled for quarterly updates, Demand Meter data is grounded in more than two decades of Annual Builder Practices and Consumer Practices surveys by Home Innovation, an independent National Association of Home Builders subsidiary. "The Building Products Demand Meter combines the best of our longstanding survey research, JBREC's best-in-class forecasting expertise, and our deep combined knowledge of home building and remodeling," affirms Home Innovation Director of Market Research Ed Hudson.
Related article
New Home Market Is Driving Housing Demand