U.S. Department of Energy Deputy Secretary David Turk led off a Climate Week New York City session last month noting how proven processing approaches will enable cement producers to book a 30 percent greenhouse gas emissions reduction by the early 2030s and perhaps an additional 10 percent cut by 2050. The metrics set an upbeat tone for the Portland Cement Association- and Global Cement and Concrete Association-hosted "Decarbonization Through Collaboration – Accelerating Cement Toward Carbon Neutrality," a two-hour presentation during London-based Climate Group's Climate Week NYC program.
The PCA-GCCA gathering afforded Deputy Secretary Turk an optimal backdrop to announce DOE Office of Technology Transitions' just-released Pathways to Commercial Liftoff: Low-Carbon Cement. The 80-page report tracks carbon dioxide emissions reduction benchmarks for the industry over the 2030-2050 window, the latter years primed to address the 60-70 percent CO2 emissions cuts needed beyond those presently within reach. Authors define the Pathway to Liftoff on these tracks: 1) currently deployable measures, notably clinker substitution, energy efficiency, alternative fuels; 2) carbon capture, utilization, storage (CCUS) through retrofit installations and new-plant integration; 3) alternative production concepts, including non-traditional feedstocks and equipment other than rotary kilns; and, 4) alternative binder chemistries to traditional cement clinker.
To realize carbon-neutral operation by mid-century, authors list among key challenges or considerations for producers and downstream stakeholders:
Market lacks uniform standards to define low-carbon materials and enable informed procurement;
Industry can see a 10- to 20-year adoption cycle for new blends and materials, reflecting lengthy lead times for updating standards and customer acceptance;
Decarbonization approaches may come with structural cost increases; and,
CCUS or other project types may lack support from local communities and the public due to environmental and safety concerns.
Pathways to Commercial Liftoff: Low-Carbon Cement is the latest in a series through which the DOE aims "to establish a common fact base and ongoing dialogue with the private sector around the path to commercial clean energy technologies across core U.S. industries." The Industrial Decarbonization Liftoff series addresses cement, aluminum, chemicals, food and beverage processing, glass, iron and steel, plus pulp and paper—the eight industrial sectors of Inflation Reduction Act focus.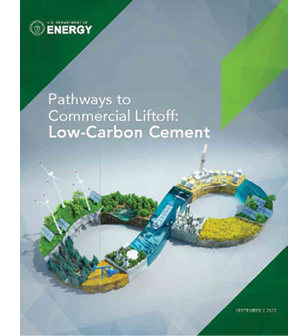 DECARBONIZATION AGENDA
Joining Deputy Secretary Turk as a keynote speaker for the PCA-GCCA Climate Week NYC event was Canadian Ambassador for Climate Change Catherine Stewart. She highlighted "Roadmap to Net-Zero Carbon Concrete by 2050," through which Cement Association of Canada commits to reducing more than 15 megatonnes of greenhouse gases cumulatively by 2030, followed by annual 4-plus megatonne cuts toward net zero at midcentury. 
Bloomberg's Dr. Julia Attwood moderated "Carbon Capture: A Breakthrough Moment?" and "Getting to Carbon Neutrality by Going with the Alternatives" panel discussions. The former featured GCCA CEO Thomas Guillot, Heidelberg Materials North America CEO Chris Ward, DOE Office of Fossil Energy and Carbon Management Assistant Secretary Brad Crabtree and Breakthrough Energy Senior Manager Abigail Regitsk examining CCUS progress in the industry and clearing hurdles to make it scalable. "There is only so much we can do to decarbonize; we don't see a pathway to carbon zero without CCUS," concluded Ward, who also stressed the importance of the industry's ability to talk to community and permitting agencies and exhibit transparency as key to success.
"Getting to Carbon Neutrality" saw Continental Cement President David Loomes and Giant Cement CEO Tim Kuebler discuss the importance of using alternatives to fossil fuels in clinker production. Lending thoughts on the policy front were co-panelists Miami-Dade County Chief Energy Officer Dr. Patricia Gomez and Jeremy Harrell, chief strategy officer at ClearPath, Washington, D.C. government affairs consultancy.