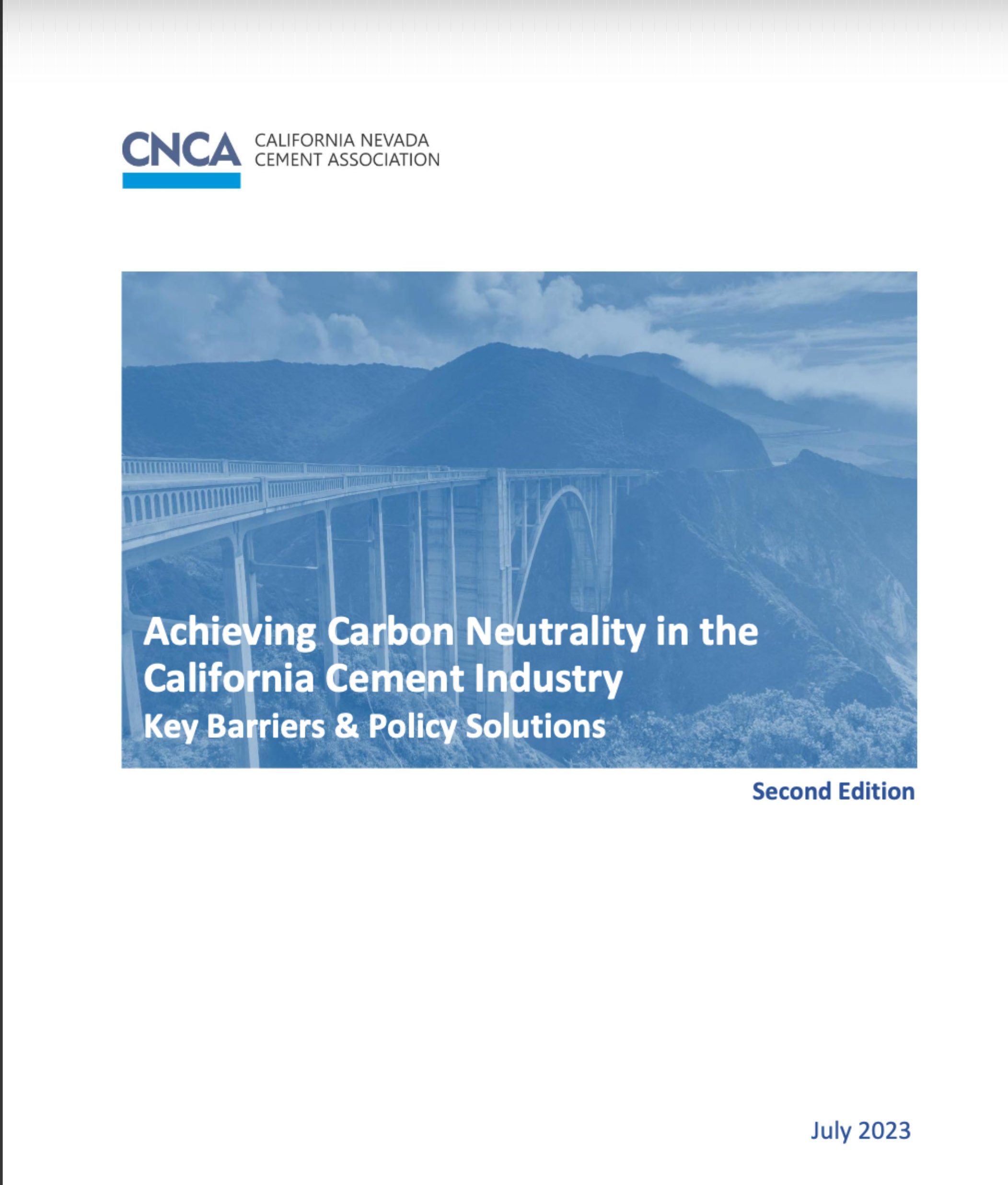 Thirty months out from releasing "Achieving Carbon Neutrality in the California Cement Industry," California Nevada Cement Association (CNCA) producers report considerable progress on related public policy, material processing and market development measures toward their 2045 goal:
Legislation. California Senate Bill 596, adopted in September 2021, directs the California Air Resources Board to create a strategy for removing barriers to decarbonization and achieving net carbon neutrality in the state's cement industry. The law was a collaborative effort between CNCA, Senator Josh Becker of San Mateo, environmental interests and the Natural Resources Defense Council.
Leadership in using low-carbon materials. Caltrans, the state's largest consumer of cement, opened 2022 approving the use of portland-limestone cement (PLC), a one-to-one replacement for portland cement that reduces emissions associated with finished concrete by at least 10 percent.
Investments in low-carbon material production. CNCA producers have undertaken significant plant retrofits to meet growing PLC demand in public and private construction.
Collaboration. In addition to public policy stakeholder engagement, CNCA is fostering partnerships across the entire cement-concrete-construction value chain critical to realizing 2045 carbon neutrality goals.
"We are committed to continuing progress to reach net zero emissions for all cement producers in California, hopefully sooner than our projected date of 2045," says CNCA Executive Director Tom Tietz. "New advancements and innovative technologies are being piloted and scaled up, and we are thrilled to growing toward this goal."
The initial "Achieving Carbon Neutrality" plan articulated how the goal will be reached. It detailed various pathways the industry can use to reduce its carbon footprint; how barriers to progress can be removed; and, the role construction and public or private project owner partners can play to help the industry reduce greenhouse gas emissions. Along with an updated outlook on challenges and opportunities associated with achieving net carbon neutrality, the successor plan expands decarbonization levers on topics such as blended cements, onsite electricity generation, alternative fuels and carbon capture, utilization and storage. 
CALPORTLAND ENERGY STAR
Timely equipment maintenance or cost-saving improvements, coupled with responses to "treasure hunts" during which team members identified power saving opportunities, enabled CalPortland Co. Redding, Calif. and Rillito, Ariz. cement plants to earn Environmental Protection Agency 2023 Energy Star Certification. Energy Star indicates ranking within the top 25 percent of cement plants in the nation on an energy performance scale. CalPortland improved metrics key to the EPA program through strategic energy management measures across its West Coast cement, aggregate and concrete operations. Work at Redding and Rillito included lighting upgrades, mechanical engineering for compressed air optimization, and variable frequency drive installations for air pollution control devices.
"Energy Star is an integral part of the culture at CalPortland and through this achievement, we continue to demonstrate our commitment to environmental stewardship while also lowering energy costs," says CEO Allen Hamblen.
"Improving the energy efficiency of our nation's buildings is critical to protecting our environment," adds Energy Star Commercial & Industrial Branch Chief Cindy Jacobs. "From the boiler room to the board room, organizations are leading the way by making their operations more efficient and earning Energy Star certification."
Updated plan is posted at www.cncement.org.