ConExpo-Con/Agg 2023 offered a preview of data science methods destined to improve construction materials production and delivery profits. By capturing a groundswell of plant and fleet inputs from signals, sensors, production logs, and order or ticket files, a new class of information technology specialists demonstrated algorithms or programs greatly extending the dashboard and business intelligence tools accompanying current software suites.
Colorado-based technology company, BulkSource Inc., premiered Links as the first open technology platform specifically for concrete, aggregates and asphalt—one built on a modern, cloud-based architecture and capable of leveraging real-time and historical site, plant, field and customer data. BulkSource developed Links to seamlessly integrate all supply chain technology products, Internet of Things devices and companion hardware, data analytics, and decision science solutions. Its architecture enables concrete, aggregate and asphalt producers to merge data from their preferred software solutions into a single command center. Linking data from critical sources like finance, accounting, operations, maintenance, and fulfillment affords a holistic view of an entire materials production and delivery enterprise.
"Construction material producers, haulers, and buyers are starving for technology advancements. With the Links platform at their disposal, our customers can now integrate their favorite enterprise solutions, access decision science optimization engines, and reveal analytical insights previously unimaginable," says BulkSource Co-Founder and CEO Gregory Dangler.
"Our goal is for all users to leverage data science and advanced analytics to make better, faster decisions. Links is the platform that invites the data science," adds Co-Founder and Chief Technology Officer Patrick Stewart. "It is the command center and centralized database that integrates all operational data. A fundamental feature of Links is its universal integration hub, which allows users to synthesize data from BulkSource and non-BulkSource products. Because of Links, we can embed analytical capabilities and data visualizations in all our software offerings."
The command center enables users to customize dashboards, along with data access rights and permissions; maximize comprehensive features for all roles and domains; and, operate with centralized data updated in real time. Links' native business intelligence layer yields unmatched data analytics and visualizations: Concrete, aggregate and asphalt producers have immediate access to pre-built dashboards or reports or they can enlist the BulkSource team to generate custom reports and data visualizations, or program for role-specific reporting.
The Links integration hub embodies the latest technology to manage data transfers between systems. Construction materials producers can connect technology with plug-and-play integrations or develop custom application programming interfaces. Key integration hub features include BulkSource and third party software integration options; IoT connectivity for hardware and equipment; and, consistent data capture channel creation.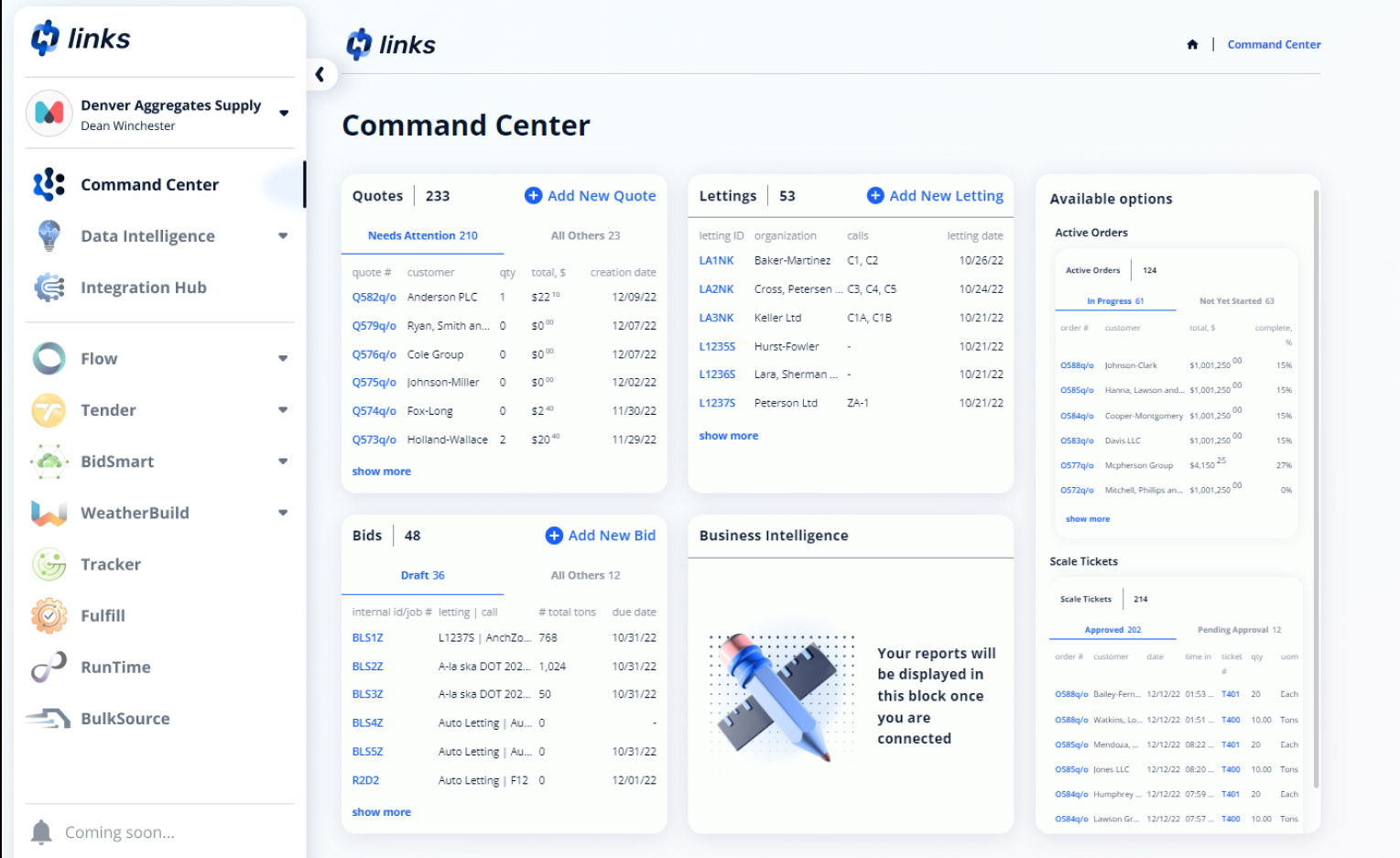 FLOW SUPPLY CHAIN MANAGEMENT
Along with two charter programs, Flow and BidSmart, Links advances the BulkSource goal of optimizing and automating the global infrastructure and building materials supply chain. With an intuitive user experience, comprehensive features, and flexible technology, Flow supply chain management software presents a powerful solution. Producers conduct frictionless commerce by integrating customers and logistics partners, while simplifying internal quote-to-cash processes. Flow features or tools, all optimized for tablets and mobile devices, encompass:
Site and inventory management. Producers manage critical information for all sites within their supply chain, including plants or quarries, vendors, dispatch, and job sites. Depending on a specific site's operations, they can also track inventory, product availability, operating costs, trucking providers, and site operating hours.
Product and price list management. Producers manage all their material output, plus associated product categories and sub-categories across all sites. This ensures data integrity throughout the operation, and accurate reporting of inventory, quoted volume and fulfillment. Accounting teams can create and modify unlimited price lists for customers or groups.
Customer relationship management. Producers manage their customers and prospects within Flow, including all the relevant attributes related to pricing, credit limits, tax exempt status, contacts, notes, files and attachments.
Fleet management. The software allows producers to manage their internal and third party haulers, both at the company and driver levels. Scale house operators and dispatchers maintain key specifications such as maximum gross weight and permit or CDL expiration dates. These specifications drive a number of compliance and safety related features throughout the platform.
Freight pricing, fuel surcharges, sales taxes. A proprietary algorithm provides sales staff and dispatchers a reliable tool to price and quote freight rates. Users have the flexibility to price routes per hour, ton or yard, or ton- or yard-mile. Producers' permissible users maintain the fuel surcharge rules and then the applicable surcharges are incorporated into orders and tickets. Accounting and finance teams use Flow to manage all applicable tax rates and jurisdictions, which are incorporated into any customer order. Different tax rates can be applied for deliveries or FOB pickups.
Quotes and sales orders. Sales teams easily view and edit CRM data, inventory, and pricing. They quickly create quotes from the field or office, then convert quotes to sales orders when terms are agreed upon. Customers view quotes and orders in their portal, while accounting and operations teams have real-time visibility into orders by product and site.
e-Ticketing reports. Flow allows producers, haulers, and customers to access ticket reports via desktop, tablet, or mobile device. Tickets are downloaded and/or printed as needed. e-ticket data is utilized in multiple production key performance indicator reports and dashboards such as time on site, loads shipped per day and payload.
Customer portal. Producers digitally connect with their customers, sharing information related to quotes, orders, scale tickets, and invoices. This provides unparalleled transparency and collaboration, saving all parties time by allowing customers to self-serve for routine requests.
Invoicing, digital payments. An invoice creation wizard customizes and automates the invoice process for each customer. Flow can integrate with accounting and ERP systems, automating data transmission, and therefore eliminating unnecessary manual data entry. Customers view and download invoices from their portal, then directly pay invoices with a credit card, debit card, or ACH via Flow Digital Payments. As a Payment Facilitator, Flow equips producers to transact digitally, drastically relieving the conventional strains on working capital. Flow Digital Payments affords producers an added revenue stream while also improving their customers' procurement experience. Producers receive payments faster by providing an easier way to create, review, and pay invoices.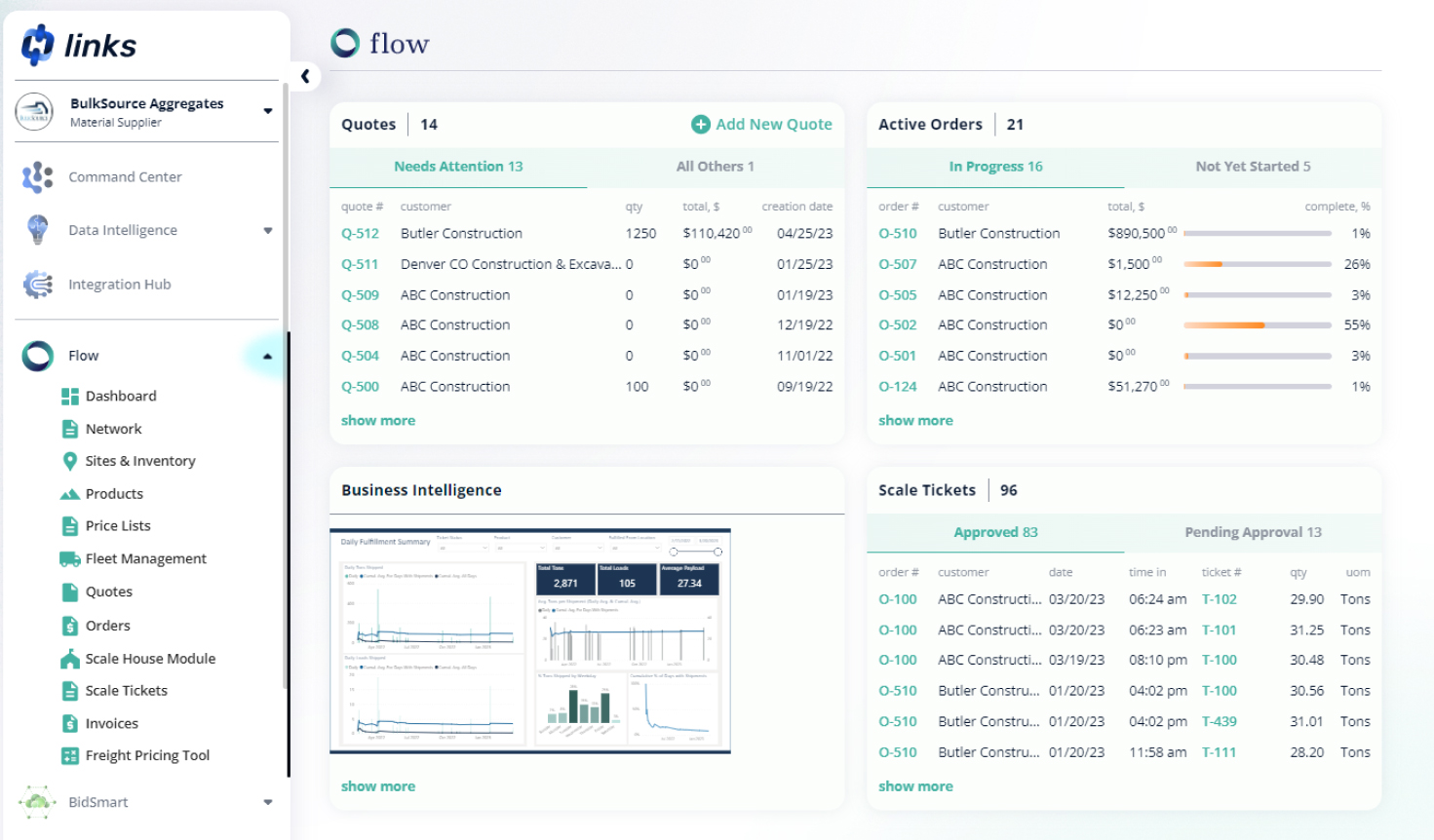 BIDSMART PROFIT OPTIMIZATION
BulkSource's BidSmart Concrete and Asphalt Profit Optimization software computes the most profitable combination of mix designs, source locations, and plant sites. As production options increase, the scenarios to evaluate grow exponentially, requiring advanced computational engines. Most successful operators avoid the least profitable options, but that still leaves hundreds of options to evaluate. BidSmart employs advanced algorithms to evaluate all combinations of mix designs, plant locations, internal product and freight costs, plus competitor pricing to recommend optimal bids—generated in minutes versus weeks. Customers improve team collaboration and reduce errors by using one platform to connect Quality Control, Accounting, Sales, and Operations.
Producers who combine Flow and BidSmart capabilities can also streamline the fulfillment of bids by using a single system to manage the order, fulfillment, and invoicing. The software is programmed around these bid decision criteria: Mix designs and variations; plant locations, operating cost data and constraints; potential mobile plant sites; material source locations plus associated product and freight costs; competitor locations; and, configurable business rules.
BulkSource tailors BidSmart for single- to multiple-plant operators, and positions the former to increase revenue and profit margin without sacrificing bid win rates. Smaller producers' variables are usually quite dialed in: They may have one plant, one or two material sources, and just a few approved mix designs. They often win the bids for projects that are in closest proximity to their plants. BidSmart arms smaller producers to maximize the bids they win by allowing them to compare their optimal bid scenarios with the next best competitive bids. BulkSource finds most small or medium-sized producers price their bids based on their cost plus a standard margin, whereas they should be pricing it just below their competitors' bid, expanding their margin far beyond their standard.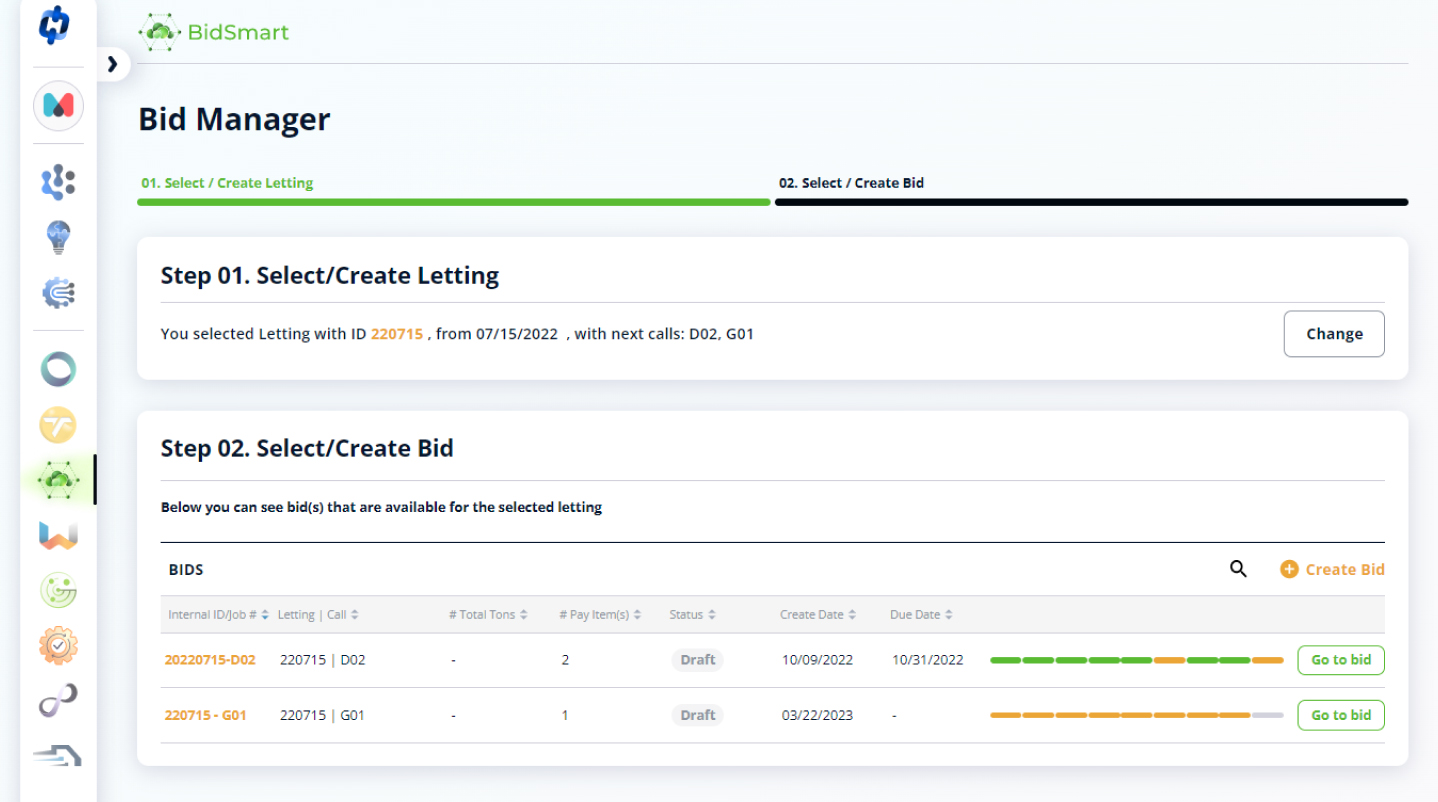 BidSmart is likewise programmed to assist large producers with complex networks to make optimal decisions related to costs and pricing. The larger the network of variables, the more opportunity exists for mathematical optimization. When choosing between two scenarios, the optimal one typically stands out. But when there are 200,000 scenarios, it is very difficult to discern the best, let alone the top 25.
BulkSource programmers believe that complexity creates opportunity. Larger producers usually source from multiple locations, run multiple plants or mobilize plants closer to projects, and have more acceptable mix design options. BidSmart allows such users to optimize their networks, capturing the subtleties in each project's cost savings, realizing arbitrage opportunities that only a computational engine can identify. These optimal decisions lead to winning more projects, focusing efforts on higher profit projects, and reducing risk in executing bids that are on the fringe of profitability. The net result is improved utilization, lower risk, higher predictability, and an increased profit per ton/yard by dollars, not cents. — BulkSource Inc., Greenwood Village, Colorado, 404/425-9723; www.bulksource.com