The latest Association of Equipment Manufacturers (AEM) economic impact report on member output, released just ahead of ConExpo-Con/Agg 2023, highlights the industry's return to growth following the end of the Covid-19 pandemic. Prepared by the S&P Global Market Intelligence Team, it details construction, mining and agriculture equipment manufacturer deliverables. Authors especially note how the equipment manufacturing industry:
Supports 2.35 million jobs, including direct, indirect, and induced employment, in the United States;
Comprises 11 percent of the total U.S. manufacturing employment base, or one in nine of the country's manufacturing jobs;
Contributes $316 billion to the nation's GDP annually;
Harbors jobs paying 33 percent above the national average; and,
Supports more than 1,000 jobs in 44 states, with a total employment impact of more than 10,000 in 32 states.
"The equipment manufacturing industry has shown time and again that it is a resilient force in the North American economy, weathering everything from global pandemics to supply chain disruptions with strength and determination. As we look to the future, we can be confident that this industry will continue to adapt and innovate in the face of new challenges, providing stable jobs and economic opportunities for communities across the continent," says AEM President Megan Tanel.
The return to growth for the equipment manufacturing industry in 2022 is part of a broader rebound in U.S. manufacturing output, which saw nominal output increase by an estimated 14 percent in 2022. The 4.2 percent employment growth seen by the equipment manufacturing industry in 2022 outpaced the broader manufacturing employment growth of 3.8 percent seen last year.
"Equipment manufacturers, like many other sectors in the U.S. economy, have weathered economic uncertainty during a global pandemic. But we answered the call and kept our factory floors open to produce the equipment that kept critical people and goods moving.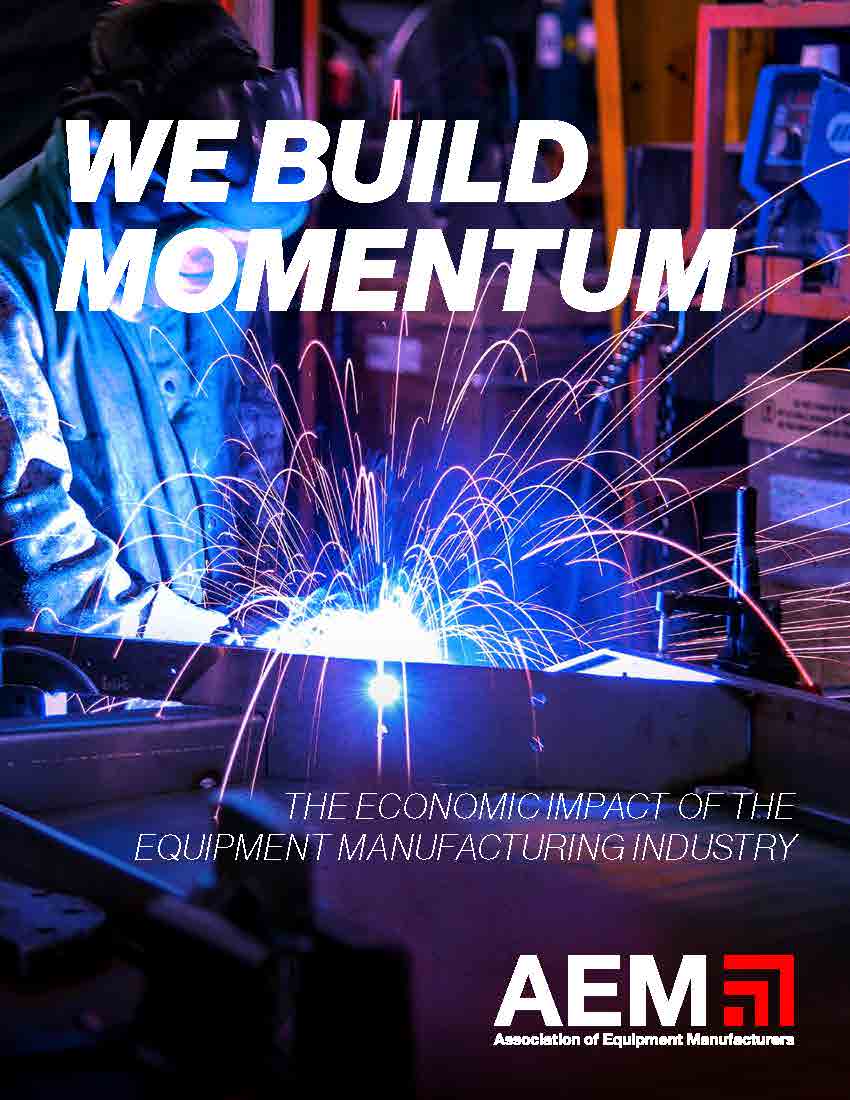 We got the job done," notes 2023 AEM Chair and Komatsu North America Chairman and CEO Rod Schrader. "This report is a testament to the grit and resiliency of the 2.35 million men and women who build, power, and feed America. It is because of them, and for them, that our industry's leaders will always look for solutions that allow us to meet the demands of tomorrow,"
A gradual return to normal conditions for global supply chains and increased availability of raw materials have helped U.S. manufacturing turn a corner, but persistent labor shortages and low inventories still pose a risk. The Global Supply Chain Pressure Index, maintained by the Federal Reserve Bank of New York, hit an all-time high in November 2021, but by February 2023 it had retreated to just below the historical average. This suggests that on average, global supply chain conditions have begun to return to normal.
While the industry may see some retrenchment this year, primarily due to geopolitical instability and policy uncertainty, the next few years should see steady output growth supported by a rebound in investment. "Fueled by a legacy of grit and ingenuity, America's equipment manufacturers can outcompete anyone, but we need the right mix of policies to continue to bolster manufacturing in America," observes AEM Senior Vice President, Government and Industry Relations Kip Eideberg. "With expanded opportunities to sell our products overseas, immigration reform that addresses our workforce needs, and improvements to the federal permitting process, equipment manufacturers can continue to invest in their communities, grow their businesses, and hire more Americans."
The new report is posted at www.aem.org.