A group of transportation interests recently launched the Clean Freight Coalition (CFC) to serve as a collective voice for trucking industry stakeholders. Made up of motor carriers of every size and sector, plus truck manufacturers and dealers, CFC's mission is to:
Educate policy makers on the true progress the trucking industry has made in reducing emissions and protecting the environment;
Promote the work underway to reduce greenhouse gas emissions from freight transportation; and,
Advocate for sound public policies that transition toward a zero-emission future in a manner that assures affordable and reliable freight transportation and protects the nation's supply chain.
Founding CFC members are the American Trucking Associations (ATA); American Truck Dealers (ATD), a division of the National Automobile Dealers Association; National Tank Truck Carriers (NTTC); Truck & Engine Manufacturers Association (EMA); and, Truckload Carriers Association. They have appointed as executive director Jim Mullen, past Federal Motor Carrier Safety Administration chief counsel, who notes, "Trucking is the backbone of our economy and critical to the nation's supply chain. It is an honor to lead the CFC in its pursuit to get to zero emissions in a responsible and feasible manner."
"The trucking industry starts with 'Yes,' as we've demonstrated through massive emission reductions over the last three decades," affirms ATA President and CEO Chris Spear. "To get to zero, we have to be honest and transparent about the road ahead. Success depends on a national energy strategy that is inclusive of our industry—the most central and critical link in the supply chain."
"America's truck dealers sell and service the newest, cleanest and safest trucks available," adds ATD President Laura Perrotta. "Truck dealers are essential to turning over America's aging fleet. With nearly half of the fleet over 10 years old, there is a lot of work this new coalition can do together to prepare the marketplace for the next generation of clean trucks."
"The tank truck industry leans into new technologies, embracing improvements to make equipment safer for the motoring public, as well as for our environment more than ever before," says NTTC CEO Ryan Streblow. "Tank trucks deliver almost one-quarter of all truck tonnage in North America, much of which is providing critical energy source. Looking ahead, we stand ready with our partners to embrace and help implement new scalable technologies and infrastructure on a timeline which is obtainable."
"Truck and engine manufacturers are leading the way to cleaner air through investment, innovation, and engineering," concludes EMA President Jed Mandel. "EMA members are dedicating billions of R&D dollars towards a zero emissions vehicle future, but those investments won't be enough on their own—we also need state and federal leaders to commit to building the essential infrastructures for those vehicles to operate nationwide. We are committed to working with policymakers to ensure a smooth and successful transition that aligns ZEV production to infrastructure availability."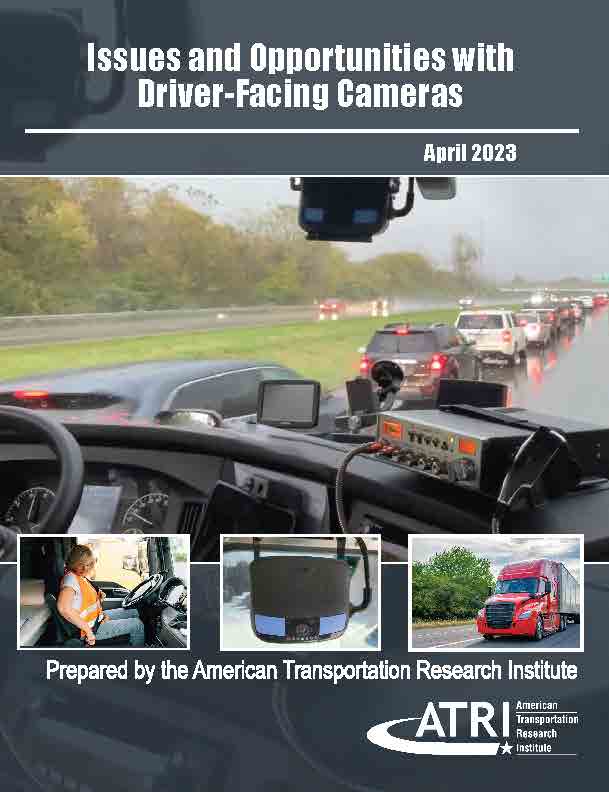 RESEARCHERS MEASURE DRIVERS' IN-CAB CAMERA ACCEPTANCE, PRIVACY CONCERNS
A new American Transportation Research Institute report, "Issues and Opportunities with Driver-Facing Cameras," offers points of consensus and potential compromise among truck drivers, motor carriers, legal experts and insurers regarding the in-cab devices in question. Based on their analysis of survey responses from 2,100 drivers, primarily engaged in on-highway routing, report authors propose strategies for driver-facing camera utilization that can improve safety, privacy, litigation and insurance risk management.
Driver approval of in-cab cameras rates 2.24 on a 0-to-10 scale. Researchers attribute low scores to limited experience, confusion over camera system variety, unclear carrier policies, and strong privacy concerns. Female drivers, accounting for 10 percent of survey respondents, rated the protection of their privacy with driver-facing cameras 34 percent lower than men did.
"Issues and Opportunities with Driver-Facing Cameras," nevertheless, pegs specific employer policies and driver management approaches that lead to higher driver ratings. Overall driver approval of driver-facing cameras increased by 87 percent when carriers used video footage for proactive safety measures. Additional analyses focus on insurance and litigation considerations for in-cab cameras. Underwriter and legal experts expressed preference for event-based driver-facing cameras over continuously recording devices, and they concur with drivers that primary video footage access should be limited to safety managers as much as possible.
"Driver-facing cameras are an important safety tool, but they must be managed carefully in order to leverage benefits with drivers, insurers and attorneys," says Cargo Transporters Inc. Chief Operating Officer Jerry Sigmon Jr. "ATRI's research on in-cab cameras provides an important blueprint for using these technologies."