Sources: Cemex Ventures, Madrid; CP staff
The venture capital and open innovation unit of Cemex S.A.B. de C.V. is accepting through July 2 applications in the seventh Construction Startup Competition, affording participants capital and piloting prospects, plus opportunities for networking and pitching their business models to top industry investors. Themed "Join the Builders of the Future Now," it invites the most promising value propositions in Green Construction, Construction Supply Chain, Enhanced Productivity and Future of Construction categories.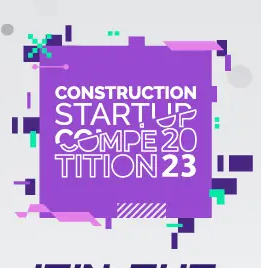 "The Competition is a mechanism for startups to bring their solutions to a global stage and benefit from the relationships formed with the corporate partners and other outstanding startups," says Cemex Ventures Head Gonzalo Galindo. "Every year it attracts new startups and industry leading corporates, so it's no surprise that the Competition counts on a network of more than 3,000 startups, some of which have gone on to become unicorns."
Partners with Cemex Ventures in the 2023 Competition are engineering and technology entities or their venture capital units: Black & Veatch; Dysruptek by Haskell; Ferrovial, Hilti; VINCI Group's Leonard; NOVA by Saint-Gobain; Trimble and Trimble Ventures; and, Zacua Ventures. Following the early-summer application phase, they will decide on the startups invited to the final stage or Pitch Day in Las Vegas, scheduled during the Trimble Dimensions User Conference, November 6-8. Selected entrepreneurs will have the opportunity to showcase their solutions to the jurors, as well as leading companies and investors from the construction and technology industry. Construction Startup Competition 2023 applications can be submitted through www.cemexventures.com/constructionstartupcompetition.