The Precast/Prestressed Concrete Institute recognizes creative and innovative uses of precast.
The Precast/Prestressed Concrete Institute honored 25 building and transportation projects during the 2023 PCI Design Awards program—now in its 60th year. A panel of engineers, architects, and precast concrete producers judges all nominees on aesthetic, structural, and use versatility; site, energy and operational efficiency, and risk reduction; and resiliency, such as structure durability, multi-hazard protection, and life safety and health.
"We are once again thrilled to recognize the tremendous capabilities of the precast concrete industry to meet the needs of the built environment, especially on this milestone 60th anniversary of the program," say PCI President and CEO Bob Risser, PE. "Congratulations to all the winners, and thanks to the jurors and PCI staff who make the program a success. Through the past 60 years, the precast concrete industry continues to innovate and improve and these exemplary projects are the latest examples of that."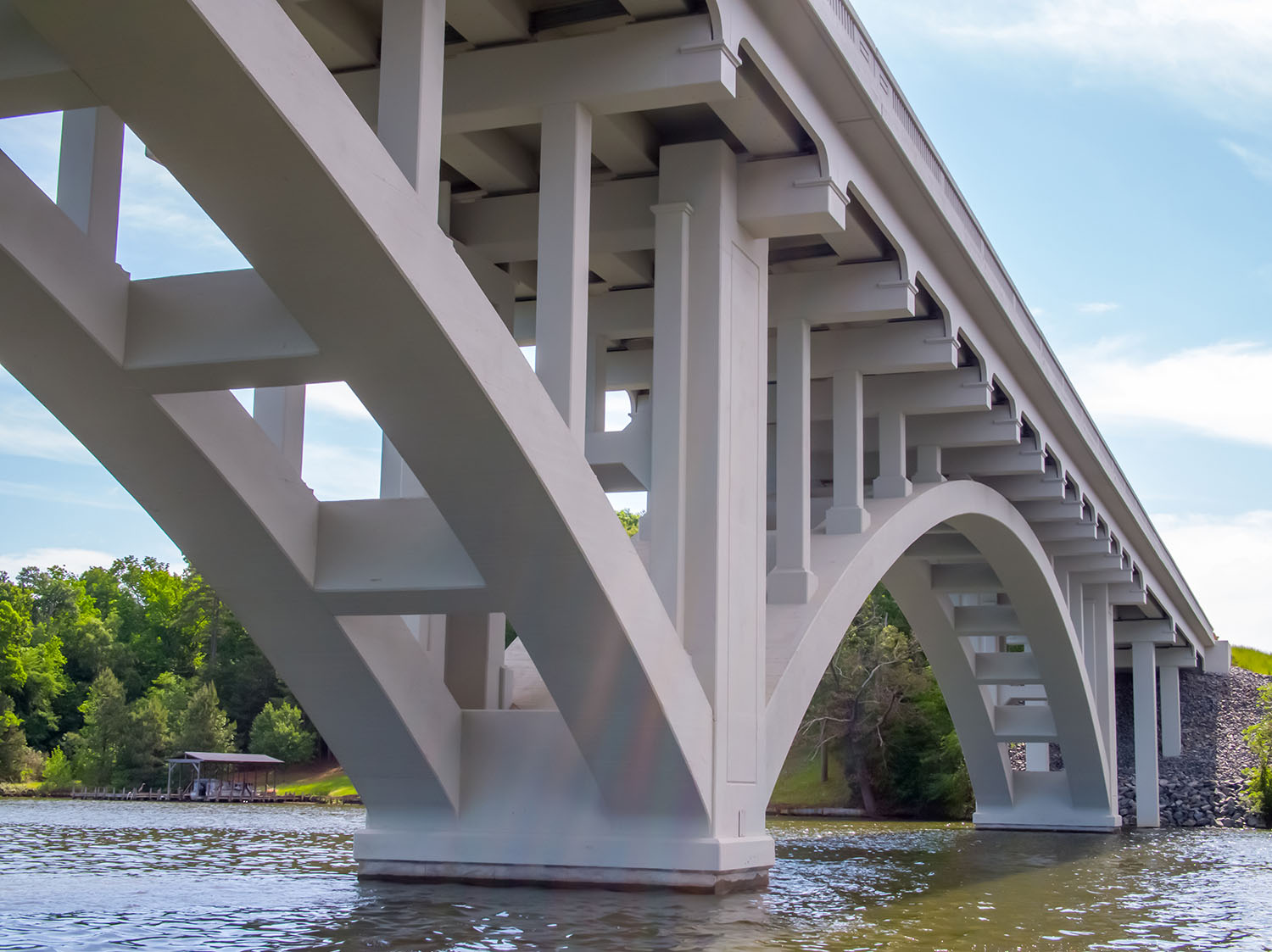 Special Award: Sustainable Design
The Swift Island Historic Arch Bridge Rehabilitation and Widening project in Albermarle, N.C. used 212 precast girders, 849 deck panels, and 132 fascia panels from PCI-certified Eastern Vault Company of Princeton, W.Va. and Ross Prestress of Knoxville, Tenn. (precast concrete fascia fabricator) to replicate the bridge's original aesthetics.
"The use of precast concrete helped to preserve the original arches rather than having to demolish the bridge and build a new conventional structure. This preserved an historic resource while providing significant cost savings for the North Carolina Department of Transportation (NCDOT)," says John Sloan, PE, North Carolina bridge program manager for AECOM, the engineer of record.
The $16 million project also won the Transportation Award: Best Rehabilitated Bridge.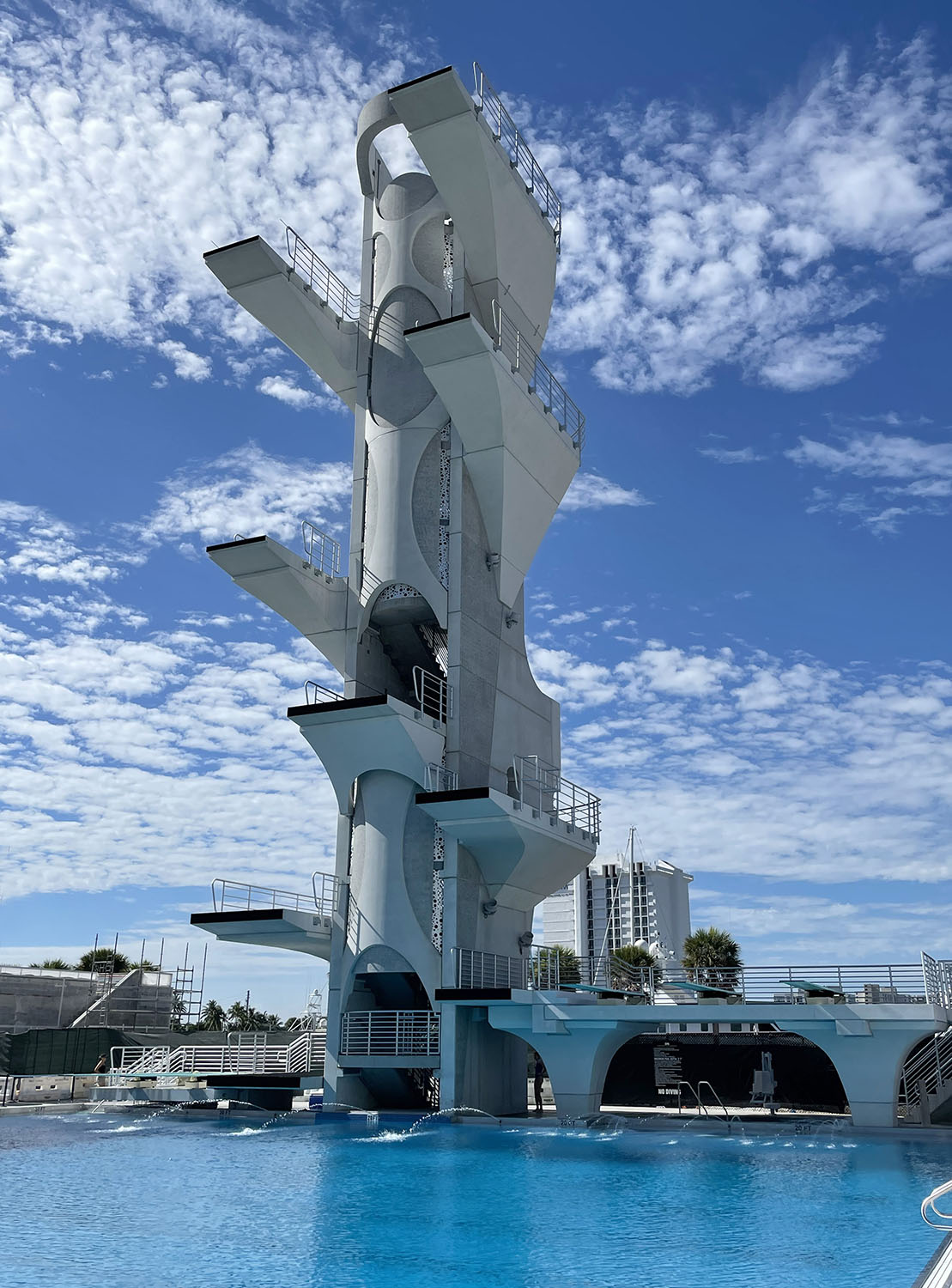 Building Award: Best Custom Solutions
The 27-meter-high Fort Lauderdale (Fla.) Aquatic Center Dive Tower is the tallest dive tower in the Western Hemisphere, and the first in the world to incorporate diving and high diving for competition in one precast concrete structure. Located in the South Florida coastal environment and subject to high winds, the tower is designed to meet the stringent hurricane code. Among the biggest challenges was marrying a structural product with high-end architectural elements and finishes.
PCI-certified producers GATE Precast Company, Kissimmee, Fla.; STABIL Concrete Products LLC, St. Petersburg, Fla.; and, PRETECSA SA, Mexico supplied the tower's total precast concrete system, which included 96 unique precast and glass-fiber-reinforced concrete (GFRC) components.
The $44 million project was an Honorable Mention for the All-Precast Concrete Solution specialty award.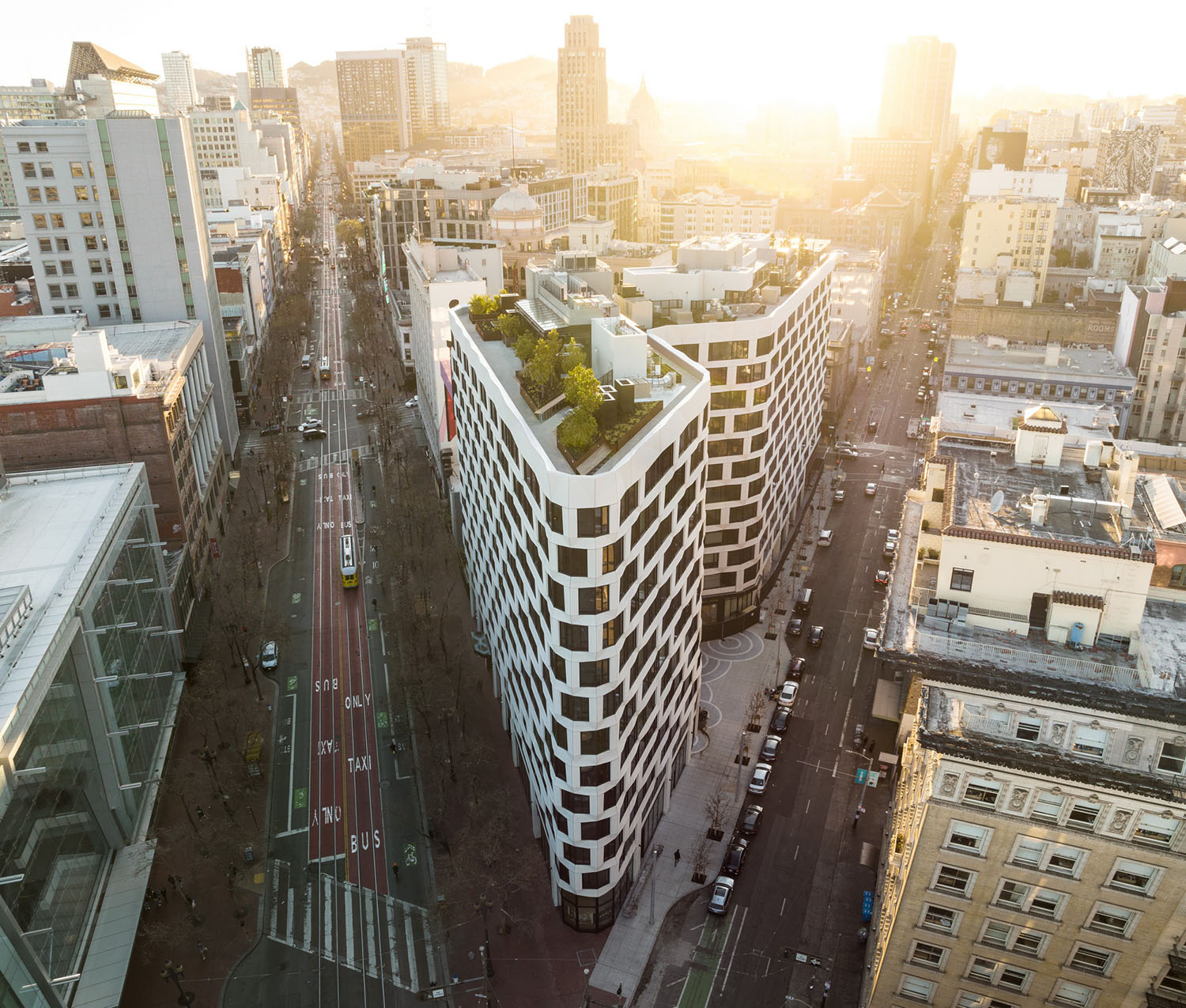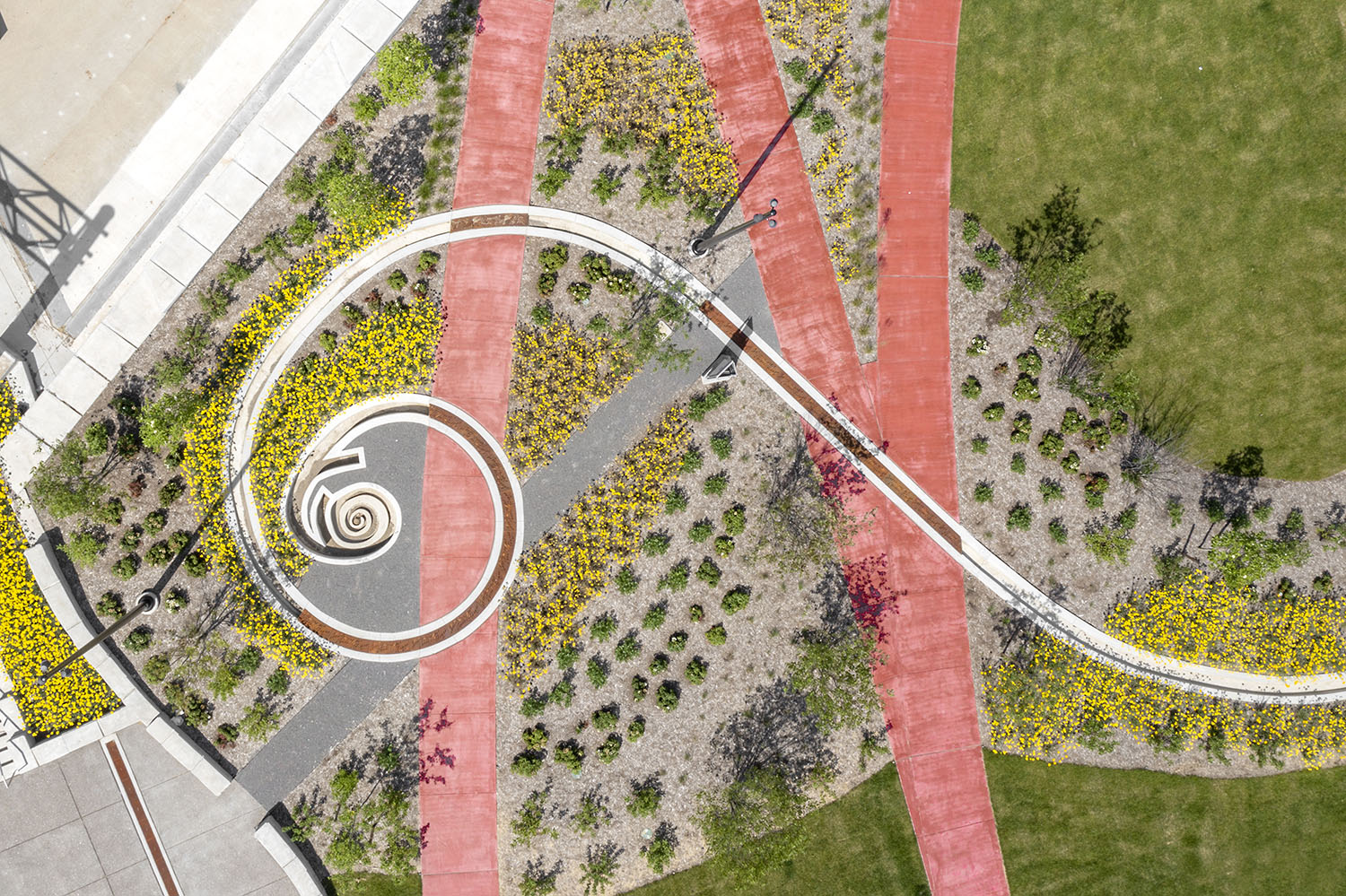 Best Mixed-Use Building
The Serif and the LINE hotel are both located in a 12-story, mixed-use residential building in downtown San Francisco on an irregularly shaped site. The use of glass-fiber-reinforced concrete (GFRC) reduced the weight of the facade, allowing construction of the structure to be more efficient and economical, while also achieving the desired depth and texture.
The $350 million project used 671 precast concrete panels (79,000 square feet of GFRC) from PCI-certified Willis Construction Co. Inc., San Juan Bautista, Calif. To limit the number of individual forms needed to create unique panels, Willis designed an "adjustable form" where the complex geometry could still be achieved, but the different lengths required only a simple adjustment. Panels ranged in size from 18-27 ft. and featured a white matrix with white sand and aggregates, and a light-sandblasted finish.
Transportation Award: Best Non-Highway Bridge
As Pennsylvania's first park over an interstate, the I-579 Urban Open Space Cap reconnects Pittsburgh's historic Hill District with the city's downtown. The project's adjacent precast concrete box beams are both economical and strong enough to support the unique park loading, including up to 5 feet of soil. The beams also support the hanging lighting for the vehicular tunnel below.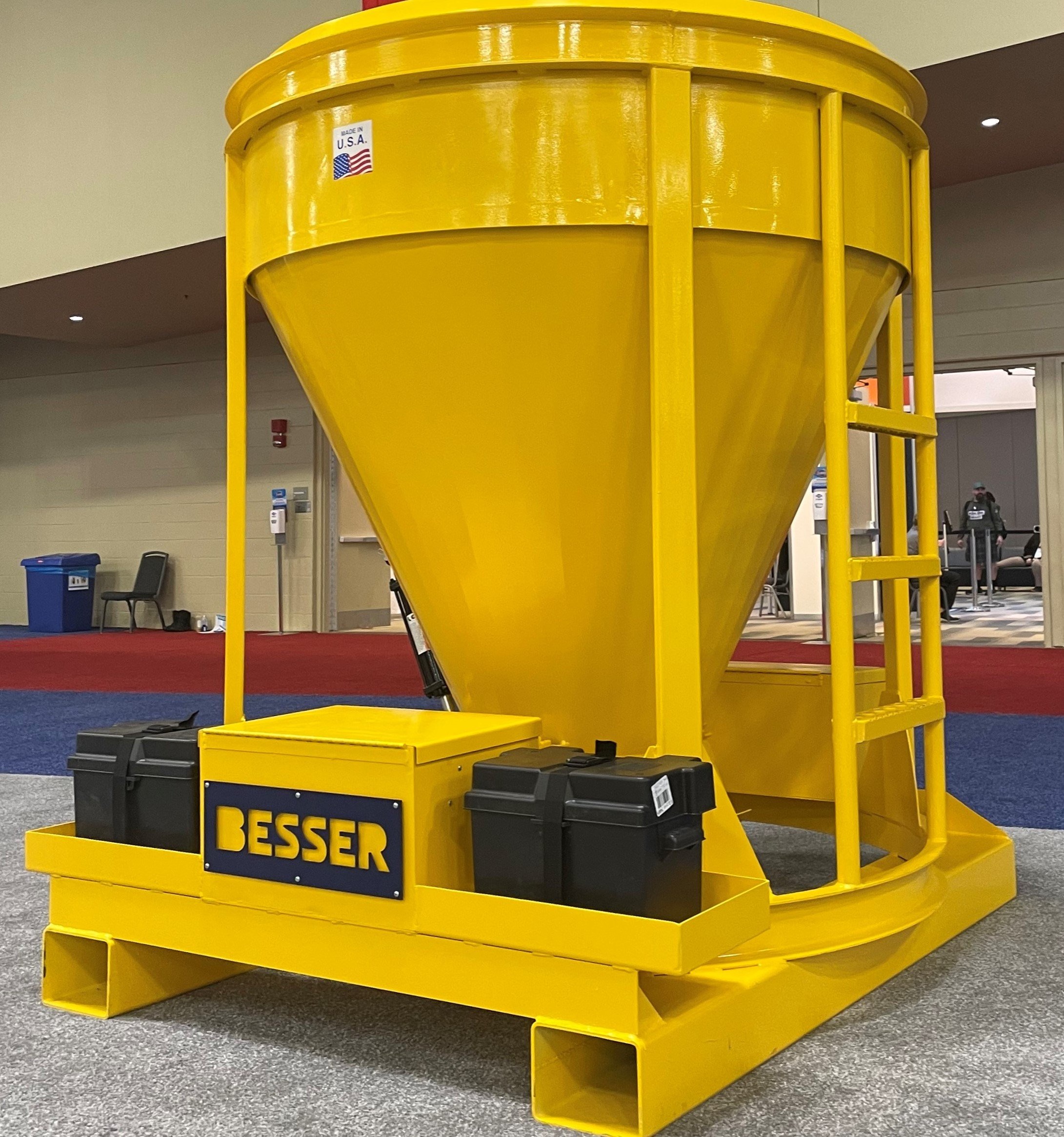 PCI-certified producer Northeast Prestressed Products, Cressona, Pa. supplied 12,190 linear feet of 48 × 66 in. precast, prestressed concrete box beams. The project also included the installation of 1,800 feet of curved architectural walls on top of the deck structure; 50,000 square feet of reinforced architectural sidewalks; and, 14,000 feet of micropiles to support the abutments.
Besser Co. arrived at The Precast Show (note pages 18-19) with a new 2-yd. pouring bucket, whose remotely controlled hydraulic gate is powered by a rechargeable battery. Producer attendees were intrigued by the device's thoughtful, yet simple design and ease of operation, along with customization options. The Besser buckets are equal to heavy-duty conditions, but of lightweight construction to allow for easier handling. The 2-yd. model is readily handled by crane or a forklift and features manual, pneumatic or hydraulic discharge option. The rechargeable battery affords the ultimate in production versatility. At the end of a shift, crews have easy access for bucket cleaning; a ladder can be included for additional convenience. — Besser Co., Alpena, Mich.; www.besser.com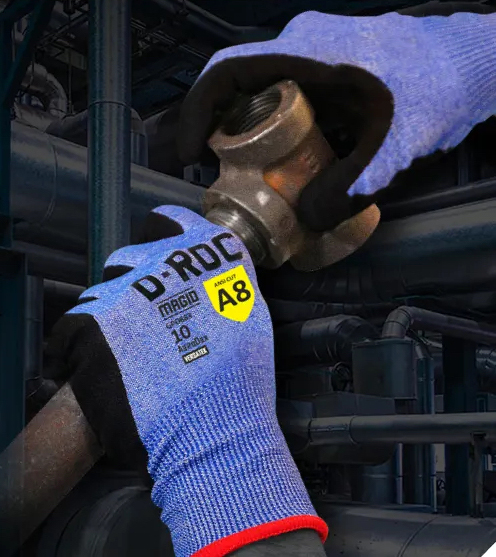 Work glove coating
Manufacturer presents VersaTek coating as an intelligent and durable technology that adapts to almost any environment so workers can get the job done without having to sacrifice safety, comfort, grip or dexterity. Specially engineered stabilizers allow the coating to read the environment and adapt to amplify the worker's grip when working in wet, dry, slick, abrasive, or oily conditions. Along with a firm grip, VersaTek is designed for maximum comfort and flexibility so workers can maintain natural hand movements and precision when handling small parts. It delivers over 50 percent more abrasion resistance than other glove coatings, including sandy or foam nitrile, and consistently provides well above the minimum for the highest Level 6 abrasion protection. The VersaTek palm coating will be available on the company's lightweight and non-irritating shells such as the AeroDex and DX+ Technology styles. — Magid Glove and Safety Manufacturing, Romeoville, Ill., www.magidglove.com/versatek-banners
Mi-Jack currently has three gantry machines operating semi-autonomously on the West Coast. Semi-autonomous operation is an option on the full line of Travelift models, which range in capacity from 30-150 tons.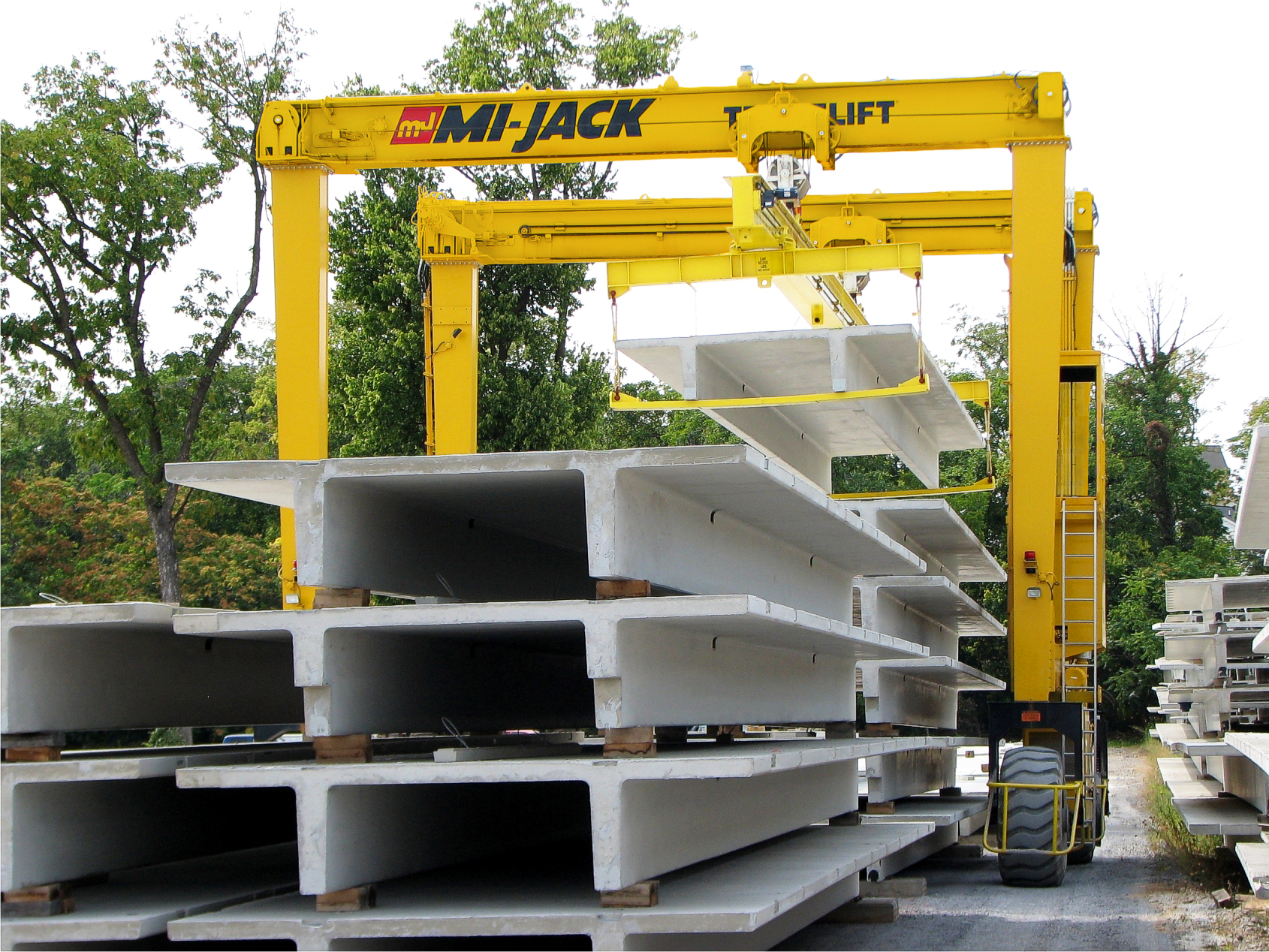 MI-JACK INTEGRATES eMEASUREMATICS TECHNOLOGY FOR SEMI-AUTONOMOUS CRANE
In partnership with eMeasurematics Inc., Chicago-based industrial automation solutions provider, Mi-Jack now offers semi-autonomous operation for concrete handling applications through the Travelift rubber-tired gantry (RTG) crane series. Semi-automation enables multiple machines to drive, hoist, and traverse on their own without an operator and without rigging. A single operator located elsewhere handles the last few feet of the operation along with the actual pick.
The cranes are outfitted with multiple positioning and steering technologies, creating added safety layers through programmed redundancy. To leverage this technological advancement, each crane must be fitted with an auto spreader attachment, which Mi-Jack engineers and manufactures. The attachment supersedes the need for rigging personnel in the yard.
"For decades we've equipped the prestressed, precast industry with RTG cranes capable of handling their largest, longest, and heaviest products. As the industry evolves, so do we, which is why we have answered the call to provide semi-autonomous solutions to the market," says Mi-Jack Vice President of Industrial Sales Mike Lanigan Jr. — Mi-Jack Products, Hazel Crest, Ill., 800/664-5225; www.mi-jack.com