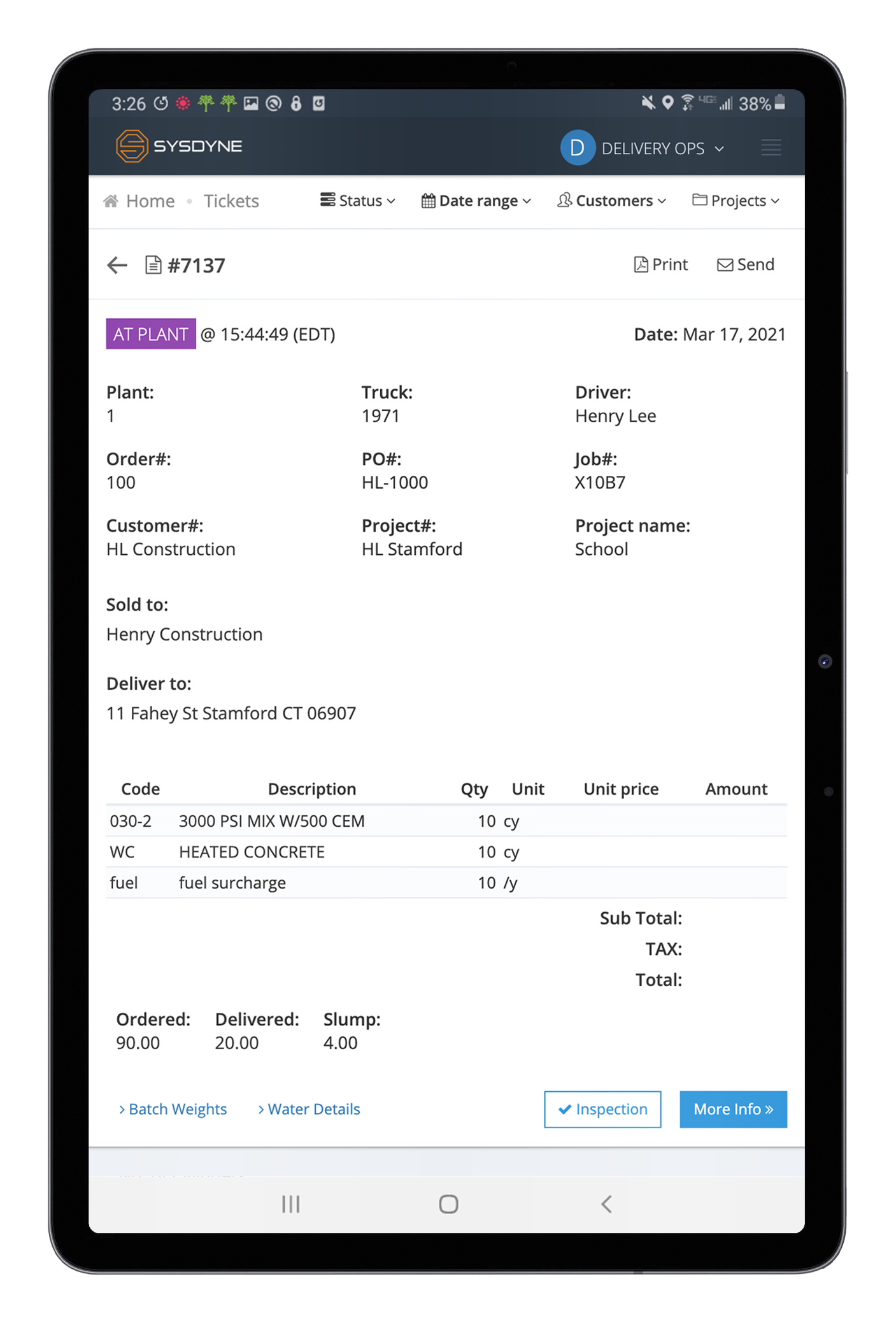 Sysdyne Technologies, Stamford, Conn. specialist in cloud-enabled concrete production and delivery software, and Boston-based HaulHub Technologies have entered a partnership to simplify, digitize and automate processes between state public sector projects and ready mixed concrete producers. By aligning around a shared goal to promote e-Ticketing, they aim to remove or eliminate paper and manual tasks; provide real-time material and delivery management information; and, automate inter-stakeholder operations so projects and related material workflows become more seamless.
"HaulHub has made impressive inroads with a significant number of state transportation agencies," says Sysdyne President and CEO Jill Zhang. "With the integration of our respective technology platforms, every customer across the U.S. using our Dispatch and Delivery Management solutions will become fully e-Ticket capable for any public sector project in states leveraging HaulHub's Agency Portal."
"We are rapidly scaling e-Ticketing across heavy construction, [and] particularly focused on enabling state agencies to adopt e-Ticketing quickly," adds HaulHub Founder and CEO Joe Spinelli. "Working with forward-thinking technology partners like Sysdyne further accelerates momentum around e-Construction and sets the stage for what's next in Digital Project
Delivery. A single connection between our platforms will immediately enable state agencies and ready mixed concrete suppliers to interact digitally with ease."
The partnership was announced at the 74th Iowa Ready Mixed Concrete Association convention, a fitting venue given the recent designation of HaulHub as the Iowa Department of Transportation e-Ticketing and e-Construction platform, plus Sysdyne's role as a key software provider to Hawkeye State ready mixed producers. Shortly after, the companies spotlighted e-Ticketing possibilities at ConExpo-Con/Agg in Las Vegas.
SLABSTACK PARTNERSHIP
Sysdyne also reports a separate partnership with Slabstack, Brooklyn-based concrete sales and business management platform developer. The move widens the aperture of visibility into real-time and actionable information for the firms' shared customers, as data and workflows across operations, delivery management, and customer relationship management (CRM) software are streamlined. The integration between their respective platforms will remove challenges associated with manual processes and siloed data stores when a ready-mix producer's batch, dispatch, and delivery management solutions run separately from their CRM system.
"For too long, ready-mix concrete producers have been tracking sales opportunities using spreadsheets, or a CRM disconnected from their dispatch and batch applications," observes Slabstack CEO Aymeric Halvarsson. "We are excited to now have our sales solution fully integrated with Sysdyne's ConcreteGo dispatch product, which will enable customers to focus more energy on selling, producing and delivering concrete efficiently and more profitably."
"I admire Slabstack's focus on concrete and strong desire to lift the industry up via technology," adds Jill Zhang. "We share these values with them. I like Slabstack's 'we win together' and more open approach to serving the greater good for people in ready-mix."
Both Sysdyne and Slabstack are modern cloud-native technology platforms. Their connectivity is an open application programming interface that provides simpler, reliable, and scalable ways for their applications to communicate and interact with each other, delivering a friction-free experience for users across products.