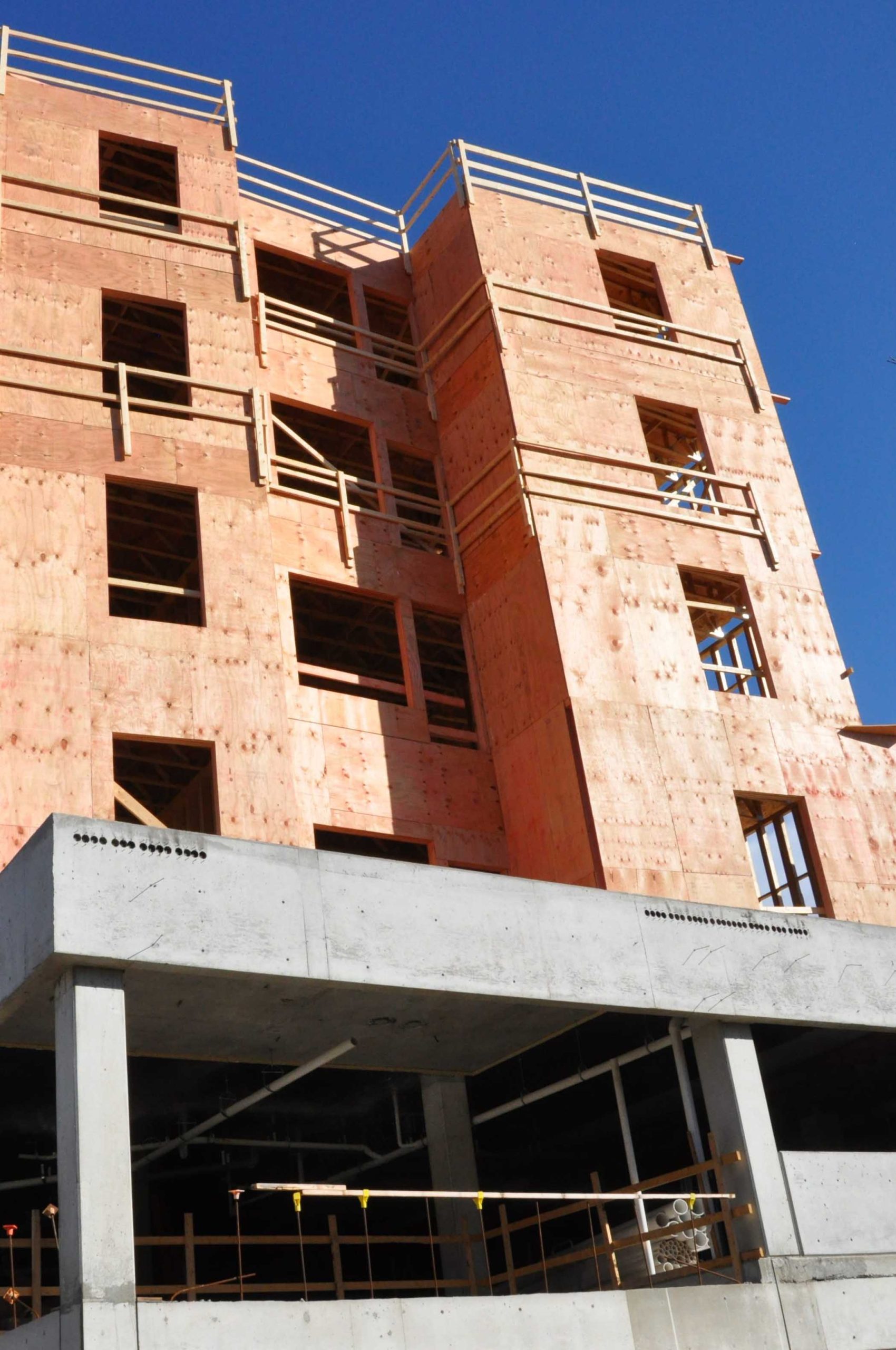 AltusGroup Inc. precast producers have renewed ICC Evaluation Service report (ESR #2953), reaffirming how their CarbonCast High Performance Insulated Wall Panels meet code requirements. CarbonCast elements with carbon fiber C-GRID shear truss connectors and rigid foam insulation were first tested in accordance with ICC-ES Acceptance Criteria AC-422 in 2014. Building officials, architects, contractors, specifiers, and designers reference ICC-ES documents to provide a basis for using or approving products in construction projects under various International Code Council building codes. Many municipalities and building jurisdictions require an ICC-ESR certification before allowing use of a structural product for projects in areas they govern.
ICC-ES has thoroughly examined AltusGroup's product information, test reports, calculations, and quality control methods to ensure the CarbonCast panel is code-compliant. Testing for much of the ICC-ES criteria was completed in accredited University of Miami laboratory facilities, as well as at the North Carolina State University Constructed Facilities Laboratory, along with prior research and testing performed at other independent venues. Dozens of precast sandwich test samples were submitted to verify the performance of the C-GRID connector and assembly according to the AC-422 criteria AltusGroup and ICC pioneered.
In collaboration with C-GRID composite reinforcement producer partner Chomarat NA of Anderson, S.C., the most recent ICC-ES report includes additional testing to address grid carbon fiber, epoxy, supply chain and durability performance confirmation tests. According to AltusGroup Executive Director John Carson, the criteria and testing that precast partner members uphold for their signature product "remains the most significant of any wythe composite connector in the market today."
ALTUSGROUP MEMBERS SUSTAIN CARBONCAST ICC EVALUATION SERVICE VERIFICATION
The International Code Council has outlined development process changes, effective 2024-2026 toward the 2027 International Codes (I-Codes). In the new timeline, year one will include two Committee Action Hearings for Group A Codes; year two will include two Committee Action Hearings for Group B Codes; and, year three will be the joint Public Comment Hearings and Online Governmental Consensus Vote for both Group A and B Codes. As part of the new process, volunteers on code development committees will now preside over the two Committee Action Hearings, one in the spring, the other in the fall. 
The addition of the second Committee Actions Hearings in year one and two will foster a more in-depth vetting of code change proposals, ICC officials note, and allow opportunities for a) committee members to review and evaluate the original proposals and consider the submitted responses; and, b) proponents to build consensus for their code change proposal and ensure the best version of their intended improvement to the existing codes. Additionally, with combined Public Comment Hearings in the third year, voting members are able to vote on all suggested changes to the next edition of the I-Codes at one time. The updated process also provides more opportunity for proposed new referenced standards to be developed and finalized on a consistent timeline regardless of the group (A or B) with which they are associated.
"As stewards of the code development process, we are always looking for ways to improve," says ICC Chief Executive Officer Dominic Sims. "These changes have been carefully considered by the Code Council for years and supported by both the Board Committee on the Long-Term Code Development Process and the Industry Advisory Committee. As members of the architecture, engineering, construction, and operations community, we can continue the legacy of those who have come before us in ensuring our communities have safe, sustainable and affordable buildings."
"The code development process is an open and transparent process that allows for any interested parties to participate. This facilitates a broad spectrum of ideas, expertise and input enabling the I-Codes to be the best model codes available to support the built environment," adds Senior Vice President of Technical Services Dr. Russ Manning. "Participation in the code process not only allows sharing individual expertise for the benefit of nearly 2 billion people worldwide; it also helps each of us to build individual skills in our respective roles in the shaping of our buildings and communities."