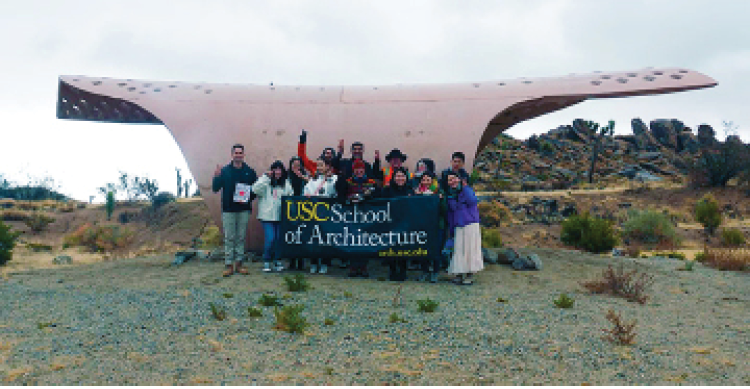 University of Southern California (USC) faculty and architecture students convened late last year in Joshua Tree National Park to dedicate the Carapace Pavilion. The unique structure demonstrates ultra-high performance concrete mixes' potential in thin cross section precast elements.
Hosted by the Precast/Prestressed Concrete Institute West chapter and PCI Foundation, the event included representatives of Clark Pacific, which oversaw fabrication of the three-piece structure at its southern California plant, plus connector accessory and material contributors JVI Inc. and Cresset Chemical.
"This is the first time that one of the PCI Foundation studios built anything like this," says JVI President Jim Voss. "When we started the studios 20 years ago, we had a vision of engaging architecture and engineering students with direct hands-on work in precast concrete. We wanted them to get out of the classrooms and into the field to see how things are really made."
"We knew we were doing something valuable for Joshua Tree National Park, but I had no idea just how amazing this project would turn out," adds former architecture student Michael Gonzalez Haik.
The construction and engineering possibilities the Carapace Pavilion reveals have piqued National Park Service officials' interest. "We will design, fabricate and install 12 tiny homes, or Pocket Lodges, for seasonal park rangers at Joshua Tree," notes USC Professor of Architecture Douglas Noble. "The challenge will be to make these small homes as comfortable as possible in this extreme climate, and to accomplish this without traditional air conditioning."