Sources: Cummins Inc., Columbus, Ind.; CP staff
Cummins' next fuel-agnostic engine series model will debut three years from now in a diesel version compliant with Environmental Protection Agency 2027 NOx emissions guidelines for heavy-duty truck power. The X10 is presented as "uniquely positioned to replace both the L9 and the X12 with the versatility to serve both medium and heavy-duty applications." Geared to vocational and regional haul users running diesel, biodiesel, natural gas or hydrogen fuels, the 10-liter displacement model will slot into Cummins' product portfolio between the B6.7 and X15 engines.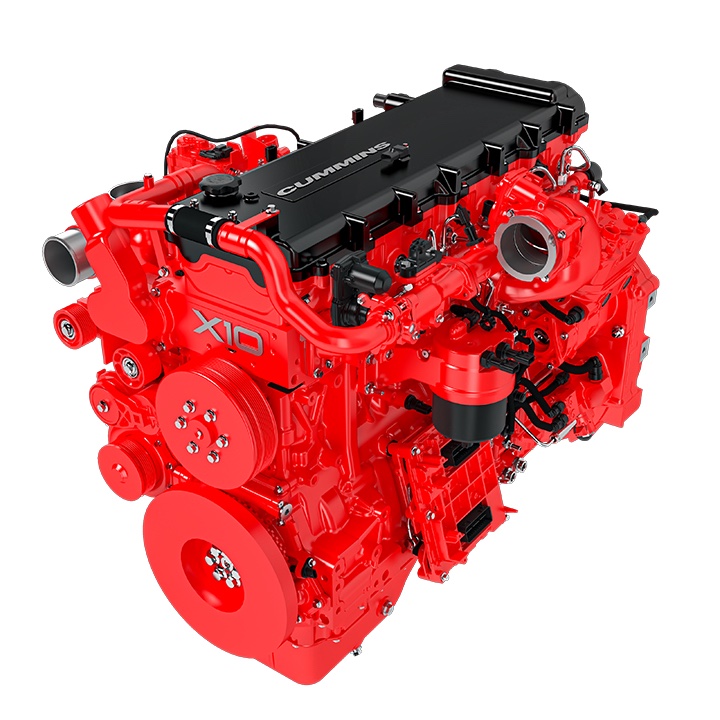 "We are committed to advancing diesel technology while our markets and customers need it to run their businesses," says Executive Director – North America On-Highway José Samperio. "The new X10 has been designed drawing on our decades of experience as a leader in the medium and heavy-duty space. We have applied those learnings to ensure the product will perform for our customers and the important jobs they need to do every time."
With the ratings and reliability to complete the toughest jobs, he adds, the X10 is extremely versatile and will play an important role serving commercial vehicle market needs. The engine uses a belt-driven, high output 48-volt alternator and aftertreatment heater solution optimized for increasingly stringent exhaust emission standards, and will be scalable to other advanced combustion technologies. Cummins' new fuel-agnostic engine platforms feature a series of versions derived from a common base model. They have similar components below the gasket head, but different, fuel-specific features above.
Related article
Cummins previews fuel-agnostic internal combustion powertrain solutions