Sources: Master Builders Solutions, Beachwood, Ohio; CP staff
Master Builders Solutions has entered into an agreement to serve as the official promoter of the cast-in-place concrete temperature and maturing monitoring, plus match curing systems of Toronto-based Exact Technology Corp. The move advances both parties' "common goal of making the concrete industry more sustainable, efficient, and safe via game-changing technology."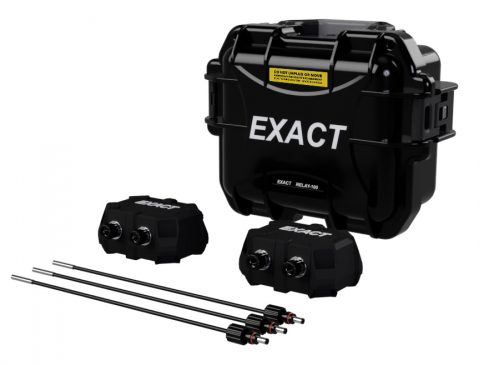 The agreement further broadens Master Builders Solutions' push for digitalization benefitting the concrete construction industry. In combination with its current Command Alkon partnership for in-truck sensor technology, the new alliance extends the features of Master Builders Solutions tools, particularly for ready mixed concrete operators.
"We have now increased our capability to provide producers with real-time visibility to remotely and efficiently monitor concrete properties from batching to placement and beyond," says Master Builders Solutions Business Development Manager, U.S. and Canada Joe Daczko. "The visibility that Exact's suite of tools delivers helps producers monitor how their concrete is performing both in a fresh and hardened state, empowering quick decision-making if faced with unexpected results."
"This strategic relationship will get our solutions into more hands within the concrete industry and push the sector forward," adds Exact Technology Chief Strategy Officer Stacia Van Zetten. "Garnering favor from Master Builders Solutions also signals confidence in the value and reliability of our products, which clients currently leverage across precast, infrastructure mass concrete, high-rise and ready-mix applications."
Related articles
Master Builders, Command Alkon partnership starts at mixer drum
DeWalt links new maturity sensor to AI-enabled ConcreteDNA platform
ARGOS, HEIDELBERG, SKYWAY CEMENT REPRESENTATIVES LEAD SLAG SCHOOL
The Slag Cement Association has scheduled the second annual Slag Cement School, May 22-23 in Cape Canaveral, Fla. SCA Board President Lori Tiefenthaler (Heidelberg Materials) will open the program, setting the stage for these presentations and panel discussions:
Slag Cement Basics, Production, and Cementitious Properties, Wayne Wilson of Heidelberg Materials
Slag Cement in Practice, Concrete Mix Designs, and Examples of Use, Steve Wilcox and Jeremy Reich of Argos USA
Slag Cement's Role in Sustainable Concrete, SCA's LCA Calculator, Mix Submittals, and Examples of Use, Larry Rowland of Heidelberg Materials
Slag Cement in Special Applications, Mass Concrete, Paving, Geotechnical and Waste Stabilization, Mark Van Kleunen of Skyway Cement
"The school is an unparalleled experience for those who want to learn more about slag cement and its many benefits," says SCA Marketing Director Nick Brimley. "Attendees will get the opportunity to learn from some of the leading experts in the cement and concrete industry."
Slag Cement School registration covers refreshments, lunch, networking reception, and a day two tour of Heidelberg Materials' local granulated blast furnace slag grinding operation, and can be obtained at www.slagcement.org/school.