Success in a typical ready mixed concrete operation can turn on the performance of a small team with outsized influence on human capital and physical asset utilization, as well as customer loyalty and profitability. In Making It Happen – Achieving Excellence in RMC Transportation & Customer Service, Jack Delperdang seeks to fill a void in industry references for building an efficient, effective and customer centric delivery team. The 220-page book offers ready mixed business owners a deep dive in department assessment, initial and continuous improvement measures, benchmarking techniques, and key performance indicator determination.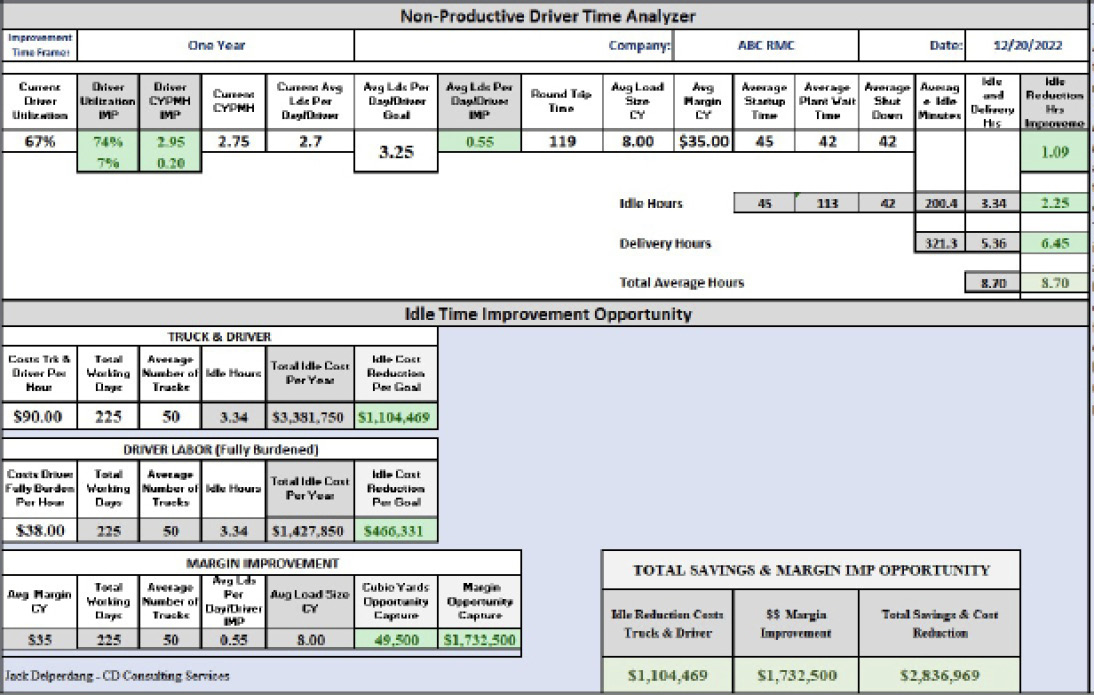 Delperdang's perspective reflects 40-plus years in order-taker, dispatcher, scheduler and dispatch/customer service manager roles at a representative cross section of producers, from small, mid-size or major independents—Iowa's Standard Ready Mix, Ohio's Moraine Materials and Minnesota's Cemstone Products Co.—to a top player (> 20 million yd./year) in the U.S. and Canada, Atlanta-based CRH Americas Materials.
Delivery team members are not always adequately trained, he notes in Making It Happen, while others lack the right skill sets to meet departmental and customer demands. Their importance cannot be underestimated when gauging a producer's ability to maintain mixer fleet efficiency and provide contractors excellent service. "Ready mix delivery truly is where the 'rubber hit's the road' in terms of 'making it happen' after the sale," Delperdang contends. "The delivery team controls almost all your assets on a minute-by-minute basis and the decisions they make will spell out the difference between success and failure in achieving your performance and financial goals."
ORGANIZED CHAOS, CONTROLLED CONTROLABLES, SAVED MINUTES
Dispatch and delivery office environments tend to naturally invite drama: Loud outbursts/or heated frustrations, angry customers and sales or management finger pointing when orders go awry. Delperdang admits conditions can be overwhelming at times, but stresses the need for everyone connected to the department to recognize day-to-day challenges as manageable if team members are proactive and prepare for them. Among guiding principles that belong at the core of any delivery department mission and warrant top of mind recognition, he includes in Making It Happen:
If there's no product on the truck, you're not making money.
You can only be as good at delivery as your customers are at ordering.
Remember, we're in the business of saving minutes.
Service is what we really sell and what sets us apart from the competition.
Delivery is a controllable function that highly determines profitability.
Creating a functional delivery and customer service team, he adds, starts with these essentials: Structure, Organization, Leadership, Empowerment and Accountability.
TECHNOLOGICAL ADVANTAGES AND LIMITATIONS
Making It Happen weighs the impact of ready mixed delivery department functions evolving from manual to digital. "If used right, technology drives process, business and cultural change," Delperdang writes. "Computers, mobile signalling, GPS, plant cameras, voice recorders and many more innovations have taken away most of the manual aspect of dispatching. Ticketing keys off of order entry, so if care is taken, mistakes are minimized. Knowing truck location is no longer a problem and mixes and quantities are automatically uploaded to batch computers."
"All of this gives today's dispatchers more time for better planning and decision making," he observes. "But are we really making better decisions with all these new tools or have our dispatchers become lazy in some cases, maybe not properly trained or even unsuited for their position? It's an important question to assess with your delivery teams to truly understand how they can be better at figuring out the complex puzzles they face every day."
STEP-BY-STEP GUIDE TO ACHIEVING EXCELLENCE
"Building the Foundation for an Effective Delivery Department – When & Why a Dispatch Re-organization Makes Sense" leads off seven Making It Happen chapters. The author takes readers through critical self-examination steps and provides an extensive list of questions framing the case for departmental tweaking or major change. Accompanying them are practical Assessment Worksheet and Scoring Sheet templates, followed by an Operational Performance Trending Worksheet delving key indicators of effective ready mixed concrete delivery departments.
The book continues with Process Improvement & Change Management, Leveraging the Power of People to Achieve Success, Maximizing the Use & Utilization of Dispatch Tools, Successfully Measuring Performance, Taking Delivery Customer Service to the Next Level and The Future of RMC Dispatch Operations chapters. Each probes methods, processes, strategies and best practices the author has validated and incorporated in the course of building or improving delivery department teams in North America and Europe.
"With all the changes coming in ready mixed concrete, our delivery and customer service people will be asked to do more, be more, and effectively use new technologies to their fullest capabilities," says Delperdang. "We will expect them to attain higher levels of both departmental and personal performance and teamwork, continual personal growth and achievement, and superior management and leadership skills."
"I believe that will happen as long as a ready mixed concrete organization is committed to investing in their delivery capabilities, their technologies and most importantly their people," he concludes. "They are the 'heartbeat' of the organization and 'face' of its culture. Investing in them and the critical jobs they perform will always pay dividends to the business and the customers they serve."
Jack Delperdang recently launched CD Services, a Tennessee-based consultancy offering ready mixed concrete clientele support on performance or logistics and transportation management, along with dispatch department setup or reorganization. CD Services follows his 48 years in ready mixed concrete delivery, customer service and information technology assignments.
Author Jack Delperdang can be reached by voice or text messaging at 865/599-8441, [email protected], or on LinkedIn messaging for consulting or to purchase a signed, printed edition of Making It Happen.