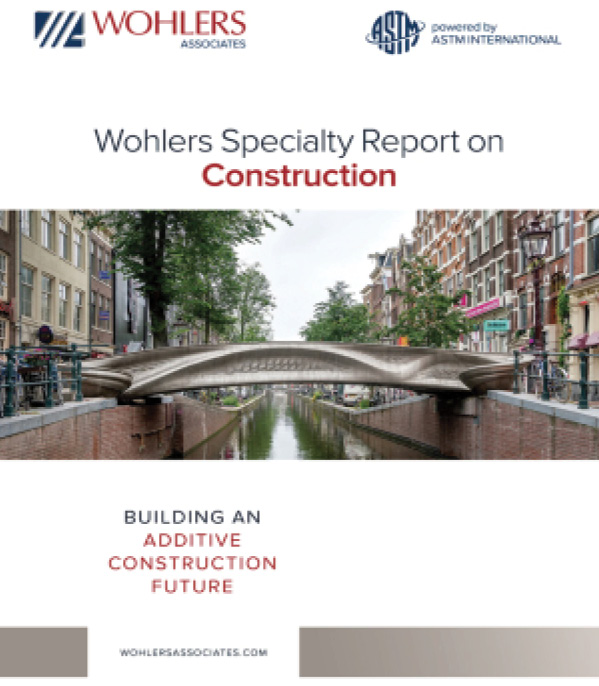 ASTM International-aligned advisory Wohlers Associates of Fort Collins, Colo. has released Specialty Report: Building an Additive Construction Future, covering a rapidly growing market segment fueled by additive manufacturing and 3D printing developments.
"ASTM International sees additive construction as the next frontier," notes Market Intelligence Head Terry Wohlers. "To gain a view of what is ahead, it is important to understand the technology's current state. This report features advancements in additive construction, a rundown of nearly 200 players in this sector, updates on efforts underway in various geographic regions, and a comprehensive overview of specific applications and materials."
"Construction is among the oldest and largest industries in the world," adds Wohlers Associates consultant and principal report author Stephan Mansour. "However, issues of growing demand, a declining workforce, and rising material costs require new ways of thinking. Additive construction presents alternative methods and tools that have the potential to be more efficient and sustainable and help address increasing demands on the sector."
The report's key player use cases examine how additive or 3D printing methods can improve traditional construction practice and outline specific challenges and ways they can be addressed in the future. Tables, charts, and images accompany a look at the industry's current research and development initiatives. Additive construction standards development is also discussed.
"Global population is expected to rise, so construction will increase, even as the workforce declines and costs rise," notes Mansour. "Additive construction offers new solutions that are promising but are being met with the caution of many. We know it is a quickly expanding sector, but more information on what works and what does not, along with good decision-making, are needed."