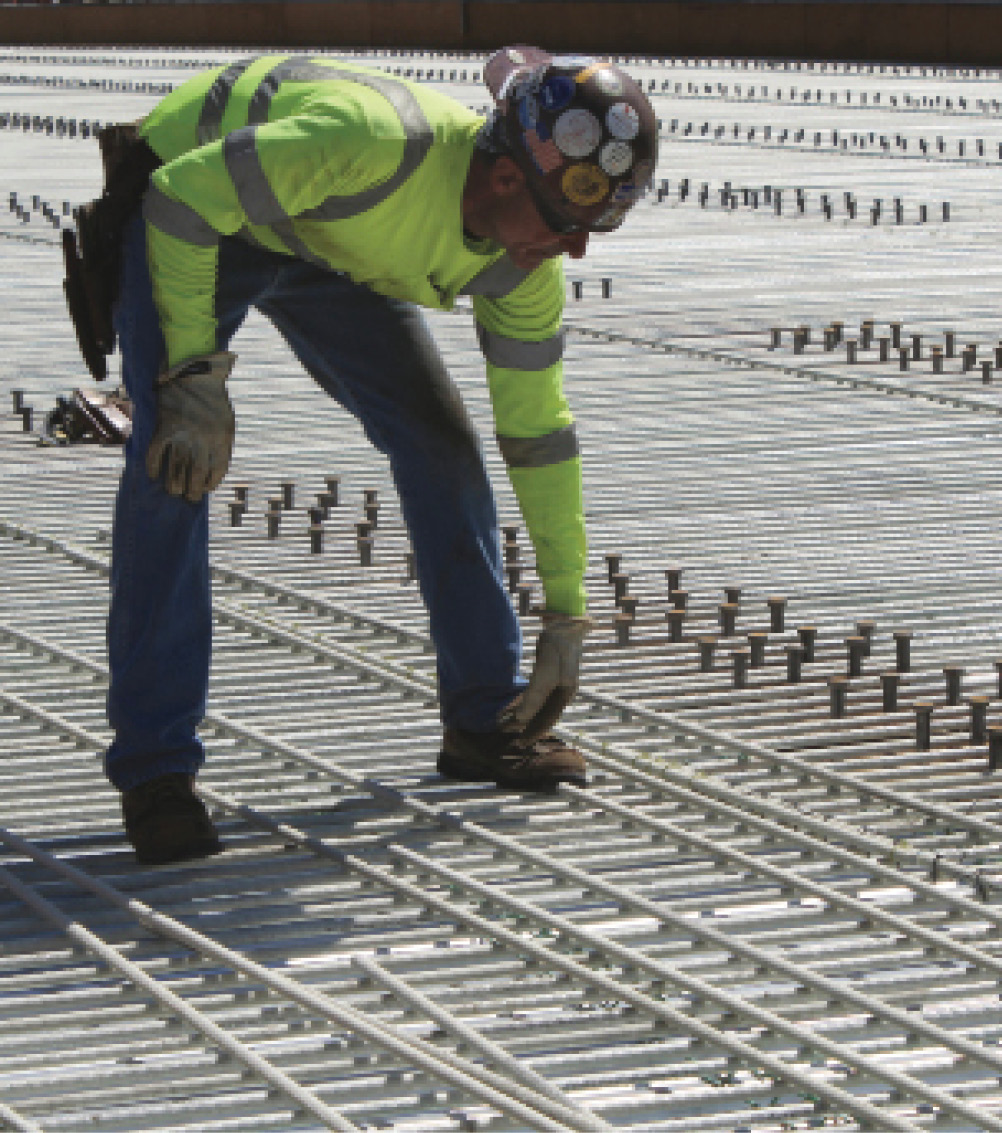 American Concrete Institute Committee 440 Fiber-Reinforced Concrete Reinforcement has published the first comprehensive building code covering the use of nonmetallic, glass fiber-reinforced polymer bars in structural concrete conditions. Developed by an ANSI-approved consensus process, ACI Code-440.11-22 addresses cast-in-place or precast structural systems or members, plus composite construction.
GFRP reinforcement has been in use for decades as an alternative to steel bar, mesh or strand because of its non-corrosive, non-magnetic, and lightweight properties. A milestone for the technology, the new Committee 440 document mirrors ACI 318-19, Building Code Requirements for Structural Concrete with provisions for designing GFRP reinforced concrete beams, one- or two-way slabs, columns, walls, connections, and foundations. Other model codes and standards can directly reference ACI Code-440.11-22 to allow for widespread, responsible use of GFRP.
"What really sets this code apart is that it is dependent on ACI 318-19," says Past Committee 440 Chair Will Gold. "With this new code, almost any structural element covered by ACI 318 can be designed using GFRP reinforcement instead of steel reinforcement. A great deal of new research and validation was required for the code to address elements such as connections and columns. The hard work and efforts of many Committee 440 members made development of this new code possible, and it represents a tremendous accomplishment."
The committee's mission is to develop and report information on fiber reinforced polymer for internal and external reinforcement of concrete. Members maintain design guides, materials and construction specifications, reports, and technical notes on the use of FRP in structural concrete applications.
ICC-ES CERTIFICATION ASSURES BASALT FIBER REBAR FOR IBC COMPLIANCE
Florida-based Basanite Industries LLC has received International Code Council Evaluation Service (ICC-ES) certification for its BasaFlex basalt fiber reinforced polymer (BFRP) rebar for concrete reinforcement. The ICC-ES ESR-5092 report confirms the product's compliance with 2021 or 2018 International Building Code and International Residential Code requirements when used as concrete reinforcement. The report is posted at www.icc-es.org. 
"This approval comes after years of research and development, followed by nine months of rigorous testing by the University of Miami using the ICC-ES protocols," says Basanite CEO Simon Kay. "I am proud of our engineering and production teams for obtaining this certification, especially as Basanite becomes the first full range basalt fiber rebar manufacturer in the United States to obtain this approval."
"The approval is a prerequisite for the use of BasaFlex in many states, such as New York, as well as internationally. This certification validates our contention that Basanite's basalt fiber products are the future of concrete reinforcement in construction," adds Chief Technology Officer Fred Tingberg.
Basanite' ICC-ES certification dovetails ASTM International's release of D8448-22, Standard Specification for Basalt Fiber Strands, covering materials used in BFRP composite products. Basanite engineering and certification team members were instrumental in the successful publication of this new standard, Tingberg notes. "This is a major milestone which marks significant progress by Basanite towards achieving worldwide acceptance of its products.