Source: Rock Products Magazine
Concrete Products' sister publication, Rock Products, has launched "The Pulse," a quarterly construction industry economic report, and the monthly AVP Pulse Index. Both are joint efforts with Allen-Villere Partners, leading merger & acquisition advisor to aggregate and concrete operators, and debut in the January edition.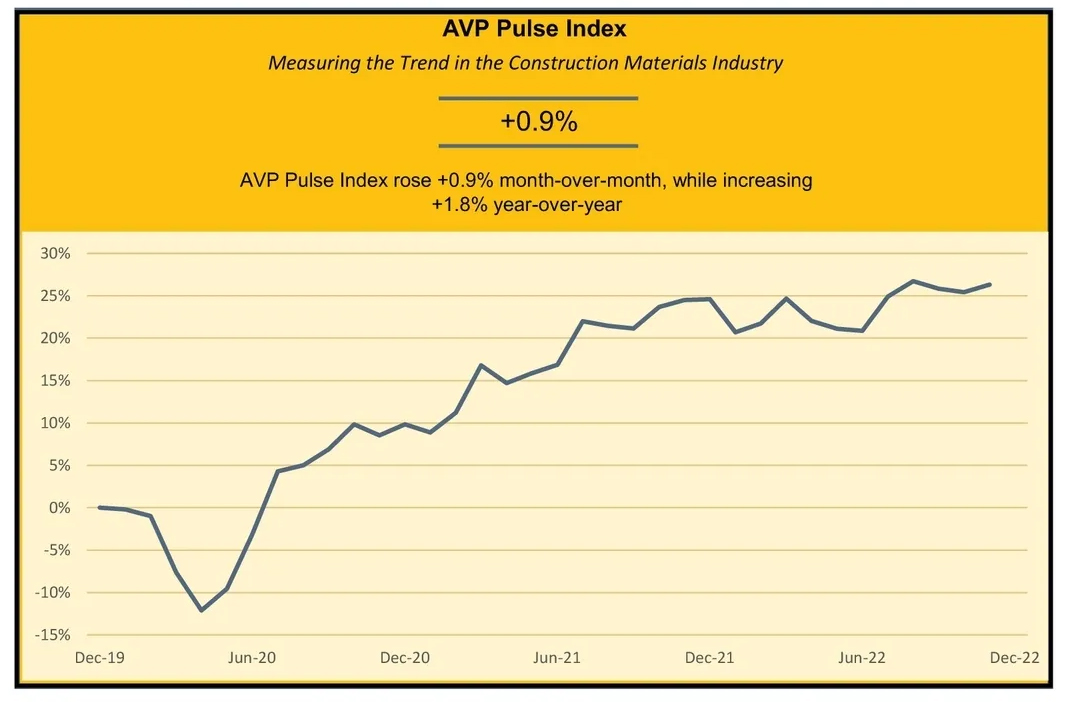 The premier Pulse is rich in data from authoritative private and public sources alike: Dodge Construction Network, National Association of Home Builders and American Institute of Architects to U.S. Departments of Commerce and Labor. Key consumption or pricing tables span portland cement, crushed stone, sand & gravel, plus ready mixed and manufactured concrete.
"For years, we have thought about developing an economic report featuring an 'index' that would track a number of widely regarded measurements and indexes in the various segments of our industry that traces progress up or down," says Allen-Villere Partners Principal Pierre Villere, chief Pulse author. "The Index shows a remarkable upward trajectory since its bottom in the spring of 2020."
In the initial Pulse Construction Materials Market Analysis, Villere issues a seven-point analysis of the current market and notes that AVP Pulse index is up 0.9 percent month-over-month and 1.8 percent year-over-year. "Despite the Chicken Littles who are beating the drum of a recession," he contends, "I don't see it in construction in 2023."
"This new report and index will fulfill a market need for a trusted voice analyzing economic conditions that are impacting the aggregates industry now and in the future," adds Rock Products Editor Mark Kuhar. "With 50 years of construction-materials knowledge, Pierre Villere is just the person to provide that voice."