One of past decade's best examples of equipment uptake among North American ready mixed concrete producers is also a textbook case of user experience-driven continuous improvement.
Shumaker Industries piloted and initially deployed its Load and Go automated mixer truck wash station over a 2007-2012 window. Operators saw the 12- x 15-ft. aluminum frame device—outfitted with hoses and wands feeding nozzles delivering water at streams or spray up to 1,000 psi—best in 30 seconds the rinsing and cleaning results of a traditional five-minute, manual truck wash. Early users especially noted Load and Go wash cycles' sharply lower volume of process water generated and the station's potential to limit drivers' physical role in a critical maintenance task.
The charter design convincingly validated a standardized, automated truck wash station concept. From there, Shumaker Industries was challenged to tweak the Load and Go with advanced controls and sensors, plus flexible plumbing, so each installation could be tailored to a user's unique plant configuration and fleet. A future model template was set around a) making more effective use of comparable or lower volumes of water per wash cycle; b) controlling and logging the precise amount of water added to a load from wash stream or spray around and in the mixer truck charging hopper; and, c) automating signals and wash cycle activation so drivers could remain in their cabs and proceed to job sites in shortened alley-to-gate intervals.
PROVEN WORKHORSE
An inaugural Load and Go surfaced in 2007 at a Holcim/Aggregate Industries plant in Minnesota. Still operating, it demonstrates how the station concept has evolved from 50 dangling nozzles, anchored on batch plant angle iron, to a thoughtfully engineered workhorse sporting 100-plus nozzles and up to 10 PLC-sequenced water delivery cycles.
Aggregate Industries was among many users who filled Shumaker Industries' Load and Go order book for additional deliveries following premier-installation success. Equipment feedback, suggestions and wish list items stemming from a broad cross section of major or independent ready mixed producers led to the Load and Go LG1800. The second generation model debuted in 2018 with a patent-pending "mixer positioning system." It used lasers in conjunction with a traffic light to ensure that every passing truck was thoroughly washed and a uniform amount of water added to each load.
"We will always credit the LG1800 model for helping us, as an industry, believe that the concept of automating the mixer truck washdown process could be embraced as a best practice," says Brett Shumaker, who has had a hands on role in numerous Load and Go installations and overseen the station's 15-year evolution. "The LG1800 is a great piece of equipment, but after getting a few hundred units in the field we recognized opportunities for improvement."
A two-year engineering deep dive served up 26 potential points for an LG1800 successor. Customer and Shumaker R&D team collaboration was the secret sauce that drove the innovation behind the Load and Go LG2200, unveiled earlier this year. User feedback varied from casual field conversations to more formal meetings. Among the latter was one involving Irving Materials Inc., whose perspective was informed by 23 Load and Go installations across Tennessee and Kentucky plants. imi management called a meeting in Nashville to specifically discuss improvements for future equipment deliveries.
"We are always looking for ways to improve the efficiency and safety of our operations," affirms imi's Chris Holt. "We were very excited to partner with the Shumaker team to work toward making a good Load and Go system great."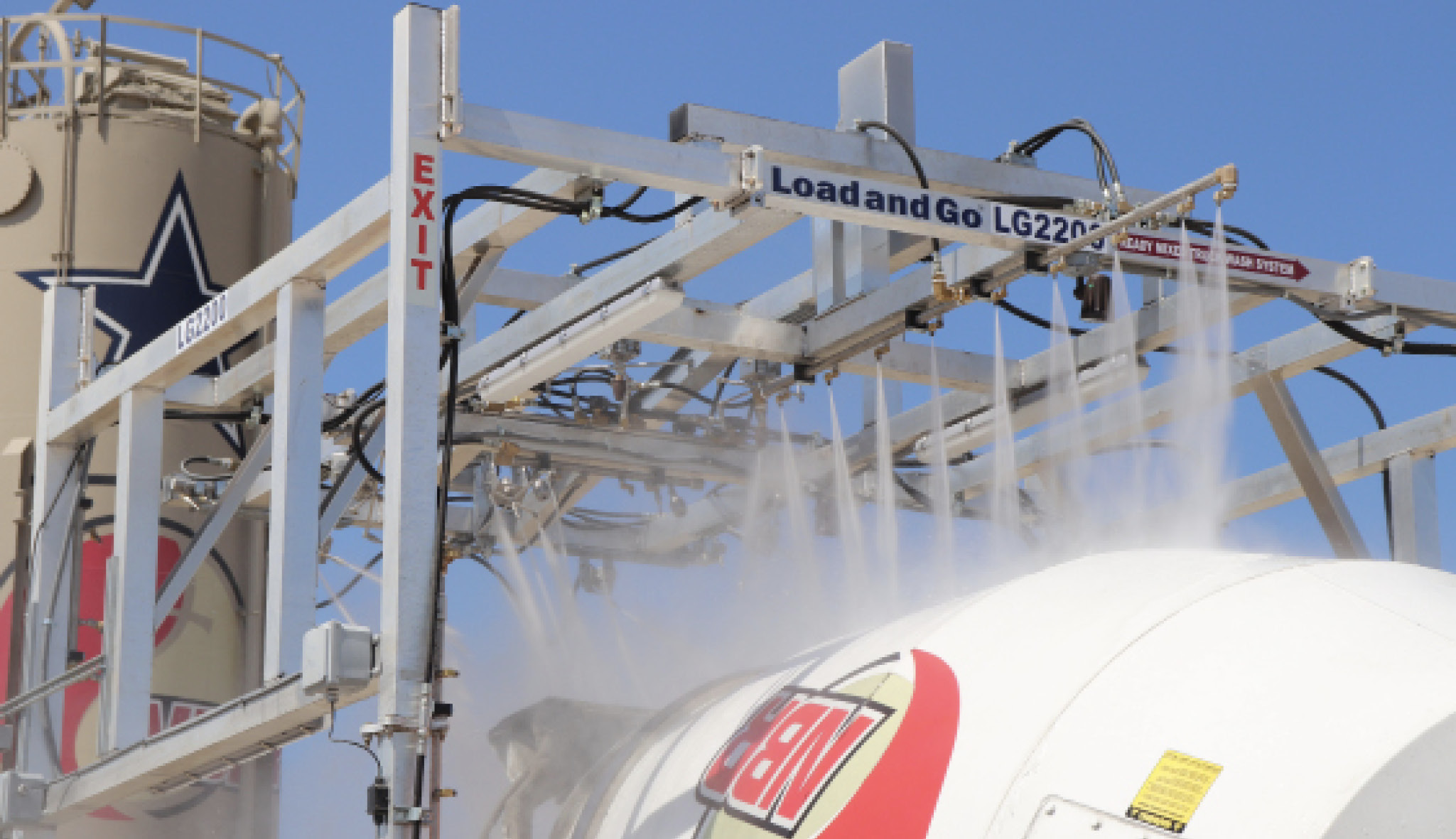 PRODUCTIVE OVERREACH
While features such as the mixer positioning system and traffic light carry from the LG1800, ready mixed plant and fleet managers will readily note how the next generation LG2200 differs in appearance and function. The most identifiable physical change is the dual cantilevered frame. It extends water stream or spray coverage by 63 percent over the LG1800 and provides the optimal angle of attack for hard-to-reach areas on the mixer truck's discharge end while maintaining the 12- x 15-ft. station footprint. Additionally, the LG2200 has 50 percent more nozzles than its predecessor and, thanks to sensors and a new PLC package, 10 versus four wash cycles. Nozzle and solenoid valve upgrades create a more systematic top down and front to back washing process than the prior generation equipment—all as mixer drivers remain in their cabs awaiting a change from red to green light.
"One of the LG2200 design objectives was to completely clean the most critical areas, such as the discharge end, blades and hopper while the mixer was stopped in the red zone," notes Shumaker Industries engineer Nick Turnage, who heads the Load and Go program. "This would allow for new drivers to get their mixer cleaned just as well as those with 20 years' experience."
Among producers quick to note the difference between automated and manual mixer truck wash down methods is Texas-based Nelson Brothers Ready Mix. During a driver training exercise on day one of his first LG 2200, Vice President Jose Saenz recalls, "I saw for myself how clean and quickly the mixers were coming out and thought to myself: Where is the next Load and Go going to be installed?"
Nelson Brothers isn't alone in recognizing station benefits. Nearly 75 percent of current Load and Go orders, notes Brett Shumaker, represent repeat business. "All of our customers that have 20, 30 or more installations now started with just one Load and Go," he observes. "Then they ran the numbers and ordered more." — Shumaker Industries, Northumberland, Pa., 800/326-9349; www.shumakerindustries.com