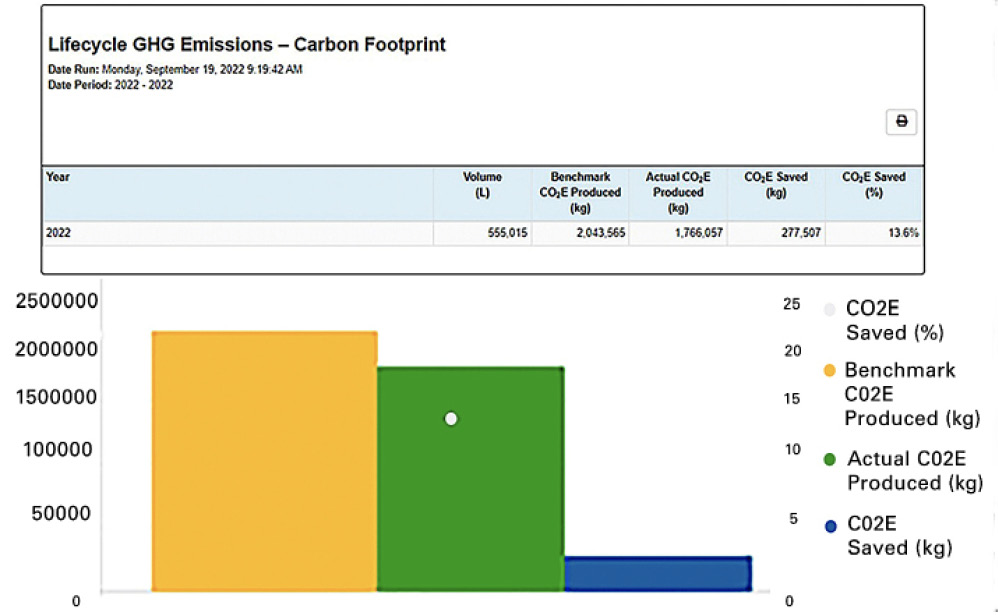 Lafarge Canada is testing R50, an equal blend of petroleum and renewable diesel fuel, across its greater Vancouver area on- and off-road fleet. The R50 demonstration stems from a partnership with 4Refuel, which offers the alternative to the producer's B5 blend—5 percent biodiesel, 95 percent petroleum diesel. With operations in Milton, Ontario and Grapevine, Texas, 4Refuel produces renewable diesel through a variety of biological, thermal and chemical processes using biomass sources.
The Q4 2022 fuel switch will result in an estimated reduction of 1,300 metric tons of carbon dioxide emissions equivalent, or CO2e, versus the Lafarge Canada Vancouver area fleet maintaining the B5 fuel spec. If the R50 fuel is used to power trucks and plant equipment throughout 2023, the producer could be on track for a 5,000 mt CO2e savings.
"Reduction of fleet emissions is part of our larger advancement towards sustainable and profitable development in operations across Canada, and a significant strategy in our journey to net-zero," says Lafarge Canada Vice President and General Manager, British Columbia and U.S. Pacific Northwest Lincoln Kyne. "As industry drives towards sustainable solutions, we know the importance it will be for the government to incentivize business, like a carbon tax reduction, to help offset the increased costs to use renewable fuels."
"We welcome Lafarge as a top-tier industrial customer to receive our R50 renewable diesel solution," adds 4Refuel Director of Sustainability Lauren Foulkes. "As a leader in mobile diesel fuel delivery, we are excited to partner with a leader in innovative and sustainable building solutions. Further, we are delivering the fuel using R50 in our own fleet, helping further decarbonize the transportation industry, while reducing our customers' Scope 3 emissions."
Lafarge Canada is Holcim Group's first North American business to pilot a renewable diesel partnership as part of its carbon reduction strategies. The use of R50 supports the producer's drive towards a circular economy by powering cement, aggregate, concrete and asphalt production and delivery with alternative energy.