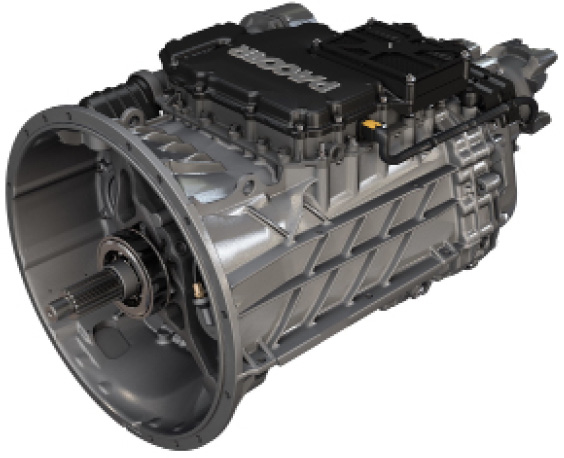 Kenworth Truck has added the Paccar TX-18 and TX-18 Pro automated transmissions as options for T680, T880 and W990 models running Paccar MX-11 or MX-13 engines. Both 18-speed transmissions build upon the efficiency of the Paccar TX-12, which was designed to be the most efficient on-highway automated transmission.
The TX-18 offers additional capability for on-highway use, such as heavy haul transport. The TX-18 Pro adds enhanced capabilities and unique features for extreme duty vocational and other select off-highway applications. Optimally engineered to operate with the MX power platform, the new transmissions support engines up to 510 horsepower, 1,850 lb.-ft. of torque capacity and 140,000 pounds of gross combination vehicle weight ratings.
The 18-speed ratio provides smooth shifting and consistent performance in a wide range of applications. The TX-18 has three reverse gears, and TX-18 Pro has six, pairing well with deep axle ratios. Multiple reverse gears allow for improved maneuverability around job sites. Both transmissions offer expanded high-capacity PTO functionality with an eight-bolt bottom mount and four-bolt rear mount for a combined 160-hp capacity at 1,400 rpm.
The transmissions are equipped with an internal oil temperature sensor. It shows transmission temperatures on the in-cab 15-inch digital display and provides driver notifications in situations causing excessive temperatures. The TX-18 and TX-18 Pro are standard with Kenworth's driver-friendly column-mounted, right-hand shifter. It places gear selection and engine brake controls at the fingertips for enhanced ergonomics, comfort and overall performance.
On-highway maintenance intervals are 500,000 miles or five years, and vocational intervals are 250,000 miles or three years for the TX-18 and TX-18 Pro. The transmissions utilize a maintenance-free clutch. They join a Kenworth lineup that includes the Paccar TX-12 automated transmission for fuel efficient, on-highway applications, plus the TX-8 automatic transmission standard on medium duty models. — Kenworth Truck Co., Paccar Powertrain, www.kenworth.com, www.paccarpowertrain.com/products/#transmissions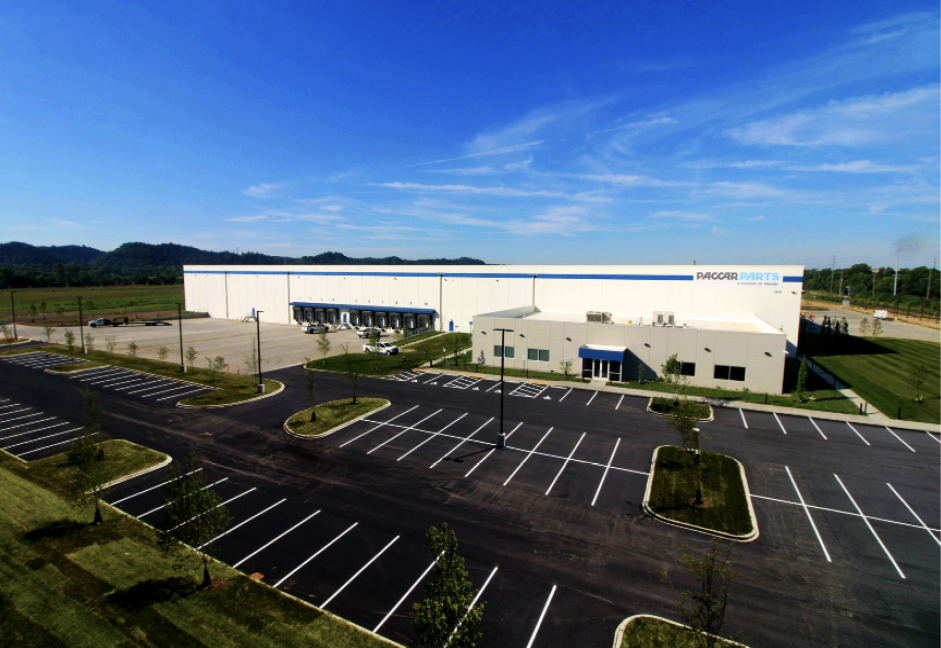 PACCAR PARTS KENTUCKY DISTRIBUTION CENTER
Paccar Parts' advanced parts distribution center (PDC) in Louisville, Ky., is fully operational. The 260,000-sq.-ft. facility increases parts availability for dealers and customers in the Central, Mid-Atlantic and Southeastern regions, and utilizes advanced technologies to increase operational efficiency. With next day delivery and the capacity to store over 80,000 parts, the Louisville PDC will provide unparalleled service and delivery options to support dealers and customers.
"The Louisville PDC will use the latest technologies to reduce the time between order placement and delivery, allowing us to maximize uptime for customers," says Paccar Parts Senior Director – Operations Tom Floyd.
"The strategic location expands our dealer reach and reinforces our commitment to world-class service in aftermarket parts distribution. We take pride in upholding core values of providing customers with the highest product availability, best customer experience and unmatched value in the industry," adds Paccar Parts General Manager Laura Bloch.
The distribution center is Paccar Parts' 18th PDC, increasing global warehouse capacity to upwards of 3.5 million square feet. Each operation is strategically located to provide industry-leading delivery times to more than 2,300 Kenworth, Peterbilt or DAF dealers and TRP retail locations worldwide. The PDCs utilize stock-picking equipment with built-in weigh scales, voice-directed picking technology, and an automated banding conveyance system to boost order fulfillment.