Joey Melton, a 19-year delivery professional based at Thomas Concrete's Anderson, S.C. plant, took the 2022 National Mixer Driver Championship. The early-October event was staged at the Gaylord Rockies Resort & Convention Center in Aurora, Colo. amid the National Ready Mixed Concrete Association's ConcreteWorks Conference and Expo. Stepping up to the ConcreteWorks awards banquet podium, Melton saluted the 85 peers from across the country who joined him in the Championship challenges, while also giving a strong shout out to colleagues and management from Atlanta-based Thomas Concrete. He earned his title based on a cumulative score from performance in stationary and driving challenges, visual vehicle inspection, reaction-time test, delivery ticket station and two-hour written examination.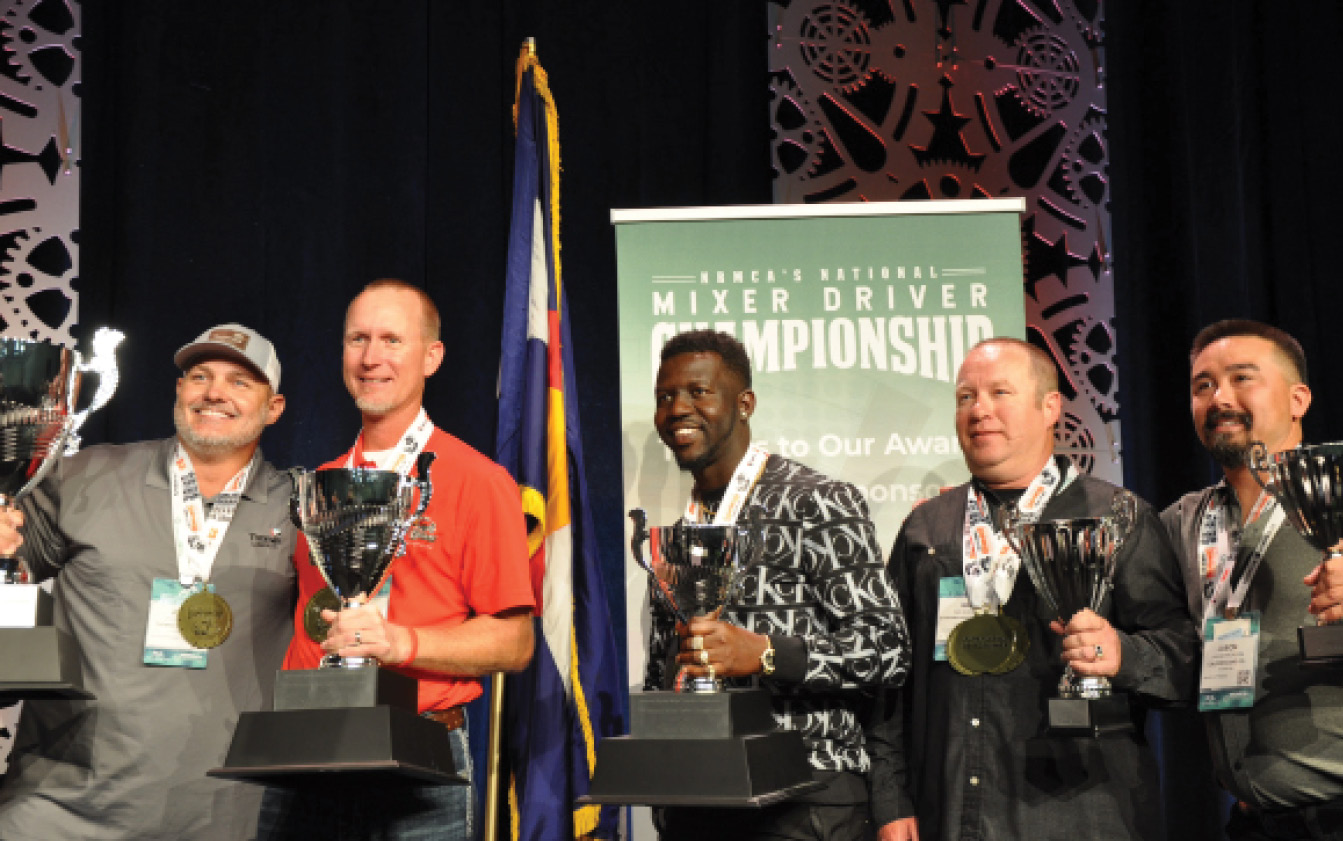 Melton finished second in the 2021 National Mixer Driver Championship, which went to this year's runner up, Michael Twehus of Cole County Industries Inc., Jefferson City, Mo. The top finishers receive $5,000 and $2,000 cash prizes from lead event sponsor, the NRMCA Truck Mixer Manufacturers Bureau. Maschmeyer Concrete's Damion Wynter of Apollo Beach, Fla. took third place for a second consecutive year, earning a $1,500 prize. Rounding out the 2022 National Mixer Driver Championship top tier were Nick Horath of Standard Materials Group, Broken Arrow, Okla. and Jason Erickson of CPC Materials, Arlington, Va., who earned $1,000 and $500 for fourth and fifth place finishes.
Also honored at the awards banquet were drivers who distinguished themselves at various competition stages. The top scorers of the "Closest to the Egg" station were Lanny Bemis of Action Ready Mix, Ron Lengyen of Silvi Materials and Jeff McCutchen of Irving Materials, Inc. Five drivers scored a Hole-In-One at the new "Golf Challenge" station: Maschmeyer Concrete's Victor Garcia; Thomas Concrete's Kurt Weaver; Burnco Texas' Jaime Delgado; Titan America's Juan Bonilla; and, Chandler Concrete's Troy Enzler. Top "Delivery Ticket" station scorers were Ernst Concrete Cobb County's Cody Gill and Standard Materials' Nick Horath.
The "Bowling Station" returned to the competition for the ninth year. Glacier Northwest driver Bill Caldwell stood out as the only competitor to score a strike. He and fellow drivers were also challenged to show who had the fastest reaction time through computerized testing. The top scorers with the fastest reaction times were CalPortland Company's Wesley Hackbarth; Standard Materials' Nic Horath; Cemstone Concrete Materials' Nick Powers; and, Fischer Concrete Services' Josh Cantrell. Chandler Concrete's Troy Enzler proved fastest of all. At the "Inspection Station," another challenge course stop where participants were outside of cabs, Burnco's Joshua Tillman bagged a perfect score by identifying all points of safety or caution that would be revealed in a thorough pre-trip mixer truck walk around.
The highest score on the National Mixer Driver Championship written exam and title of "Smartest Driver in the Room" went to Thomas Concrete's Bobby Bates and Cole County's Michael Twehus, each nearing scores of 100. Drivers also competed in the "Chute Hoops" station, 82 of them sinking a basketball rolling down a moving front discharge mixer truck chute toward a chest-height net. Finally, topping "Driving Challenge Course" scores was Maschmeyer Concrete's Damion Wynter.
Now in its 16th year, the National Mixer Driver Championship saw "one of the largest group of drivers to ever compete," according to NRMCA Executive Vice President of Operations and Compliance Gary Mullings. The field included champions from state mixer truck rodeo events and NRMCA producer member driving competitions, all vying on a national stage to be crowned "Best of the Best" among the industry's delivery professionals.
The NRMCA Safety, Environmental and Operations Committee has begun planning for the next National Mixer Driver Championship, scheduled during the 2023 ConcreteWorks, September 29-October 3 at the Gaylord Opryland Resort & Conference Center, Nashville.